September 21st, 2011 by
Gavok
| Tags:
anti-venom
,
axe cop
,
Batman
,
booster gold
,
captain america
,
chaos war
,
darkwing duck
,
deadpool
,
green lantern
,
hellboy
,
hercules
,
hulk
,
hyperion
,
jonah hex
,
juggernaut
,
justice league
,
loki
,
panels
,
power girl
,
punisher
,
spider-man
,
taskmaster
,
wolverine
I can't believe I've been doing this crap for two years. I just did the 100th installment of This Week in Panels a month ago, so this is less of a big deal, but whatever. This Week in Panels has been about me and people who read this for whatever reason picking out panels that best represent the comics we read. What is the comic? Sell it with one panel without the context. Let the readers figure it out.
Going with what I did a year ago, I decided to do a little look back at the past 52 weeks. The challenge is to showcase a panel from each week without double-dipping on the same series. Let's see what the last year have given us.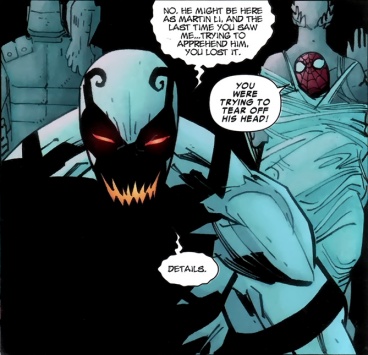 Amazing Spider-Man #664
Dan Slott, Christos Gage, Giuseppe Camuncoli and Max Fiumara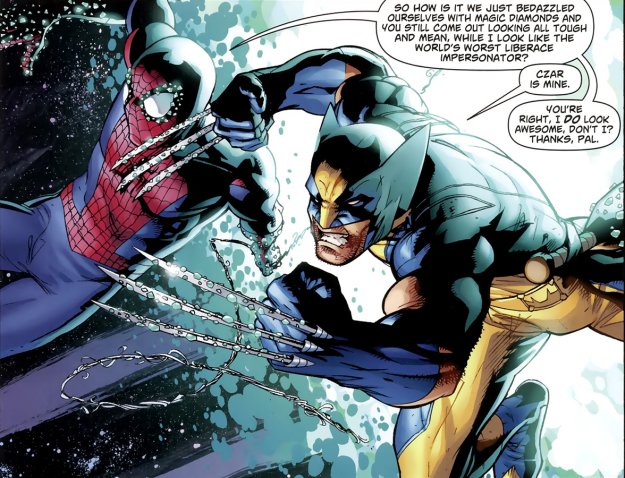 Astonishing Spider-Man & Wolverine #5
Jason Aaron and Adam Kubert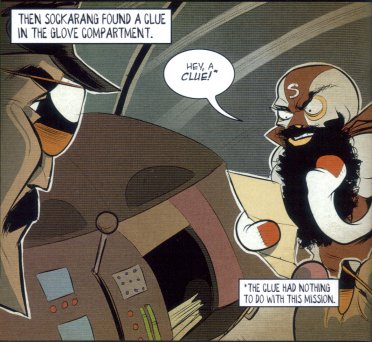 Axe Cop: Bad Guy Earth #2
Malachai Nicolle and Ethan Nicolle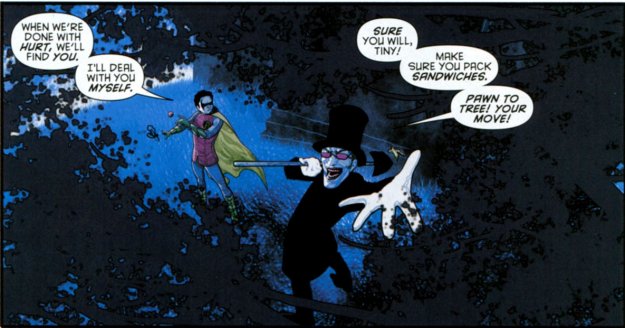 Batman and Robin #15
Grant Morrison and Frazer Irving

Batman, Inc. #2
Grant Morrison and Yanick Paquette

Booster Gold #45
Dan Jurgens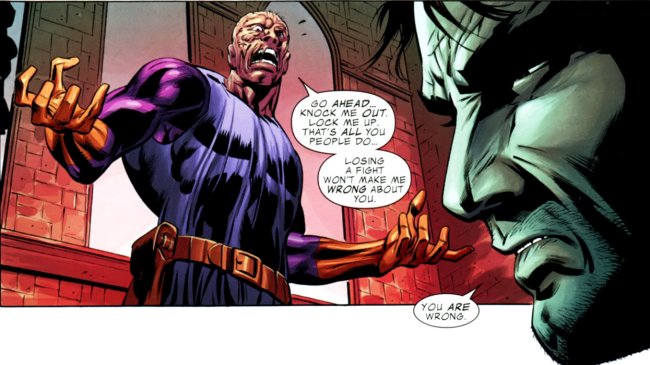 Captain America #610
Ed Brubaker, Butch Guice, Sean McKeever and Filipe Andrade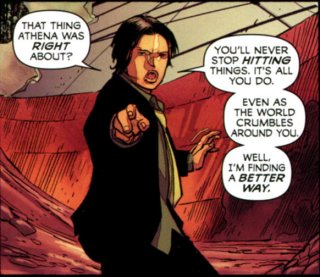 Chaos War #4
Greg Pak, Fred Van Lente and Khoi Pham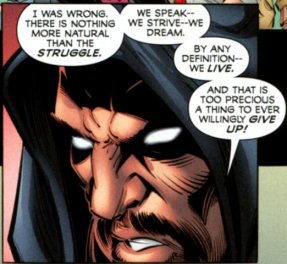 Chaos War: Dead Avengers #3
Fred Van Lente and Tom Grummett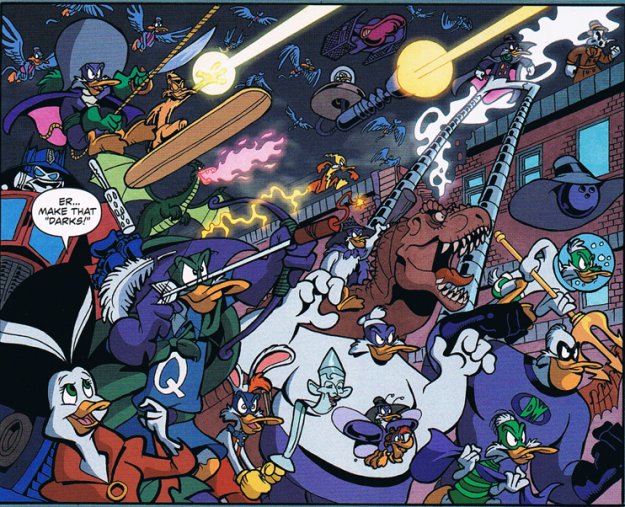 Darkwing Duck #8
Ian Brill and James Silvani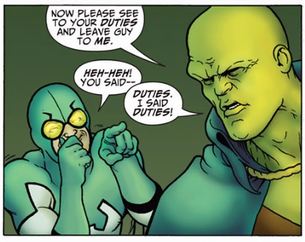 DC RetroActive: Justice League of America: The '90s
Keith Giffen, J.M. DeMatteis and Kevin Maguire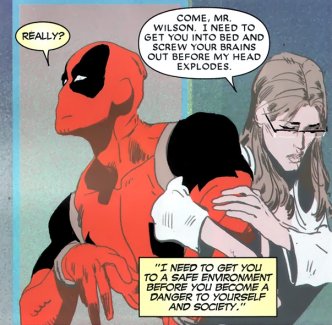 Deadpool MAX #2
David Lapham and Kyle Baker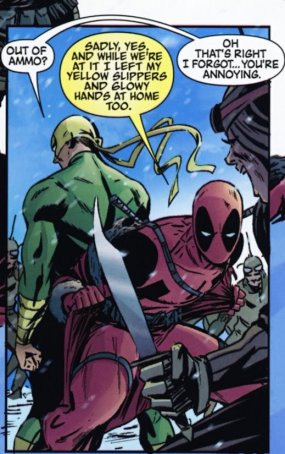 Deadpool Team-Up #886
Shane McCarthy and Nick Dragotta

Detective Comics #871
Scott Snyder, Jock and Francesco Francavilla

Fear Itself: The Home Front #5
Christos Gage, Mike Mayhew and various others

FF #2
Jonathan Hickman and Steve Epting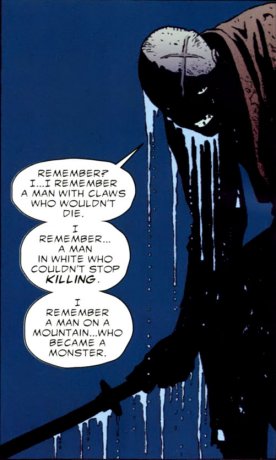 5 Ronin #5 (Deadpool)
Peter Milligan and Leandro Fernandez
Flashpoint: Batman Knight of Vengeance #3
Brian Azzarello and Eduardo Risso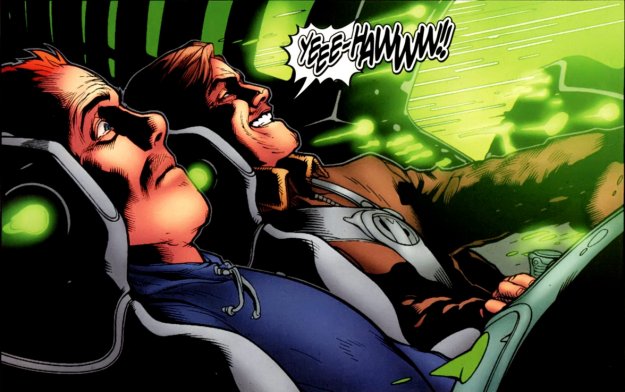 Green Lantern #65
Geoff Johns and Doug Mahnke
Green Lantern: Emerald Warriors #7
Peter J. Tomasi and Fernando Pasarin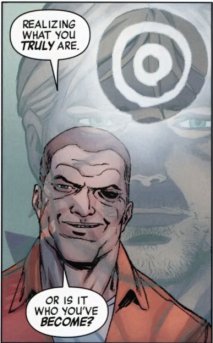 Hawkeye & Mockingbird #6
Jim McCann and David Lopez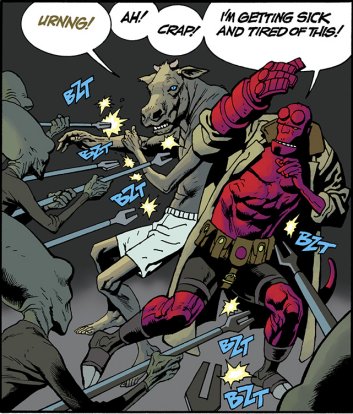 Hellboy: Buster Oakley Gets His Wish
Mike Mignola and Kevin Nowlan
Herc #7
Greg Pak, Fred Van Lente and June Brigman

Heroes for Hire #8
Dan Abnett, Andy Lanning and Brad Walker

Hulk #33
Jeff Parker and Gabriel Hardman

Incorruptible #20
Mark Waid and Marcio Takara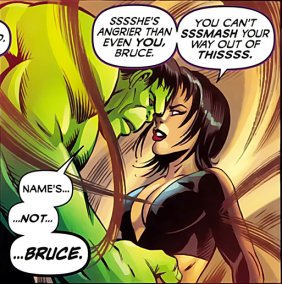 Incredible Hulks #629
Greg Pak and Tom Grummett

Invincible #77
Robert Kirkman and Ryan Ottley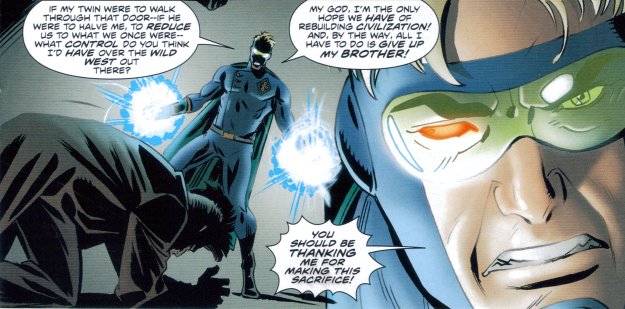 Irredeemable #21
Mark Waid and Peter Krause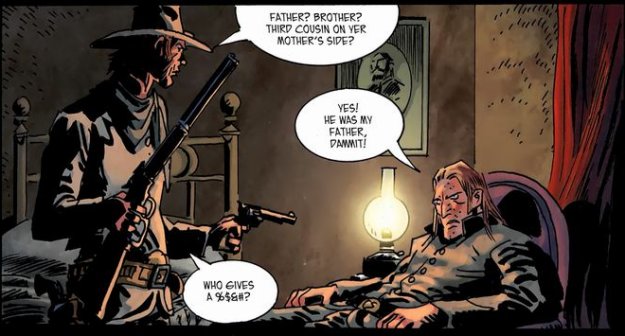 Jonah Hex #67
Justin Gray, Jimmy Palmiotti and Jordi Bernet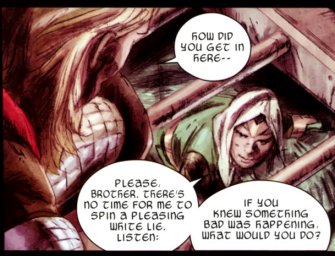 Journey Into Mystery #623
Kieron Gillen and Doug Braithwaite
Justice League #1
Geoff Johns and Jim Lee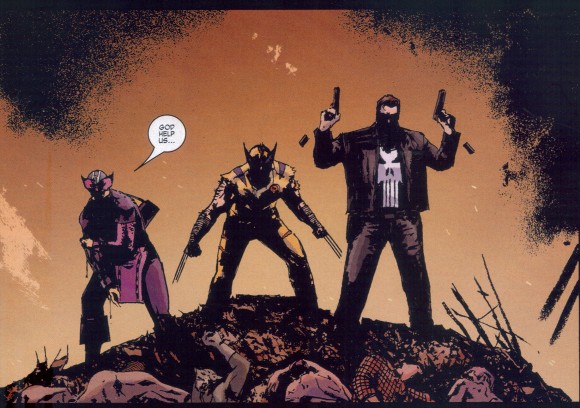 Marvel Universe vs. Wolverine #2
Jonathan Maberry and Laurence Campbell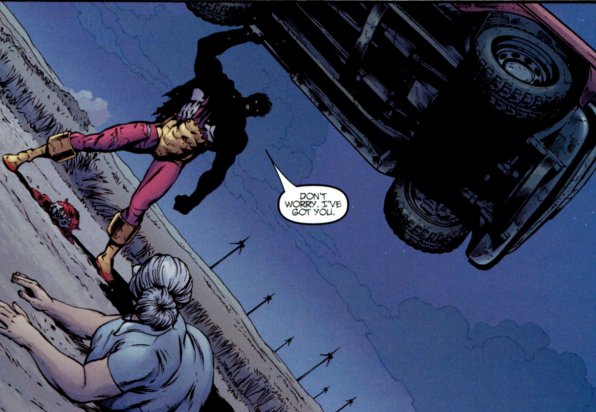 Marvel Zombies Supreme #2
Frank Marraffino and Fernando Blanco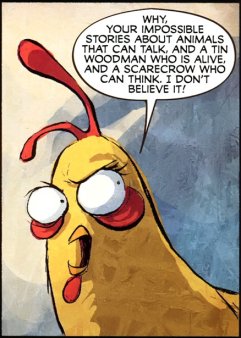 Ozma of Oz #2
Eric Shanower and Skottie Young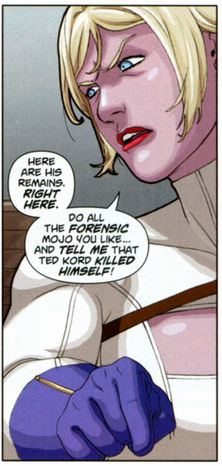 Power Girl #21
Judd Winick and Sami Basri
Punisher #3
Greg Rucka and Marco Checchetto

Punisher MAX #16
Jason Aaron and Steve Dillon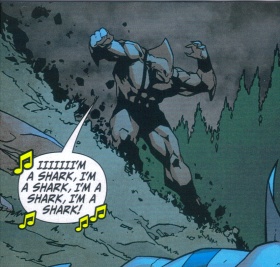 Secret Six #35
Gail Simone and J. Calafiore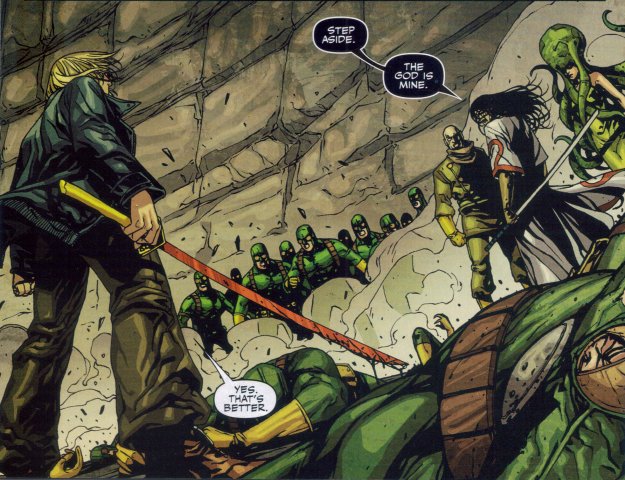 Secret Warriors #21
Jonathan Hickman, Mirko Colak and Alessandro Vitti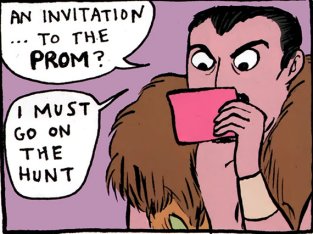 Strange Tales II #1
Kate Beaton and various others

Superman/Batman #76
Judd Winick and Marco Rudy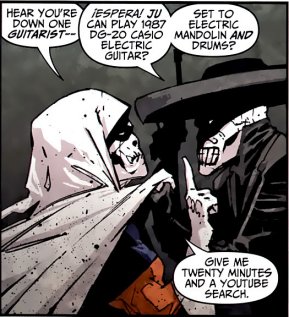 Taskmaster #2
Fred Van Lente and Jefte Palo

Thor: The Mighty Avenger #7
Roger Langridge and Chris Samnee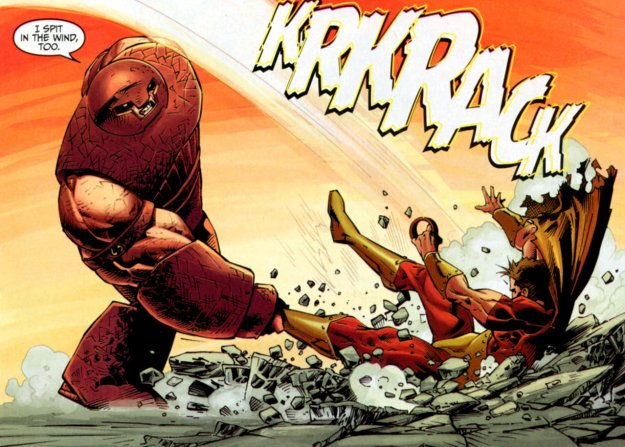 Thunderbolts #153
Jeff Parker and Kev Walker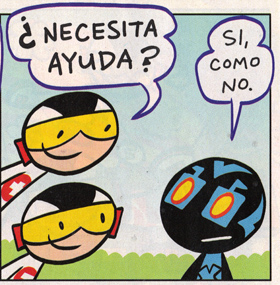 Tiny Titans #41
Art Baltazar and Franco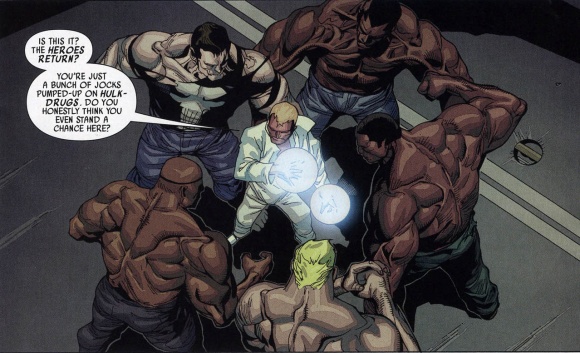 Ultimate Avengers vs. New Ultimates #5
Mark Millar and Leinil Yu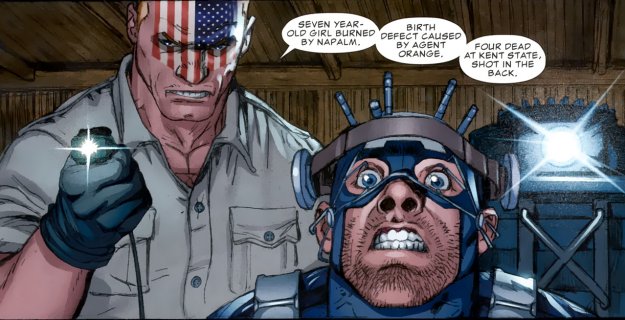 Ultimate Captain America #3
Jason Aaron and Ron Garney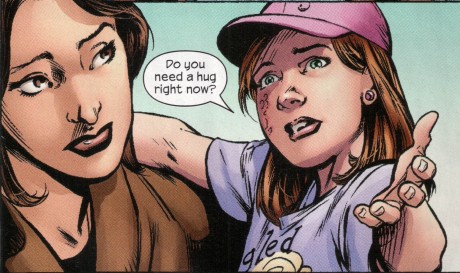 Ultimate Fallout #1
Brian Michael Bendis and Mark Bagley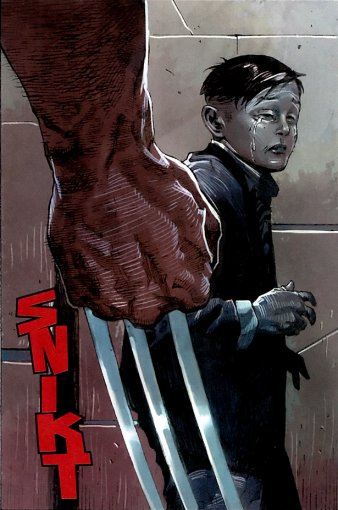 Uncanny X-Force #4
Rick Remender and Jerome Opena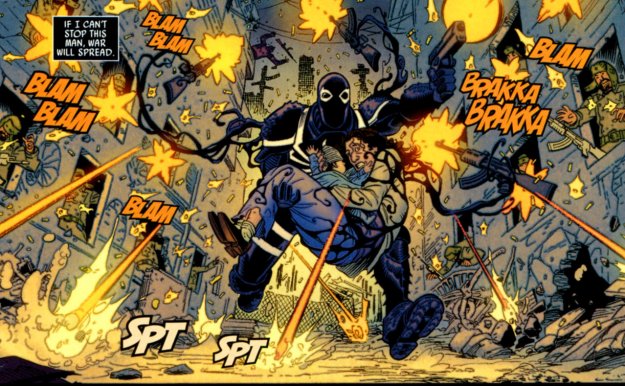 Venom #1
Rick Remender and Tony Moore
Thanks to David Brothers, Was Taters, Space Jawa, David Uzumeri, Neil Curry, VersasoVantare, naktekh, luis, Boco T and anyone else who's contributed to this thing in the past year. Hell, the year before that too.
Personally, I'm a little proud that I've been able to hit just about every Sunday night deadline on this baby. The only times I have missed it are due to technical issues: storm-based power outage, computer being dead, site being a dick. Anyway, here's to another year.
I am disappointed that I wasn't able to find a spot for any Avengers Academy panels, since that's one of my favorite comics right now. You'll forgive me, right Veil?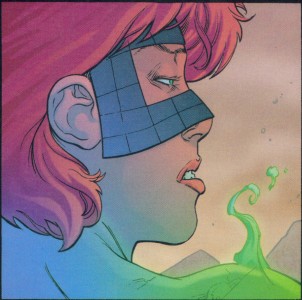 Oh. Crap.
Similar Posts: