December 17th, 2008 by
Gavok
| Tags:
ax
,
bullseye
,
dark reign
,
doctor doom
,
emma frost
,
green goblin
,
hood
,
loki
,
mace
,
Marvel comics
,
mephisto
,
monarch
,
namor
,
norman osborn
,
red hulk
,
sentry
,
skrulls
,
void
,
wrestling
This is several days late, but like I've said, computer troubles. Read it anyway.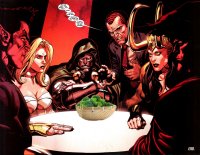 Secret Invasion has come and gone. Skrulls are old news and now the more beloved villains are beginning to step forward, forming their own little Evil Illuminati. Fittingly, they all counter the original Marvel faction in their own way.
– Tony Stark is replaced by a more ruthless businessman/inventor in Norman Osborn, who shares similar ideals on unity among the powerful.
– Reed Richards is replaced by Victor Von Doom, his eternal rival when it comes to his intelligence.
– Charles Xavier is replaced by Emma Frost, who, while heroic, could potentially do some more underhanded things to help her race. Then again, look at who I'm talking about. Xavier's done some shady stuff already. Bendis originally wanted Magneto for the role, but you know how it is for that guy.
– Doctor Strange is replaced by the Hood, the magical avatar of the Dread Dormammu himself.
– The enigmatic and overly powerful Black Bolt is replaced by the more enigmatic and more powerful Loki, now in a female form.
– Namor, once a proud king able to own the room with his regal presence, is replaced by a meeker, disheveled and more desperate shell of himself.
Norman puts together his own Secret Society concept and tries to sell it onto the others. The two main points of interest are the mystery man – which I will get to in a second – and the suggestion by Doom to Namor that this will all lead into some kind of massive supervillain Civil War in the future.
That discussion is for another time. Let's discuss the mystery man.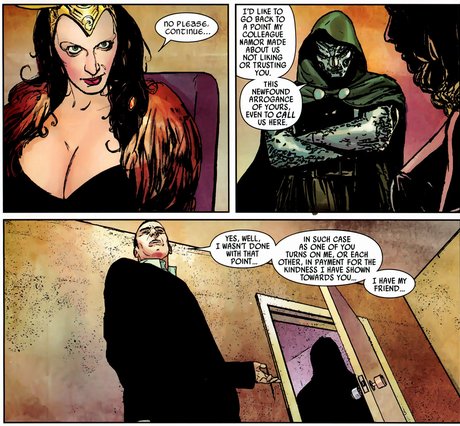 "If you so choose as to even lift a suspicious eyebrow towards me and mine… you and my friend here will have some words. Emma, you're a psychic, I can feel you poking around in my head now… You read minds… Tell me… Am I lying?"
"No."
"Something for even a goddess of mischief to think about."
Norman Osborn has a huge bargaining chip that brings concern on Doom and presumably Loki as well. Interesting that we don't see Loki's reaction to this stranger. That brings up the question of who this special guest could possibly be. Is Norman's friend working for him, is Norman working for his friend or are they working together? Where will this lead?
Of course, you have to think about those who Norman would believe Loki would be concerned about. Keeping it grounded on Earth matters, it isn't a long list to go off. Shorter when you remember that one of the few, Dormammu, is already represented on the team.
Let's go through some possiblities: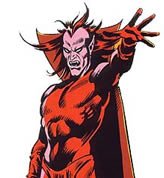 Could it be Mephisto?
No, not very likely, but it seemed right to go with the most powerful and evilest first. Not to say that it's a complete impossibility. Mephisto and Osborn have been hanging out in the same corner of the Marvel Universe recently. The idea of following up on One More Day in some way is always there, especially when you consider the rumors that the next big event is supposed to be Spider-Man centric. Plus I find the Dark Reign checklist suspect. They make mention that an upcoming arc in Amazing Spider-Man isn't connected to all of this, but to read it anyway.
Hm. What an odd thing to say.
Speaking of Spider-Man, the last time he took the lead role in a big company-wide crossover was Acts of Vengeance, which certainly has its similarities with what's going on in Dark Reign. I wonder if that's more than a coincidence.
You might be thinking that Norman's friend being Mephisto would be a stupid use of the character, but then again, when has that stopped them before?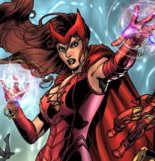 What about The Scarlet Witch?
Ever since House of M, she's been living in a small European village, seemingly not knowing her true past while remaining powerless. Now we know that she's going to be on the Mighty Avengers roster. Interesting.
Everyone in the room should know that she is an absolute wildcard and a bipolar nutjob like Osborn wouldn't think twice about agitating her to get what he wants. Emma knows about what she did firsthand. Doom knows because Beast told him. He likely informed Namor and the Hood probably heard it second hand somewhere. I'm sure Loki has her own ways of knowing.
The question is, could Scarlet Witch threaten Loki? Loki and the Asgardians were gone during House of M and I'm pretty sure Thor: Disassembled had nothing to do with Wanda's role in the overall event. It would be an interesting conflict, at the very least. The magical being that started the Avengers vs. the magical being that disbanded them.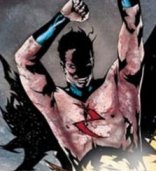 Maybe The Void? The Sentry's alter-ego seems the most likely.
The Sentry/Void part of Secret Invasion has yet to have any closure and the only other reference to it is the weird goings on in the second issue of the Age of Sentry comic, which involves the Void's recent "Shadow Sentry" appearance.
Considering how powerful the Void is, everyone in the room should know that conflict is something to be hesitant about. Doom has dealt with the Sentry's presence firsthand, while Emma and Namor were there when the New Avengers had to tame the Void.
It would be fitting that the first time we see the original Illuminati meet up, it's over the Sentry. Here, it's the mirror.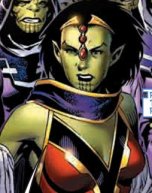 What of Veranke, the Skrull Queen and false Spider-Woman? Hear me out on this.
Her role in the final act of Secret Invasion never sat right with me. I understand that she's ready to die for the cause, but her role here is purely reckless. Her power set is the usual Skrull bells and whistles alongside some amped up version of Spider-Woman's abilities. Yet she pushes herself into the frontline in a huge battle where she is easily the weakest soldier on her side. She practically ASKED to be murdered here. It's such a bad strategy.
But did Veranke really die? Oh, yes, Norman blew the head off of a Skrull dressed like Spider-Woman, but was that really Veranke? Are we forgetting that Skrulls are brilliant shape-shifters?
How does this in any way threaten the heavy hitters in the Evil Illuminati? Hard to say. The idea that there are still Skrull replacements here and there would definitely keep them on their toes. Then again, Doom, Hood and probably Loki would be able to see through all of that.
I guess I'm just trying to rant about the second half of Secret Invasion more than anything else. Remember how one of those New Avengers issues made such a big deal about the Skrulls taking over Earth via mass infiltration because going up against Earth's heroes in a fight never ends well? Yeah, what ever happened to that? All of the sudden, years of meticulous and calculated planning devolves into space ships attacks and Super-Skrulls goading the superheroes into a showdown. And it fails. Like they knew it would from the beginning. Which is why they had this entire event in the first place. What the fuck?
Hey, Skrull Jarvis is still around with Danielle Cage, so there's at least some aspect of the Skrull threat still out there. Whether it relates to Norman Osborn remains unseen.
I really didn't think of anything past those four. Nothing else made much sense, unless it was somebody lame like Terrax. So… might as well run with the joke entries.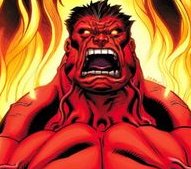 Okay, so Norman reveals Red Hulk to the Evil Illuminati and Dr. Doom stands up and goes, "Bah! Doom will not be threatened by such absurd threats!"
And Red Hulk, or should I say RULK, says back to him, "I'LL THREATEN YOUR ASS, TIN MAN!"
Doom shoots Rulky in the face with both his power gauntlets and Rulkster just stares him down and says, "HAHAHA! IS THAT ALL YOU GOT?"
"What?! But that was the full power of Doom! What kind of creature are you?!"
"MY REAL NAME IS—"
Then Namor punches him in the face and shouts, "IMPERIUS REX!"
But he forgot that he was fucking with the MOST BADASS MOTHERFUCKER EVER! So the Rulkamaniac grabs him and Doom by the heads and slams them together! Then he dusts his hands off and laughs while saying, "NOW THAT IS WHAT I CALL A SUPER-VILLAIN TEAM-UP! HA!"
As this all goes on, Norman Osborn shaves his head because he's totally Lex Luthor. Loki then becomes a dude again with no explanation because, like, comics, am I right? But the Hood stands up to Rulk Rogan with his guns out.
"You think you're so tough, Red Rover? I've got these special guns that have never been mentioned before that are so powerful that they can kill Galactus himself. You want to try it?"
But before they can throw down like there's no tomorrow (and we all know Rollywood Rulk would win this fight because he's king badass of the universe), the doors bust open and in enter a team made up of Symmetro, Professor Bronx, Spectra, Dark Bird, Commander Laughter, and Mr. Machiavelli.
Commander Laughter, wearing a comedy drama mask pin splattered with blood, points his machine gun at the Evil Illuminati and says, "Not so fast, scum-suckers! You're about to tangle with the Staremen!"
TO BE CONTINUED…!
Really, though. Anyone but him.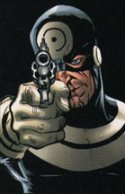 This is Norman Osborn, so there's a chance that it could be Bullseye with the Power Cosmic, the Beyonder's power, the Infinity Gauntlet, Thor's hammer and a symbiote. Probably?
Listen, Chris Eckert suggested this one to me and that guy's usually right about these things.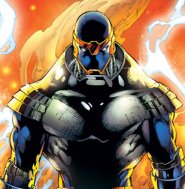 Why the Monarch when I've already wasted my energy on the Red Hulk gag? I just know that somewhere out there is some kid who honest-to-Bullseye believes that it really is the Monarch and that this whole thing is set-up for the next big Marvel/DC crossover event.
He's out there somewhere. It's not you, is it?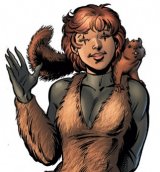 Hey, you know who it is? I bet it's Squirrel Girl!
Was that funny? No, not really.
Is the whole Squirrel Girl joke beaten to death? You betcha.
Unfortunately, if I didn't say it, someone else would have.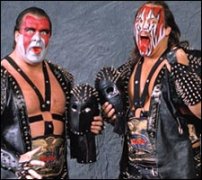 If I had it my way, it would be Demolition circa 1989. The Ax and Smash version. No Crush, rest his soul.
Victor Von Doom would mess with Ax. He would mess with Smash. But Ax and Smash? Doom may be mad, but he isn't crazy.
Unfortunately, the big hole in the theory is that Norman's friend is just one man. I knew I should have suggested John Morrison instead!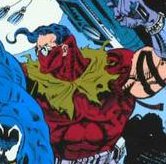 Or… could it be Mace? I can feel it in my bones. This is his big comeback. Mace Watch is finally going to pay off, I know it!
But really, it's just going to be the Void. Probably.
Similar Posts: