December 18th, 2008 by
Gavok
|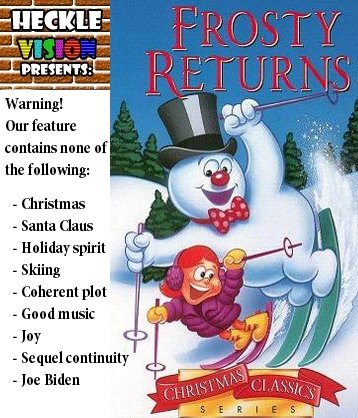 While ManiacClown and I have the next installment of Ultimatum Edit to look forward to in the near future, we have, in the meantime, put together another iRiff for you folks.
Now, for those of you who have never seen or heard of Frosty Returns, allow me to explain myself.
Last year, I bought these two DVD sets of Christmas specials. Grinch, Frosty, Rudolph, Mr. Magoo, etc. Fun stuff. They were timeless classics and I was having a ball. Then, after finishing with Frosty the Snowman, I decided to try out Frosty Returns.
It honestly shredded away my holiday spirit. It was that bad. It's already a bad sign when the animation is trumped by the prequel (if you can really call it that) from several decades prior. It's the holiday Highlander 2 is what it is.
Understand that whether our efforts are considered good or bad, I had to do this.
So please, enjoy the Hecklevision iRiff of Frosty Returns. It's only 75 cents. (vote five)
You don't really have to worry about digging out a copy of the DVD or hitting Netflix. It's okay. I got you covered.
Here's a preview:
Check out our take on Superman in Japoteurs too, if you haven't already. We should be having a very special iRiff up in a couple weeks that I swear to God will be absolutely amazing.
On another note, you know who has a totally kickass Christmas album? Reverend Horton Heat.
Similar Posts: