February 17th, 2011 Posted by Gavok
Tuesday gave us the long-awaited videogame sequel Marvel vs. Capcom 3: Fate of Two Worlds and you bet your ass I picked it up. Not only that, but I picked up the special edition. In addition to the game, the package includes a tin case, free access to the downloadable characters Jill Valentine and Shuma Gorath, free Marvel Unlimited for a month and a booklet that features lots of sweet art and a prologue comic.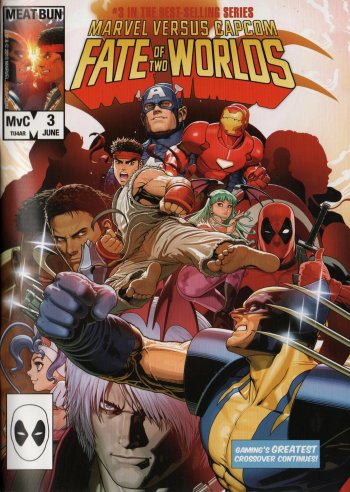 Now, I know what a lot of you are saying.
"Who gives a shit about a fighting game's story, let alone a stupid crossover story like this?"
Me. That's who. I love fighting game storylines… at least until the 4th or 5th game when they run out of ideas and go through the motions. I love cheesy crossovers. I guess I just love plots where the basic idea is, "Here are a bunch of interesting individuals out to beat each other up. There can be only one winner. Who's it going to be?" I guess this is part of why I love the Royal Rumble so much.
I was going to scan the 12-page Frank Tieri/Kevin Sharpe comic, but that would be too easy. I thought it would be better for everyone to simply transcribe it for all of you who picked up the regular copy of the game. So it back and enjoy Fate of Two Worlds.
SCENE 1
(Zombie-filled laboratory)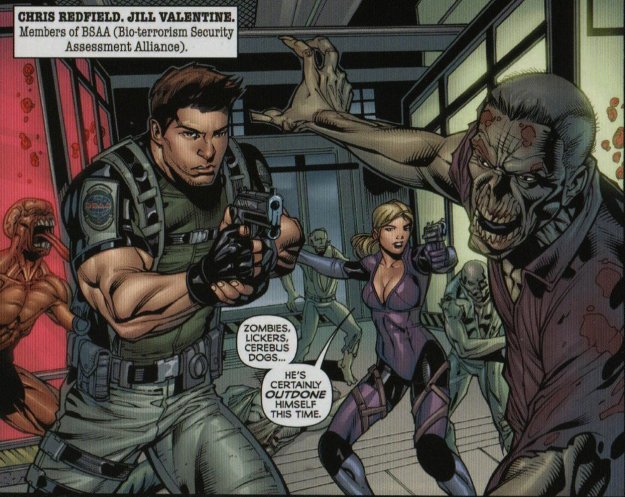 Jill Valentine: Wesker has to be here somewhere. Boy, we really have our work cut out for us.
Chris Redfield: You said it. All sorts of zombie types here. Oh, crap! It's an Executioner boss!
Jill: We don't have enough ammo for this!
Chris: Why the hell not?! We haven't shot our guns once yet! We've just pointed our guns at zombies and acted like it was good enough! But you're right about us being screwed. We're going to need a miracle here.
(a green hand appears through a portal, grabs the Executioner by the hood and slams his face into the wall repeatedly)
Hulk: HULK SMASH ENDBOSS!
Jill: That green monster just saved us.
Chris: You're right. LET'S GET HIM!