September 20th, 2010 Posted by Gavok
A year ago I talked to David Brothers about an idea I had for the site. I had tried writing reviews of weekly releases before, but I never got into it. There were a couple reasons and they're both about redundancies. I can tell you about how great the latest issue of Captain America is, but so will every other site. There are so many other comic sites that will give better reviews of new stuff that I don't know why anyone would give a damn what I have to say among all that. Then there's the fact that comic quality doesn't change so often within the series' run. If I tell you that Captain America is great one month, chances are it's going to be just as good the next. Why waste my breath? If I want to give you my opinions, I want it to at least be interesting and hopefully unique.
I thought back to the first issue of the Agents of Atlas miniseries from several years back. The general response of people who read it and tried to push it was to point out that there's a scene where a 1950's robot runs down a hallway while carrying a talking gorilla and that gorilla is firing four uzis with his hands and feet. I figured that maybe that could be the unique way to cover the comics of the week. I'd settle on one panel that really pushes what the comic is about, more than often more than the cover does. It's no longer so much a review as it is giving you a gist on what we all read. At the same time, I would make sure not to have any major spoilers. If the comic has Wolverine beat up Daken in the climax, then I won't show it. I will, on the other hand, show them about to fight it out.
If anything, it was also an excuse to keep me from straying from doing anything for the site too long at a time. I'd have a deadline of some point every Sunday and I've been pretty good on that. I've only delayed two weeks and those were because of a lengthy power outage and the loss of my computer.
I didn't know if it would work, but David said to go for it. Now it's been a year and I thought it would be fun to do an extra installment in a retrospective form. The idea was to pick one of my favorite panels from the previous 52 weeks, but with the challenge of not double-dipping from the same title at any point. Here we go!
Adventure Comics #4
Geoff Johns, Sterling Gates and Jerry Ordway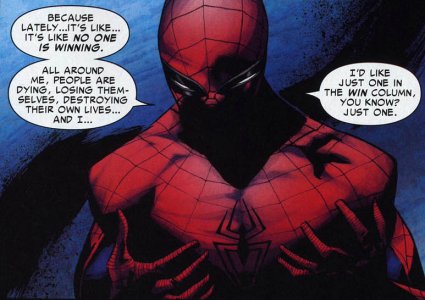 Amazing Spider-Man #617
Joe Kelly, Max Fiumara and Javier Pulido