August 6th, 2009 by
Gavok
| Tags:
captain america
,
colossus
,
cyclops
,
hulk
,
human torch
,
iceman
,
iron man
,
jean grey
,
jeph loeb
,
kitty pryde
,
Marvel comics
,
ms marvel
,
nick fury
,
rogue
,
ultimate edit
,
ultimates
,
ultimatum
,
wolverine
,
x-men
Yesterday, Jean Grey forced Magneto to see Nick Fury's memories, which caused Magneto to repent all of his wrongdoing. Then Cyclops acted like a total hero by exploding the head of an old man who was no longer a threat. Good going, guy.
In the actual comic, Fury really showed Magneto how mutants were man-made in a laboratory, as part of Ultimate Origins. I'm still not totally sure why this caused Magneto to change his ways completely. Magneto's war stopped being humans vs. mutants a while ago, what with him not only killing mutants by the score, but the fact that he was killing his own underlings for the hell of it. And yet this little snippet of information puts him into, "What have I done?!" mode.
Let us move forward.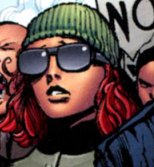 I blame ManiacClown for that Burma Shave gag and the Wonder Pets thing. Give the guy a break on the latter one. He's a father. It's his business to watch that show.
We'll continue with the X-Men insanity tomorrow, plus a little trip to Latveria.
Similar Posts: