January 1st, 2009 by
Gavok
| Tags:
blob
,
captain america
,
giant man
,
hawkeye
,
hela
,
jeph loeb
,
Marvel comics
,
thor
,
ultimate edit
,
ultimatum
,
wasp
,
x-men
Yesterday's installment was all about Thor going into the afterlife to go save Valkyrie. I don't even know what she's doing in Valhalla in the first place. She died by drowning. You don't get into Valhalla for weak garbage like that.
No matter. We continue Thor's quest and move onto that scene. God help us.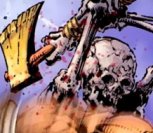 ManiacClown is entirely to blame for the second page. I've seen Rocky Horror Picture Show maybe once in my life and that was years ago. That was enough.
Tomorrow we finish the week off with a confrontation between Xavier and Magneto. Surely, it will fail to capture the greatness of their battle from the second Japanese X-Men cartoon intro, where they fight by blasting Xavier's mind rays against Magneto's magnetic rays.
Similar Posts: