February 12th, 2012 by
Gavok
| Tags:
huntress
,
panels
,
punisher
The This Week in Panels concept is easy. Me and some other comic readers (and this includes you if you're ever interested) take every new comic we've read from the week and cut out 99% of it, leaving only a lone panel. This panel is meant to illustrate what the comic's all about. Sell what you're reading without giving too much away. Catch someone's eye. Explain it with one image.
125 is a nice round number that feels like something important should happen. We have a full crew this week in me, David Brothers, Was Taters, Space Jawa and Jody, so that works out. Taters supplied the Brave and the Bold panel, which is astounding. She's just sad that this has to be the final issue of the series.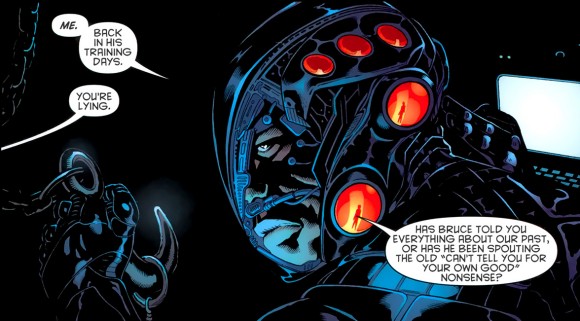 Batman and Robin #6
Peter J. Tomasi and Patrick Gleason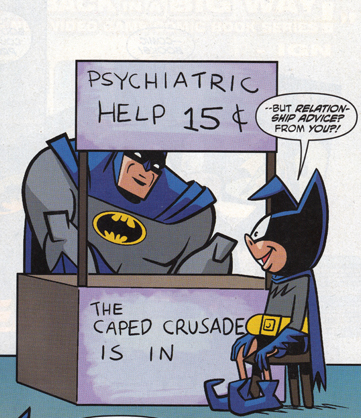 Batman: The Brave and the Bold #16
Sholly Fisch, Rick Burchett and Dan Davis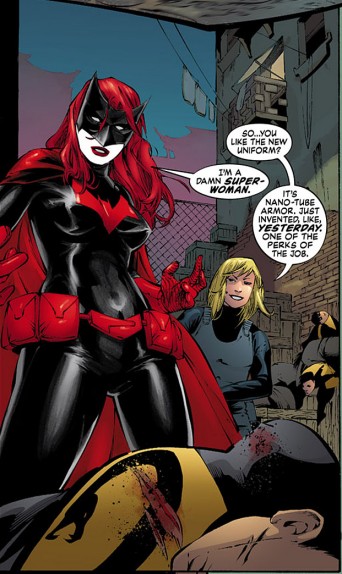 Batwoman #6
J.H. Williams III, W. Haden Blackman and Amy Reeder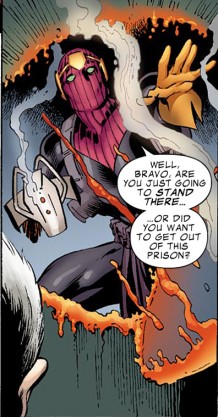 Captain America #8
Ed Brubaker and Alan Davis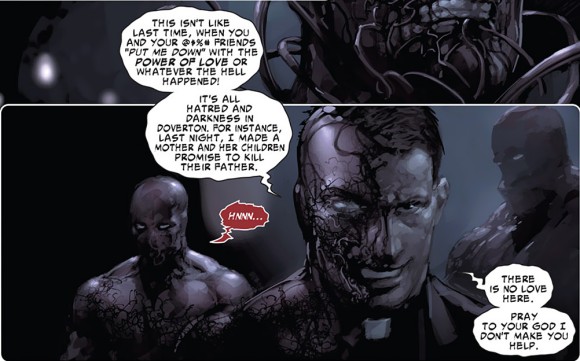 Carnage, U.S.A. #3
Zeb Wells and Clayton Crain

Deadpool #50
Daniel Way and Carlo Barberi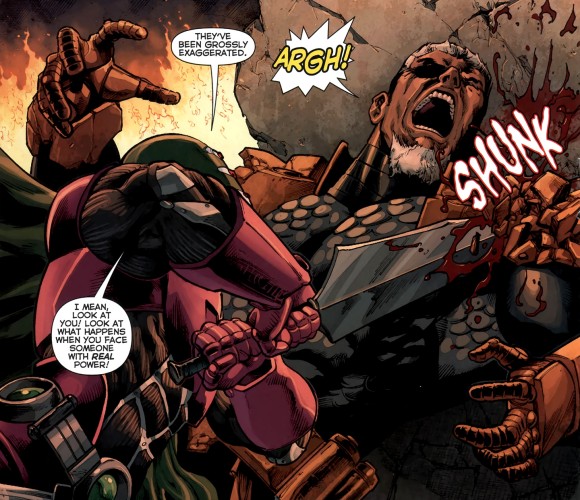 Deathstroke #6
Kyle Higgins, Joe Bennett and Eduardo Pansica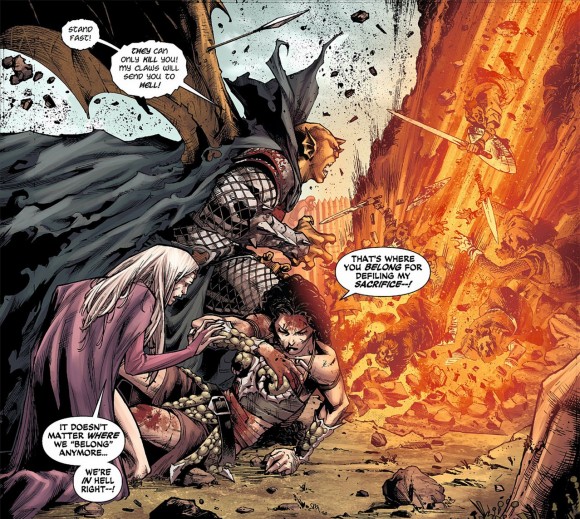 Demon Knights #6
Paul Cornell, Diogenes Neves and Robson Rocha
Frankenstein, Agent of S.H.A.D.E. #6
Jeff Lemire and Alberto Ponticelli
Green Lantern #6
Geoff Johns and Mike Choi
Haunt #21
Joe Casey and Nathan Fox
Huntress #5 (Was Taters' pick)
Paul Levitz and Marcus To
Huntress #5 (Gavin's pick)
Paul Levitz and Marcus To
Incredible Hulk #5
Jason Aaron and Whilce Portacio
Journey Into Mystery #634
Kieron Gillen and Richard Elson
Lobster Johnson: The Burning Hand #2
Mike Mignola, John Arcudi and Tonci Zonjic
Punisher MAX #22
Jason Aaron and Steve Dillon
Resurrection Man #6
Dan Abnett, Andy Lanning and Fernando Dagnino
Scarlet Spider #2
Chris Yost and Ryan Stegman
Secret Avengers #22
Rick Remender and Gabriel Hardman
Star Wars: Agent of the Empire: Iron Eclipse #3
John Ostrander and Stéphane Créty
Star Wars: Crimson Empire III: Empire Lost #4
Mike Richardson, Randy Stradley and Paul Gulacy
Suicide Squad #6
Adam Glass and Clayton Henry
Unwritten #34
Mike Carey and Peter Gross
Venom #13.1
Rob Williams and Lee Garbett
Wolverine and the X-Men #5
Jason Aaron and Nick Bradshaw
As it is right now, Venom has his own solo series, which is turned into a weekly showcase for a mini-event, is about to join the Secret Avengers, is showing up in the Carnage miniseries and it's all leading to another symbiote-related event coming this summer. I have to admit, it's pretty good to be me right now.
Sad to see Punisher MAX end, but it was a great finale to not just a series, but a character. I have a big Punisher post for tomorrow, but in the meantime, here's something stupid I made after reading this issue.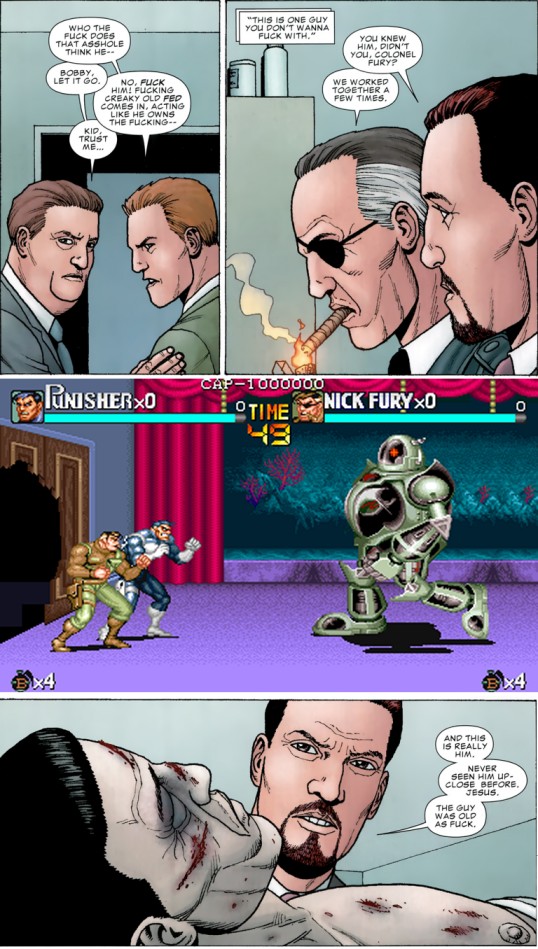 Similar Posts: