June 30th, 2010 by
Gavok
| Tags:
authority
,
booster gold
,
captain atom
,
jm dematteis
,
keith giffen
,
magog
,
max lord
These days I don't read too much from DC. I check out things from the Green Lantern neighborhood, the Batman neighborhood, Secret Six and I'm probably the only one mourning the loss of Magog's solo series. What's really keeping my attention these days is the Booster Gold section of the DC Universe in Booster Gold and Justice League: Generation Lost.
Let's go back a second to the days of Countdown to Infinite Crisis. So much has happened since this story that I've almost forgotten about how I and many other DC readers had felt when it happened. The big reveal of the comic is that Maxwell Lord, former liaison of Justice League International, is not only evil, but has always been evil and the Booster/Beetle/Fire/Ice version of the Justice League was created to keep the brand from being competent. To prove he's a jerk, he shoots and kills Ted Kord.
One of the big responses from the fans was how this idea that Max was always evil went against his behavior in Justice League International. One instance brought up is the twelfth issue where it's revealed that Max has been blackmailed by a super computer called the Construct to betray the team, as the Construct has kept Max from succumbing to several bullet wounds. Max turns against the Construct and destroys it, allowing himself to die in the process. His body is recovered by the League in time and he's brought to the hospital. There's a scene between Scott Free and Oberon where they discuss what a great guy Max really is and how Martian Manhunter himself has been doing a full scan of Max's mind to search for any sort of corruption. The last panel of the issue shows that J'onn had walked into the comatose Max's hospital room and placed a JLI membership badge in his hands. According to one of the greatest psychics, Max is completely clean.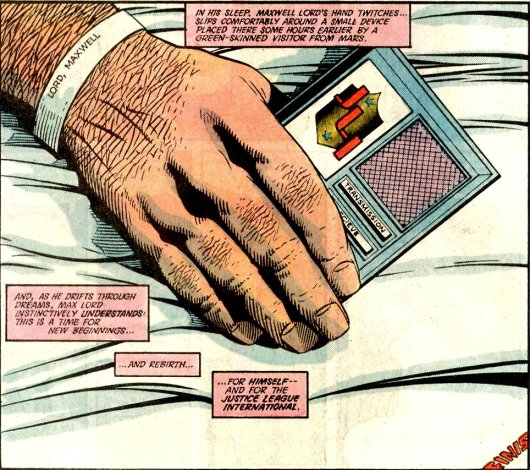 It's all a moot point because that's how comics are when they push shock value over continuity.
Readers: Wait, that Max Lord reveal doesn't make sense! What about that character-defining story in Justice League International?
DC Comics: That was then. We're going to ignore that for the sake of telling the stories we want to tell. Or you can just blame whatever the last continuity reboot we had.
Which is right no matter how you slice it. Especially since Max Lord did in fact turn evil in the mid-90's by turning into Lord Havok (no relation). Nothing ever came out of that story and the character was ignored up until showing up in the Giffen/DeMatteis "Superbuddies" stories, Formerly Known as the Justice League and I Can't Believe It's Not the Justice League. From there, the two writers took the character they created and completely handwaved away all that Lord Havok crap.
Later this was all explained by the infamous Superboy Prime continuity punches.
Coincidentally, I was in the process of reading through Justice League International around the time of Countdown to Infinite Crisis, so the contrast was more vivid to me. Still, I accepted Max's villain status for a while. He makes for a good bastard and works as the guy to use when Lex Luthor is busy. Not that he got much use, though. He was killed in his very next story by Wonder Woman and then reappeared in Booster Gold as part of an alternate present thanks to time-fuckery.
Now he's back thanks to the end of Blackest Night and I don't mind. Like I said, he's a good enough villain. Then I start reading Justice League: Generation Lost and I feel vindicated. Max's actions where he erases everyone's knowledge of his existence are evil as hell and they get more devious as the story continues. Ice is cast out by the superhero community for supposedly attacking Guy Gardner on a date. Fire is let go of her duties at Checkmate due to her increasing insanity. Captain Atom is dismissed from the army and things get worse when he's tricked into fighting Magog.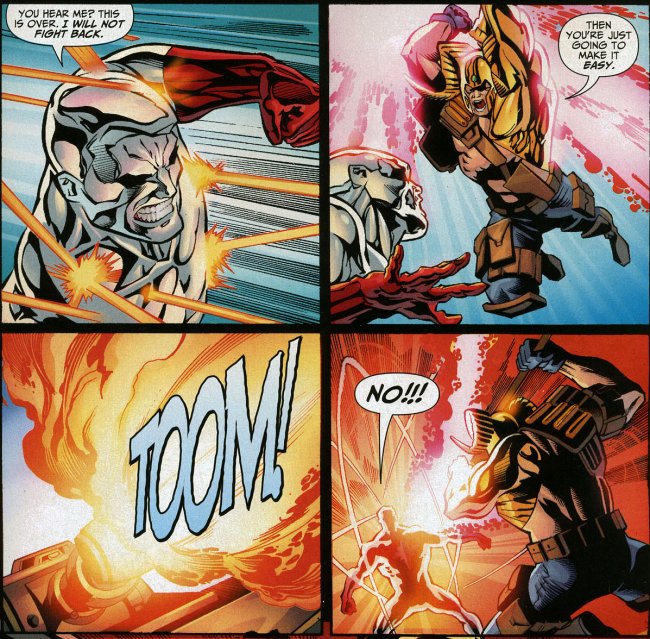 It took me a long time to realize how brilliant a callback this scene is. Magog and Captain Atom are involved in a fight. The guy Magog is fighting vehemently surrenders and Magog keeps pouring it on anyway until Captain Atom explodes. Does this sound familiar to you?
The real sinister thing about it all is Booster Gold's side of the story. Booster is considered a little crazy for his insistence that Max Lord existed, but that alone isn't a bad thing. After all, Booster's time cop profession works better if he's working solo and everyone thinks less of him. But then it goes too far when Batman informs him that in Max Lord's mental retcon of Countdown to Infinite Crisis's events, Ted Kord didn't die heroically, but took the coward's way out and killed himself. That's just taking it too far.
Suddenly, as of the 4th issue of the story, things have taken a different turn. Max Lord isn't trying to fend off the four former League members. He's actually using them for something. He's having some kind of major problem that ties into his experience as a Black Lantern and he needs to get the band back together, as well as bringing in the latest incarnations of Blue Beetle and Rocket Red.
Then you look back at the last couple months and wonder if they're trying to redeem Max Lord and push him back to a good guy. Slimy, yes, but still a good guy. For instance, look at the latest issue of Booster Gold. After fighting off a supervillain because the current Justice League weren't getting there fast enough, Booster is confronted by a smarmy Cyborg, who makes sure to dress down Booster and his era of the Justice League.
Now, Justice League International, Booster Gold and Generation Lost are all co-written by Keith Giffen and I'd like to think that he somewhat resents how the Justice League team he wrote for years is looked down on by history as a bunch of jokes. That reveal of Max Lord in Countdown to Infinite Crisis was a double slap in the face, taking apart the character he created and the team he invested so much time in. When Booster Gold absolutely tears into Cyborg, it's not only therapeutic, but it's more than likely Giffen speaking from the heart. I'll get to more of it later, but here's what he has to say about Max Lord.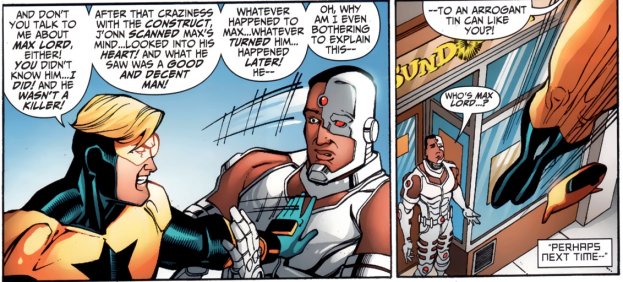 Love that he makes sure to bring up that story with the Construct, even if Cyborg (and much of the reading audience) doesn't have a clue as to what he's talking about.
The Max rant is such a weird thing for Booster to go off on, all things considered, unless they're going somewhere with it. The rest of the issue involves Booster going back in time to that era of the League and briefly meeting up with Max. Going with his suspicions, Max is shown to be a pretty all right guy around this time.
Now look at the dialogue from the first issue of Generation Lost after Max takes down Booster from behind.
"I'm glad it was you. I really am."
"Go to Hell."
"Right. But I think we know that at this point… that'd be redundant. Don't get up, stay down. I don't want to hurt you. Not any one of you. You don't get it. None of you get it. We were friends, Michael… This all started with you and me. You and me. I still think of you as a friend, Michael. I miss you. But you and the rest of them, the whole idiotic spandexed costume party – you're all-so busy looking at the brushstrokes… that you've never seen the painting."
"Killing Ted? That was a 'brushstroke'?"
"You think I wanted to kill Ted? You think I liked that? I didn't have any choice. It haunts me. I am doing what I have always done – right from the beginning. Right from when I found you and marched you – right there – through the door to the Justice League of America! I'm trying to save the damn world. And you've gotta ask yourself, 'Booster', when one of the most powerful beings on the planet murdered me… and the universe sought fit to send me back… who's right?"
At first glance, it appears to be Max being his evil Checkmate self, but is it really? Look closely at what he says. Could it be that he's been controlled into this by some outside force? Is he trying to "save the world" from the superheroes or from something more sinister that he can't do with every hero on the planet looking for him?
That's what it seems like to me. Something is behind Max Lord's turn to evil. But who could it be? Before I get to that answer, I want to talk about The Authority: The Lost Year.
For those who aren't in the loop, Lost Year is what became of Grant Morrison's attempt at writing The Authority. He only lasted two issues before completely forgetting about it and letting it drift into the abyss. Keith Giffen was entrusted with his notes and has been doing a pretty good job writing the rest of the series. The story has had to do with the team being stuck flying through the multiverse, trying to find their way home. In the first story, they're stuck on a world like ours, which doesn't have any superheroes or magic because some sleeping Lovecraftian creature has been eating all of Earth's energy. The second story has them go to a world where the other heroes didn't exist, leading to a science vs. magic civil war between members of the Authority. The third story, which just wrapped up?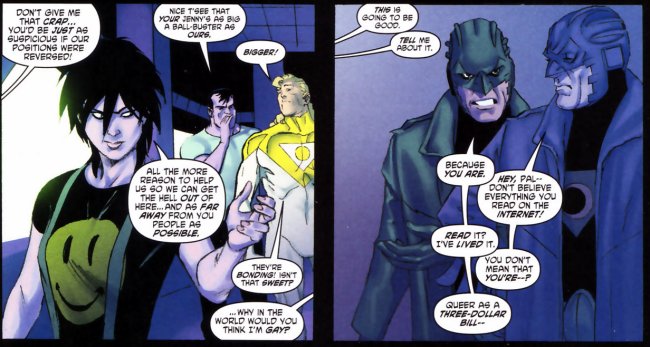 The world where Keith Giffen and JM DeMatteis write the team. Yes, they even get DeMatteis to join in for a couple issues. Midnighter and Apollo are less competent and haven't come to terms with their homosexuality, while the others are less than trusting to this visiting Authority team because they fight evil clones and shapeshifters every other week. Things start to calm down until the Nasty Bastards, the Authority's set of villains, pop in for a fight… only to piss themselves because there are now two sets of the Authority.
It doesn't hit me until the second issue that the team is made up of loosely-veiled Justice League International knockoffs. You have the leader Emperor Maximus along with the Narcissist, Dung Beetle, Hot Chick, Frost Fairy and Rad-Man. Fights happen, quips commence and the main Authority team leaves.
Towards the end of the issue, Emperor Maximus returns with a new ally.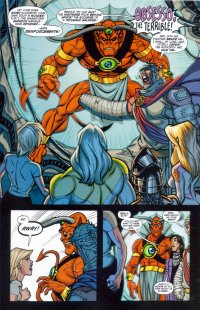 It isn't hard to identify that Obsesso the Terrible is supposed to be Despero. Despero did in fact fight the International era Justice League, but only twice. It wasn't like he was their Lex Luthor or anything, so the reference is a bit suspect.
But wait! References to Despero? Let's go back to Booster bitching out Cyborg.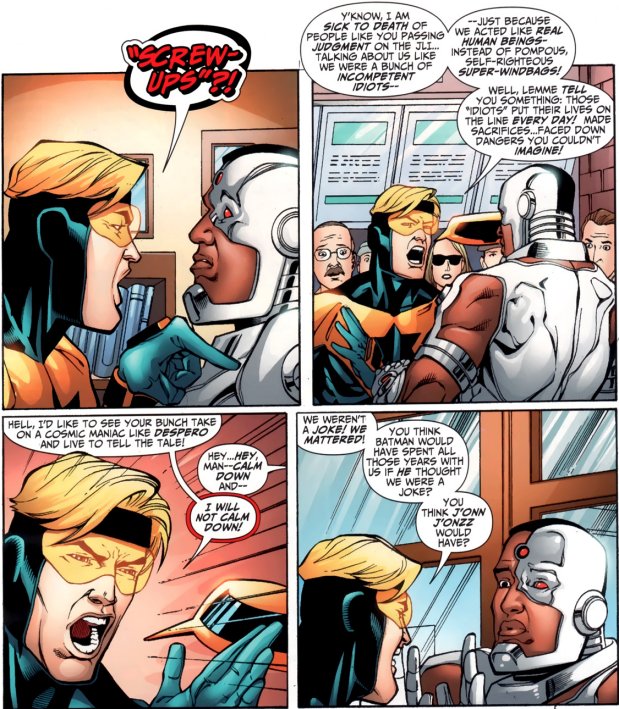 Yeah, there's another mention of Despero. So could Despero be involved with Max Lord's behavior? It would certainly make sense. Despero has crazy mind powers and, now that I think about it, it would be the ultimate revenge. The two times Despero's tangled with Booster and the rest (not counting that recent Blue and Gold arc in Booster's solo series), he's been defeated mentally. First time, Martian Manhunter used a once-in-a-lifetime mind attack that made Despero believe that he's killed the Justice League before falling into a comatose state. I think he turned into a fetus or something. The other time had L-Ron – who is like the poor man's Skeets – take over Despero's mind and gaining full control over his body for a couple years. This led to L-Ron/Despero joining the Justice League Task Force for a spell.
"You mess with my mind? I'll mess with yours!" Hm, it does kind of work out like that.
And hey, you know what else? Remember Max's cannon fodder?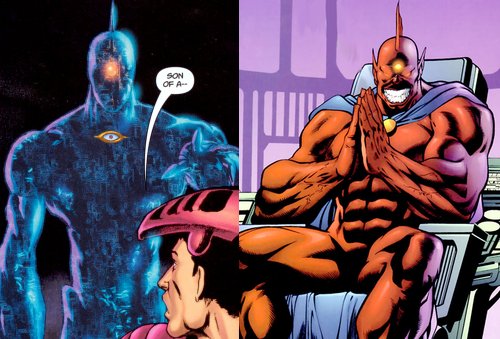 Hey now!
Similar Posts: