March 20th, 2008 by
Gavok
| Tags:
Batman
,
booster gold
,
cable
,
DC comics
,
geoff johns
,
jsa
,
justice league
,
justice society
,
superman
Earlier tonight I was in the middle of a conversation about how many Cable archetypes there are in comics and this little idea clicked in my head. It's silly, but I can't shake the need to at least give it a mention.
DC has been playing around with Kingdom Come a lot lately. I haven't been reading Justice Society of America, but I know Starman is from that reality and they've been using a good amount of heroes and villains from that story since the new volume started up. Most notably KC Superman and Gog from Kingdom. Geoff Johns writes JSA and is also a co-writer of Booster Gold.
Recently, Booster Gold introduced the title character's father. He never showed up in Booster's old series, including his issue of Secret Origins, but I suppose something was suspect about his lack of appearance mixed with Booster choosing never to bring him up. Now he's in league with Per Degaton, an old school Despero, Ultra-Humanite and the mysterious Black Beetle. What they're planning isn't exactly known.
When he was teaming up with corrupt time-traveler Rex Hunter, Booster Sr. (I don't recall ever seeing his name) was out to undo the destinies of the Justice League so that he could use time travel to his advantage and become the ultimate superhero. Think about that. He wanted Superman, Batman and all the rest out of the way so that he could be the top hero. He's totally missing the point about what being a superhero is about and it's set to someday blow up in his face. Sound familiar?
Not just that, but notice the short, white hair and scar going down his right eye. Seemingly based on Cable, just like another DC character.
What I'm wondering is if Geoff Johns has any intentions on somehow taking this guy…

…and having him change costumes so he can someday be this guy…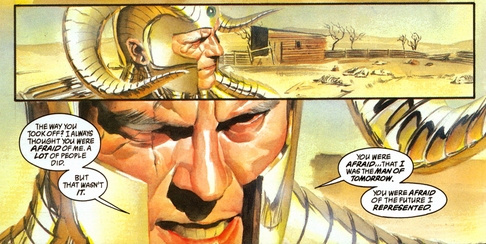 I'm not saying that this is going to happen. I'm not even certain if I want it to happen. All I'm saying is that if it does happen, I totally called it. Just throwing that out there.
Similar Posts: