December 12th, 2010 by
david brothers
| Tags:
frazer irving
,
john rozum
,
milestone
I've given DC a lot of crap over Milestone over the past however many months it's been since they announced the acquisition and started rolling out content. The JLA stuff wasn't working for me thanks to Ed Benes's art, the one-shots in The Brave & The Bold were pretty uneven, and the trade schedule went from reasonable to "none."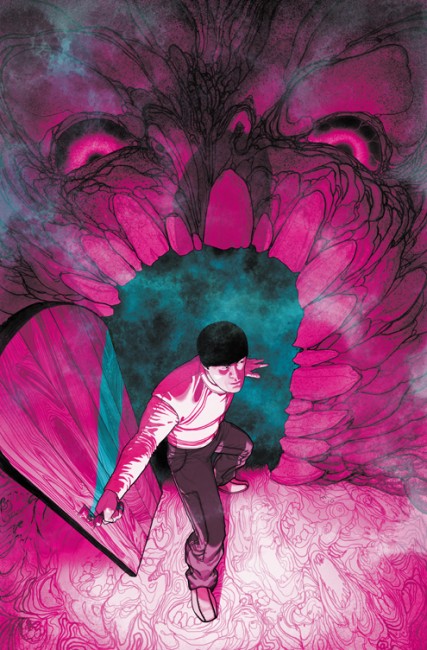 But, y'know, there was some news regarding Milestone this past week that was super, super dope. From the DC's Source blog:
Creator and writer John Rozum returns to the fan-favorite title to continue the story of David, and to give the DCU a new corner of urban horror to explore. Right from the start, John's throwing David in over his head, giving new readers and old friends alike the chance to dive into a new story and hold on for the ride. Joining him will be the excellent star artist Frazer Irvingon all visual duties to create a world few have seen and fewer still dare to dwell.
I don't remember reading Xombi as a kid. I'm sure I did at some point, but in rereading it earlier this year, I realized that it wasn't the type of comic I'd have wanted as a kid. It was a mix of sci-fi and urban fantasy, but clearly written for adults. Not in a mature readers sense, exactly, but written for adults in terms of approach. I like it. I'm looking forward to more and (hopefully) a fat TPB of the first year or so.
I honestly couldn't be happier with this creative team. John Rozum was the original creator of the series, and Frazer Irving is hot off a stellar turn on Batman & Robin. Irving is perfectly suited to the tone of Xombi, and I'm having trouble thinking of people who do creepy better than he does. Probably Richard Corben, but even then, Corben's creepy is different than Irving's creepy. That sickly looking color scheme Irving likes, with the purples and pinks? That's perfect.
So, DC Comics: Bravo. I'm looking forward to this one.
Check out Frazer Irving's blog and John Rozum's, too.
Similar Posts: