March 16th, 2011 by
david brothers
| Tags:
DC comics
,
dwayne mcduffie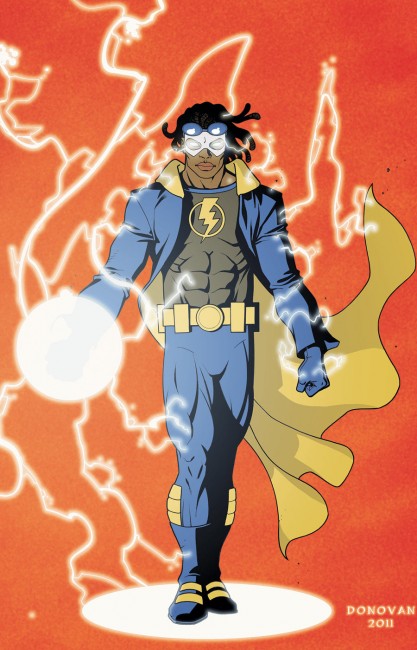 Yesterday, I posted about the upcoming Static Shock Special and Tommy Lee Edwards's statement that DC wasn't donating any of the proceeds to Dwayne McDuffie's estate or a charity. Around the same time I posted, I asked a friend to hit up DC for a statement. I got that statement today, and, boiled down, Static Shock Special is going to be a comic that contains an homage to McDuffie's career, but is not, in fact, a tribute book. Here's the solicit:
STATIC SHOCK SPECIAL #1
Written by FELICIA D. HENDERSON
Art by DENYS COWAN, PRENTIS ROLLINS and others
Cover by DEREC DONOVAN
A special one-shot paying homage to Dwayne McDuffie and the world of Milestone Media, with tribute material from Milestone co-founder Denys Cowan and other Milestone alumni.
One-shot • No ads • On sale JUNE 1 • 32 pg, FC, $2.99 US • RATED T
My reaction to Edwards's tweet was resignation and anger. Industry rule #4080: "record company people are shady." It applies to comics, too. Comics have a history of screwing over their creators, whether via exploitative contracts, outright lies and theft, or something as minor as the way characters are prized over creators. DC making a for-profit book off the back of a man's death? As far as sins go, it's minor in comparison to what comics have already done. So it would be unsurprising. Disappointing? Sure. Infuriating? No doubt. But unsurprising all the same.
Now, the official word is that this isn't a tribute book. It's a book that contains an homage, and proceeds are not being donated to McDuffie's family, estate, or any charity. Those are two different things, and I can understand the difference, but that rings hollow, doesn't it? DC actively and purposefully screwed with McDuffie's last comics work, and eventually fired him over it, and I feel like the least they could do is do an actual tribute book to the man and his work. It's small solace, but it would be something. Donate the proceeds to schools in Detroit or something.
Instead, we get an homage. Milestone profits from it, to be sure, but I don't know, man. I'm not sure how to feel about it. Static Shock 2 was supposed to be solicited in this latest round–does the special replace that? Is it just Static Shock with eight pages of added homage? There's precedent, too. They made one for Julie Schwartz back in '04, and I can't find mention of the profits from that going to charity or anything. And that's fine–they celebrated his life through the comics he helped create. DC doesn't have to do anything.
It kinda says a lot that I could see DC dicking over McDuffie one last time, doesn't it? Egregious editorial interference on his JLA run, scrubbing plans for a Static ongoing a year or so ago, pulling perfectly legal quotes from Milestone Forever, and hiring Rian Hughes to black up Milestone Forever with some graffiti and buildings, now this book is urban, homey, YEAH!, and all of the rest of it beat any faith in DC Comics as an entity out of me, I think. So when faced with something awful, something that someone with no heart would do, my first thought was, "I shoulda known." How sad is that?
But homages aren't tributes, and I guess a bit of semantics makes everything better. Milestone Media Partners still gets paid off the issue, and I assume some of that goes to McDuffie's estate. The readers and some of his friends get one last chance to appreciate the man and his work. And sure, DC didn't have to make an homage or a tribute. DC doesn't have to do anything.
But I still feel grossed out. Maybe that's unfair of me, since they didn't do anything wrong, really. It probably is unfair, but it is what it is.
If you go to a comic shop today or tomorrow or whenever, do me a favor and pick up Xombi 1, by John Rozum and Frazer Irving. It's the real return of Milestone, the kinda comic we should've gotten back when DC was sandbagging McDuffie with Ed Benes and tie-ins to comics no one likes. It's good. That's about as good of a testament to the man and his legacy that I can imagine. He was better than most, and he surrounded himself with equally talented people.
edit: DC sent CBR an official statement
Similar Posts: