May 30th, 2011 by
david brothers
| Tags:
frazer irving
,
john rozum
,
xombi
stuff i made
–
I got quoted in the Wall Street Journal talking about digital comics and Marvel's vault
. How crazy is that? Very flattering.
–Thor: Tales of Asgard is soft. Netflix it if you have to, ignore it if you don't.
–Ten Marvel comics that are worth buying in August
–Here's some free digital comics
–A quick look at Adam WarRock's new EP
–A preview of Miners Mutiny from Stackhouse x Shahan
–More digital comics, but not free
---
something i like
John Rozum and Frazer Irving,
Xombi
3: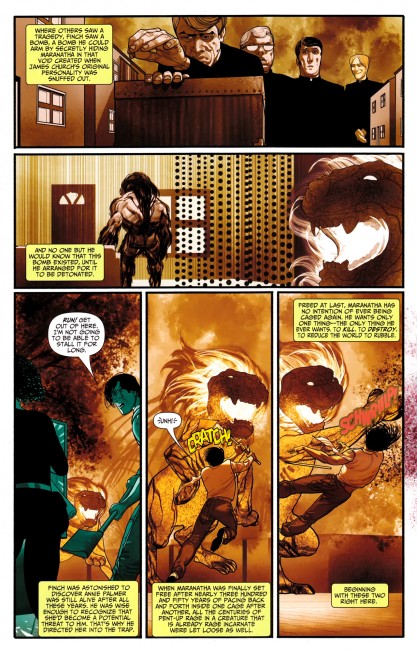 Rozum's contribution to Xombi is far from insignificant (the story's pretty good, and I'm really very happy with how the series is shaking out), but Irving's work is what I want to focus on right now. Off the top of my head, I'd say that the series rarely goes above five panels per page, which gives plenty of room for action and dialogue. Irving's had a chance to show off some low-key acting (David Kim on the phone is #1 is great) and some large-scale action scenes (check out the panel progress from panels 3-5, particularly David's head), and he's done well with everything. At the moment, this is probably my favorite DC book. Maybe a tie with the Milligan/Camuncoli/Landini/Bisley Hellblazer.
(The colors are interesting, too. The series feels like it's colored by mood [a burning, angry orange, a twilight blue, a calm, natural green] rather than traditionally realistic colors.)
Xombi is fairly free of metatextual commentary. Xombi isn't a comic about other comics. Everything you need to know takes place inside the panels. This might be the first time the story in the comic breaks out of the panels. I like the extra punch it adds to the scene, though I feel like the lettering being over the action, rather than near, hurts it a little. But that right there, the blood splatter breaking out of the confines of reality, is a great touch.
Similar Posts: