December 29th, 2008 by
Gavok
| Tags:
fantastic four
,
giant man
,
hawkeye
,
invisible woman
,
jeph loeb
,
Marvel comics
,
thing
,
ultimate edit
,
ultimates
,
ultimatum
After a little recap, yesterday saw Iron Man try to save Captain America's life in the way you save a man on fire by stomping on them. Then we had Carol Danvers' gigantic guns.
With the disaster still fresh, we now join Yellowjacket and Hawkeye, followed soon after with Thing and Invisible Woman.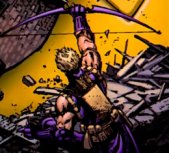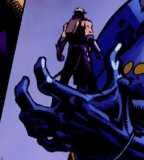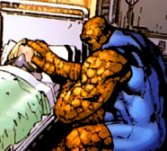 Hey, by the way, if you're reposting these images on another site, please be nice enough to at least post a link to us. That includes you, Banhammer.
ManiacClown insisted that Giant Man use the line "Olly, Olly, X-Men free!" but that's so corny that even I feel like punching my monitor.
I'm also disappointed that at no point during the Thing segment did I have a chance to fit the line, "Oh, Aunt Petunia. Oh, forgive me. Forgive me, forgive me, forgive me…"
Join us tomorrow as Zarda appears and reminds me of how horrendous Squadron Supreme has become in the last couple years. Have any of you been reading that junk?
Day Four!
Day Five!
Day Six!
Day Seven!
Similar Posts: