June 4th, 2009 by
Gavok
| Tags:
amazing spider-man
,
Marvel comics
,
rap
,
spider-man
,
wolverine
The other day, Thomas Wilde — former writer on this site and all around good guy — emailed me with a couple pages from last week's Amazing Spider-Man. Notably, the part with the Spider-Man/Wolverine fist-bump. He wanted me to do something with it in terms of a battle rap.
This is what became of the challenge.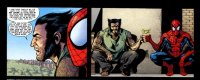 With apologies to hermanos. I promise no battle raps in the next Ultimatum Edit.
Similar Posts: