July 14th, 2010 by
david brothers
| Tags:
amazing spider-man
,
cipher
,
rap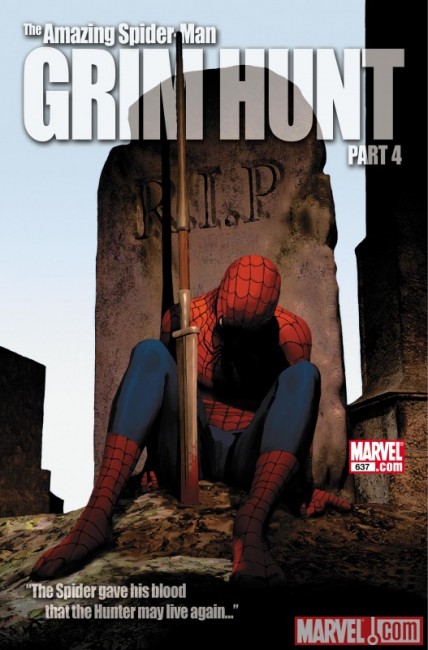 Amazing Spider-Man 637. Words by Joe Kelly, pictures by Michael Lark and maybe Stefano Gaudiano.

Standin' my ground, never back down, willin' to rob, steal, and kill anything that threatens mine

daddyfatsax
big boi
You're not reading this? You're missing out. Amazing Spider-Man: Grim Hunt has been fantastic. If you're still holding a grudge over One More Day… get over yourself and read some good comics.
Book-wise, this week is light for me. I got a preview copy of Matt Kindt's Revolver
and burned through that in one sitting. Review coming soon on Comics Alliance, but the short version is "That was a good'un." Art's good, story's interesting, hook's cool, go on ahead and get that one. I'm also working my way through Takehiko Inoue's wheelchair basketball drama Real. Trying to keep my consumption to a couple volumes a month. I finished the fourth volume last night, so I'll probably read Real 5
before bed tonight. This is another one that's full of good stuff. Great characters, great art, blah blah blah. Read Real if you aren't. The bulk of my reading right now are older books for this 6 Writers thing I've been doing. Next week may be a little different.
Oh, next week is San Diego Comic-con. So much for getting any reading done there.
Speaking of Good Comics
David: Amazing Spider-Man 637, Captain America/Black Panther 4
Gavin: Authority: Lost Year 10, Batman 701, Booster Gold 34, JL: Generation Lost 5, Magog 11, Astonishing Spider-Man and Wolverine 2, Avengers Academy 2, Deadpool Corps 4, Gorilla Man 1, Invincible Iron Man 28, Iron Man Noir 4, X-Men Origins: Deadpool
Esther: Definitely: Batgirl 12. Maybe: Batman 701, Brave and the Bold 35, Doc Savage 4, Power Girl 14, Superman 701
Similar Posts: