April 19th, 2009 by
Gavok
| Tags:
deadpool
,
Marvel comics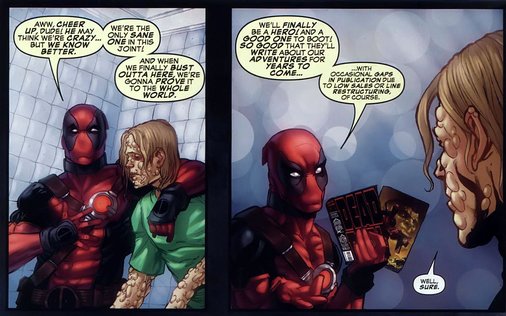 First off, thanks to all of you who have sent in your ideas and suggestions for my upcoming Top 50 (or maybe 70) Deadpool Moments series I'll be doing in a few days. The response has been pretty overwhelming and I very much appreciate it.
Of course, the more the merrier. If there's anyone out there meaning to send in some ideas, now would be the time. Just send me an email with your suggestions and maybe a sentence or paragraph about what's so great about said scene.
Something where I can go, "superwadefan36 says 'This is easily the best Deadpool moment because of the way he blah blah blah blah…'"
I'm also glad to see that nobody's suggested anything from Palmiotti's Cruel Summer arc, which cements my theory that it's the worst three issues in Deadpool's entire history. Waaay worse than the old X-Force stuff.
Similar Posts: