March 27th, 2009 by
Gavok
| Tags:
captain america
,
hawkeye
,
iron man
,
jeph loeb
,
Marvel comics
,
ultimate edit
,
ultimates
,
ultimatum
,
valkyrie
Another fun-filled week comes to a close. Last time, Hank Pym blew himself up to save the SHIELD folks. None of this would have happened if they remembered Ultimate Captain Marvel exists. There's a joke in there about Pym committing suicide because he saw that his Janet-less self leads to Dan Slott's Mighty Avengers, but I… oh, wait. I just made the joke. Carry on.
Let's finish this off with the Ultimates.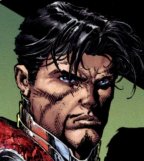 Wow, that's not a very impressive line-up for the Ultimates. Two of them just died, one of them is dying and the other one wants to die.
Hope you enjoyed this week's run. ManiacClown and I had a blast. I'm going to be gone for the next few days thanks to the CHIKARA King of Trios tournament in Philly, but I'll be back with more of that Venom garbage people seem to enjoy. In the meantime, enjoy the usual set of words from hermanos and Esther.
Similar Posts: