November 13th, 2011 Posted by Gavok
This week I'm joined only by Space Jawa. It's a somber week of panels, as Darkwing Duck meets its end through the final issue. There are rumors that Disney is going to try to start an imprint within Marvel and I really, really hope it works out.
My comic shop got double copies of Point One, so they did the sensible thing and cut the price in half. Even then, I found I just didn't care enough to pick it up. I heard the Nova stuff was terrible.
Also, remember, if you see a panel in a new comic and want to see it represented, by all means send me a line.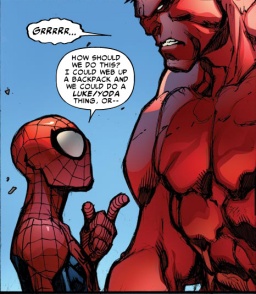 Avenging Spider-Man #1
Zeb Wells and Joe Madureira
Batman and Robin #3
Peter J. Tomasi and Patrick Gleason