May 31st, 2013 by
Gavok
| Tags:
Chikara
,
eddie kingston
,
icarus
,
ippv
,
wrestling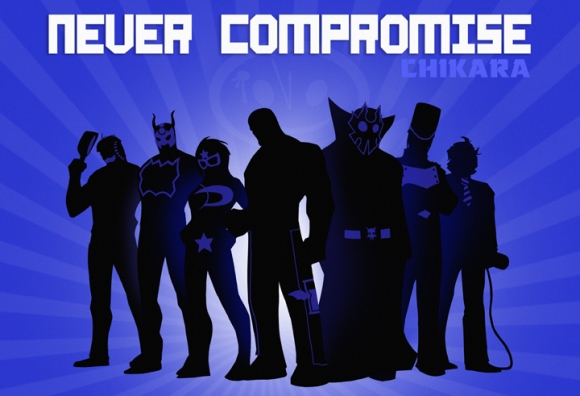 This Sunday at 4:00 (with a free pre-show at 3:30), my favorite indy wrestling promotion CHIKARA is doing their next big internet pay-per-view in the form of Aniversario: Never Compromise, celebrating the 11th anniversary of the company's existence. While it's their fourth run at iPPV, it'll be the first time you'll see me there, as I've got my tickets to the Trocadero in Philadelphia.
You can order the show here, while on the Saturday before it, they're going to be doing a free hype show called Countdown to Aniversario: Never Compromise.
If you're even a slight fan of wrestling and don't know anything about CHIKARA, I've written up a much-enjoyed primer a year ago. It can probably use an update, but here's what you need to know: this is a wrestling show where the last event's title match ended due to TIME TRAVEL PARADOX. CHIKARA, baby.
Since it's been a year, who's who and what's what? A lot of this, the 12th season, revolves around this man, Wink Vavasseur.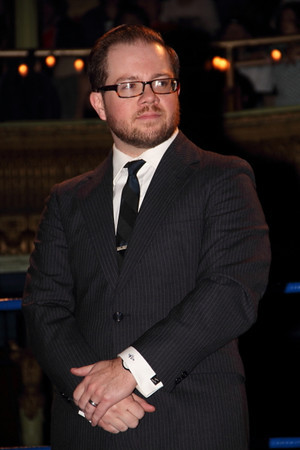 Since the beginning of 2011, Wink has been the Director of Fun of CHIKARA, the guy who makes the matches. He got the job due to his father's company Worldwide Media Development Corporation. At first, Wink was a welcome sight to the fans, as he replaced corrupt previous Director of Fun Dieter VonSteigerwalt, who was more dictator than director. While Wink came off as an egotistical corporate stooge with little knowledge on how wrestling works, he was harmless enough and stumbled upon a couple good ideas, such as the creation of CHIKARA's Grand Championship and the season-long tournament to crown it. At worst, he was gullible and susceptible to the swaying of the unpopular members of the roster, leading to some decisions that gave them the upper hand.
One constant is that Wink isn't too keen on champion Eddie Kingston and wants the title off of him. It started out as kind of a passive aggressive thing, but over time, it's become more overt. He's become more blunt in his corporate activities, which has painted him as an enemy to the eyes of the CHIKARA fans. After a couple things got out of his control, his father spoke down to him and warned him, "No more screw-ups." Since then, Wink's thirst for respect has driven various wrestlers out of the company via quitting and firing. Time will tell if his power trip will bring him higher or if his house of cards will crumble. Perhaps we'll find out at Never Compromise.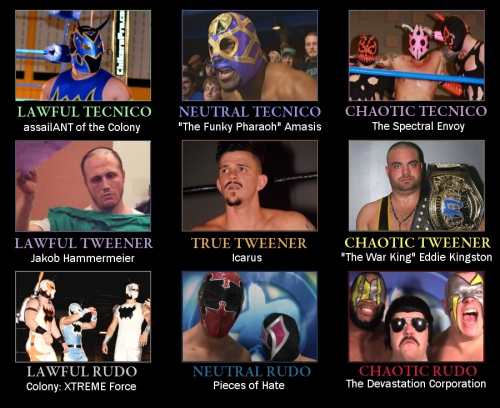 (click to enlarge)
Sorry, I couldn't resist.
Now let's look at the scheduled matches and the wrestlers involved.

Stipulation: Championship Match for the CHIKARA Grand Championship
Our Grand Champion is "the War King" Eddie Kingston, who won the season-long tournament in 2011 and has held onto the belt to this day. Much of 2012 was spent defending against all comers, usually in the form of those who were on the way our or simply invading. By defending the title, Eddie defended CHIKARA itself by making sure the likes of Kevin Steen and Tadasuke couldn't run off with what belonged in the company. He and Wink were at odds during this time and it led to Wink setting up matches to help push the belt off Eddie's waist. If he had a scheduled title match on a Sunday? He'd have a non-title match scheduled the Saturday before it. This got worse in the beginning of 2013, when Eddie accidentally knocked Wink over. Because of that, as well as Eddie no-showing a title defense, Wink made it mandatory that every CHIKARA show would feature Eddie defending the Grand Championship.
There have been many challengers, but nobody's been able to dethrone Eddie. Green Ant made him tap out in a non-title match, but failed in the title rematch. Eddie's body has been in bad shape, especially with his knee, and the constant battles have made him more irritable. Also making him irritable is the general reaction to him during some of his matches. Fans are getting tired of Eddie as champ and have been cheering on the fresher faces who take him on whenever he's up against a tecnico. People love the underdog and even with his body failing, Eddie's been dominant. The brass, the wrestlers, the fans and his own body are out to get him. It's only a matter of time before something gives.
The next in line for a shot is Icarus. Icarus has had an interesting couple months. For years, he's been the most hated man in CHIKARA, garnering deafening boos whenever tagged into the ring. A year ago, Wink decided to add beloved basketball-playing show-off Sugar Dunkerton to Icarus' faction FIST. Considering Sugar's refusal to break the rules, he was the odd-man-out from the very first second. Icarus, Chuck Taylor and Johnny Gargano hated him. Then something started to happen. In tag matches, Icarus and Sugar would be able to work as a team. The two started seeing eye-to-eye and because of that, Icarus would regularly defend Sugar when abused by his teammates. Recently, this caused Gargano to lose his patience and quit FIST and CHIKARA, having grown tired of Sugar's goody-two-shoes personality. Similarly, Sugar angrily quit FIST and got fired by Wink because he couldn't take having Icarus repeatedly cheat on his behalf.
Now Icarus is alone, though he might not be on Sunday. Recently, Icarus got to compete in a tag match against WWF veteran Marty Jannetty. Icarus has idolized the man for years and for once showed some respect. With Sugar gone, Icarus is hoping to convince Marty to be in his corner.
Eddie and Icarus have no real connection going into the match other than being competitors from the early days of the company. If anything, there's a real tension and feeling that something big is going to happen here at Eddie Kingston's 14th title defense.

Stipulation: Championship Match for the Campeonatos de Parejas, Best 2 out of 3 Falls
Defending the belts are 3.0 (Shane "Big Magic" Matthews and Scott "Jagged" Parker). Spending much of their CHIKARA careers as jokes at the bottom of the card since early 2006, the two built themselves up and gained tag team gold in 2012. Unfortunately, they lost the championship in their very first defense due to a terrible rib injury for Parker. Since then, the ever-so-excited duo clawed their way back to the top and started the 12th season by defeating the Young Bucks. To prove that their first title wins were no fluke, they've so far successfully defended against the Devastation Corporation and the Batiri.
The Pieces of Hate (Jigsaw and Shard) are two friends-turned-enemies-turned-evil-friends. As the story goes, Shard was close with Jigsaw and Eddie Kingston many years ago and chose a separate path to get into wrestling. He reappeared during last year's big GEKIDO storyline as part of an invading troupe of wrestlers wearing gimmicks that made them dark doppelgangers of certain CHIKARA talents. Shard modeled himself as an evil Jigsaw, of course. GEKIDO found themselves ultimately defeated, but Mike Quackenbush refused to let things end. He started horribly injuring members of the faction to teach them a lesson and Jigsaw found it to be too over-the-line. Jigsaw turned on his mentor and joined forces with Shard. Claiming to be sick of being in Quackenbush's shadow, Jigsaw now focuses on mentoring Shard so they can become tag champs. Quackenbush put a damper on that momentarily by defeating the duo with the help of Japanese legend Jushin Liger. Afterwards, Quackenbush was unceremoniously fired by Wink for mysterious reasons.
With Quackenbush out of the way, Pieces of Hate dominated the tag team ranks and won the one-day 16-team tournament Tag World Grand Prix. By doing so, they've earned a shot at 3.0.

Stipulation: Sarcophagus Match
It used to be that Ophidian and Amasis were one of the big staple teams of CHIKARA. As the Osirian Portal, the sinister snake man and breakdancing pharaoh made a name for themselves and at one point held the tag belts. They've hard other people join the group over the years, like Escorpion Egipcio and Hieracon, but it's mostly been Ophidian and Amasis tearing up the ring. They even became a huge sensation on the internet when one of their matches at Combat Zone Wrestling, where they used the most illegal move in wrestling, became a hit on YouTube.
Towards the end of 2011, the team was beginning to lose its mojo and had a lot of problems winning matches. More importantly, Amasis got in a car accident and his injuries would seemingly prevent him from wrestling ever again. Amasis announced his retirement during the 2011 season finale and in response, Ophidian spat venom in his eyes and removed Amasis' mask. Ophidian went completely insane, falling deeper into darkness. He was eventually recruited to work under Delirious as the field commander of the Batiri. During a major ten-man tag match a few months ago, Ophidian was spooked by seeing a cluster of fans in the crowd wearing Amasis masks. At once, they all removed their masks except for the one standing in the middle: the true Amasis.
Returning for revenge, Amasis has haunted Ophidian every step of the way. He's had to fight his way through the Batiri, but this Sunday he'll finally get his hands on the snake in the grass and perhaps lock him away once and for all.

The Colony (Fire Ant, Green Ant and assailANT) has been together in various forms since 2006. The ant-based wrestlers became THE three-man team in the promotion, culminating in Fire Ant, Green Ant and Soldier Ant winning the 2011 King of Trios. Once GEKIDO invaded, they brought a darker set of ants called the Swarm. The two factions warred for months and Wink didn't see much difference between any of them. On one of his whims, he switched the teams around and traded Soldier Ant for assailANT. This proved disastrous for Soldier, but assailANT gradually began to change. Over time, he started to realize that he LIKED being a good guy. The crowd and fellow talent wouldn't accept him, but he stuck it out and tried his hardest to earn his spot as a tecnico and a legit member of the Colony. By the end of 2012, the blue bruiser got his wish.
On the other side of the ring is the Devastation Corporation (Max Smashmaster, Blaster McMassive and Flex Rumblecrunch). Led by Sidney Bakabella (who's like Tony Clifton as a wrestler manager who still thinks it's the 1980's), the face-painted mammoths have crushed nearly everyone in their way. Max Smashmaster and Blaster McMassive easily earned their three points towards title contention, but lost to 3.0 due to chicanery. For months, a third member would show up with them, only to slink off into the darkness. At the Tag World Grand Prix, he finally showed himself. In the quarterfinals, the Devastation Corporation fought the Colony in a regular tag match, which escalated into a double count-out. Flex Rumblecrunch helped his brethren in absolutely annihilating the three ants post-match, leaving them a pile of a broken bodies. Now it's time for the Colony to get their redemption.

Stipulation: Hair vs. Hair
A year ago, Tim Donst lost a major match against Hallowicked and after all that lead-up and endless claim that he was the best Young Lions Cup champion of all time, Donst ended up broken. Once obnoxiously happy with his best friend Jakob Hammermeier, Donst became depressed and insufferable. He constantly whined about how wrestling has ruined his life and increased his mistreatment of Jakob, who has desperately been trying to make Donst like him again to no avail. Recently, Donst has added CHIKARA regulars Veronica and Steven "the Turtle" Weiner into his clique, constantly dressing them down for being losers and abusing them both physically and psychologically.
This has drawn the open disgust of Gavin Loudspeaker, the ring announcer. Gavin used to hate Jakob, who had played evil ring announcer for the BDK faction back in 2010, but grew to somewhat tolerate him. Then when seeing the constant abuse, he started to speak up and offer to help Jakob. Jakob's shown no interest in this and has kept his loyalty to Donst no matter the humiliation. Donst had grown tired of Gavin not minding his own business and made it his business to bully Gavin on a regular basis. He'd appear in the studio during Gavin's podcast segments and slap him around. At two points, he's cut off pieces of Gavin's hair, and in the second case even ATE SOME OF HIS HAIR AND SPAT IT OUT INTO JAKOB'S FACE.
Since Wink isn't much of a fan of Gavin always speaking out against him, he's accepted Donst's terms to make a match between wrestler and non-wrestler. Winner gets to shave the head of the loser. Gavin's accepted his fate and has decided that although he will be destroyed, he isn't going down without a fight.

Delirious became a major force of vengeance since the end of 2011, where he vowed to torture UltraMantis Black for two years due to having to endure two years of mind-control thanks to UltraMantis' actions. Despite putting together the Batiri and Ophidian as his Dark Army, Delirious ended up choking on his promises. Not only did UltraMantis and his team win the King of Trios, but they also defeated the Dark Army quite decisively at the end of the 2012 season.
At the very beginning of the season, Delirious had a regular singles match with the baseball-headed Old Timey King of Swing Dasher Hatfield. Dasher shocked Delirious by rolling him up for a pin within a minute. Delirious lost his mind after that and led the Dark Army into putting the boots to Dasher. He focused his ire on Dasher and the Dark Army helped put him on the shelf for a couple months. Now Dasher's back to settle the score.

Wink doesn't look at the Colony and all the other ant wrestlers as individuals, but as a bunch of interchangeable names in a franchise. He saw that Soldier Ant was miserable teaming up with GEKIDO member deviANT, so he offered him his own team of handpicked talent (Wink's hand, not Soldier's) to lead. Unfortunately, it was too much for Soldier to handle. A month after the deal was made, they debuted Colony: XTREME Force (Missile Assault Ant, Arctic Rescue Ant and Orbit Adventure Ant). While goofy and maybe a little too radical, these three special edition action figure personalities have shown an underlying darkness and it seems honor is sold separately. Soldier couldn't take it anymore and quit the company. deviANT was given the role of leadership instead.
Also, Wink decided he was so proud of this t-shirt-selling trio that he stripped Fire Ant, Soldier Ant and Green Ant of their King of Trios 2011 medals and gave them to the XTREME Force. This is just one of several reasons why they've run afoul of the Spectral Envoy (UltraMantis Black, Hallowicked and Frightmare). The macabre triad won the 2012 King of Trios after years of UltraMantis Black never getting his big win. In a big eight-man tag, one of the XTREME Force ants removed Frightmare's mask, angering Frightmare's partners. Since then, they've wanted to show that just because you've been handed a medal doesn't mean you deserve it.

Stipulation: Championship match for the Young Lions Cup
"Mr. Touchdown" Mark Angelosetti had one of the better rookie years in CHIKARA, where he won the Young Lions Cup tournament almost a year ago. Since then, he's successfully defended against all comers, though he's failed at winning the Campeonatos de Parejas and the Grand Championship. Outside of Young Lions Cup defenses, Touchdown has been having a hard few months. Not only has he been a fool of by his nemesis Archibald Peck, but he's broken up with his girlfriend/valet Veronica. He's decided that maybe his partner and step-brother-in-law Dasher Hatfield is right. Maybe he should try things his way, winning by fighting fair and not using foreign objects when the referee isn't looking. It's unknown whether or not Touchdown will take his relative's advice to heart, but he certainly isn't holding back on showing off his gigantic ego.
The challenger is Saturyne, the "intergalactic luchadora". The young female rookie has been a regular at CHIKARA for the past couple years, but she's yet to truly make an impact. Her win-loss record isn't the best, but lately she's been stepping up her game. She had a couple strong matches against Touchdown before, always coming up short, but since then, she's been on a roll. Now that Touchdown is nearing the end of his year-long reign, could she take the title in her very last opportunity?
This match will be part of the FREE PRE-SHOW, which will start at about 3:30.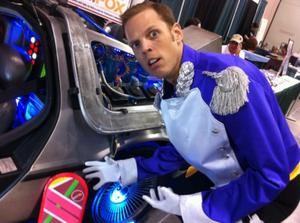 Of course, there's the big elephant in the room. There are rumors that the title of "Never Compromise" is linked to Armageddon, just like the Watchmen quote it references. Last season, upbeat bandleader Archibald Peck was fired from the company and came back in the masked form of the Handsome and Mysterious Stranger. At least, that's what pro wrestling logic would dictate. Instead, his lawyer RD Evans (who looks a bit like Peck, but I'm sure that's a coincidence) pointed out that the Handsome and Mysterious Stranger is a younger Archie due to a ridiculous list of time travel incidents. At first this came off as an excuse to reinstate Archie, since he technically hasn't been fired YET, until finding out that there's a second Archibald Peck out there due the complicated timeline. When challenging for the Grand Championship, Archie saw his time-displaced doppelganger, got hit by Eddie Kingston's Backfist to the Future (which as it turns out has time travel properties) and both Archies completely vanished from the arena, leaving a confused, but victorious Eddie.
When Archie was first fired, everyone wondered Where in the World is Archibald Peck? Now the question is, When in Time is Archibald Peck? And what kind of impact will it bring to Sunday's show? Gossip says that this may be the end of CHIKARA in one form or another.
You can order the iPPV here, but as for me, I might be front row for the end of the world.
Similar Posts: