September 13th, 2012 by
Gavok
| Tags:
Chikara
,
king of trios
,
wrestling
Prelude to King of Trios 2012
(Thanks to Suben, Flameingblack and Strenuous Manflurry for helping me on some of the profiles)
So here we are. As of this writing, we're one day away from the sixth annual CHIKARA King of Trios. It's been a year and a half since the last show, so let's get caught up.
Getting Caught Up…
Director of Fun Wink Vavasseur decided that after ten years of existence, CHIKARA is ready to have its own major singles title that everyone can compete for, rather than just those who qualify for the Young Lions Cup. To crown the Grand Champion, he put together the 12 Large Summit. Everyone on the roster would anonymously vote for someone to qualify. The twelve with the most votes would be split into two round robin tournaments. The winners of those tournaments would face off in the finals at the 2011 season finale.
Some believed that the finalists would be Eddie Kingston and Claudio Castagnoli, bringing everything full circle, but that wasn't the case. Claudio's downfall came from a slightly more surprising direction. One of the 12 Large participants was Sara Del Rey. Even though all of the BDK members were ordered to vote solely for Claudio, Sara somehow received two votes and Claudio received two less than he should have. It was little secret that Sara was getting more and more frustrated at the way Claudio and Ares were treating her and with Daizee Haze's help, she was going to break out on her own. Claudio ended up striking against the two and put Haze on the shelf. Sara fought against the BDK and defeated various members in one-on-one matches, including Claudio in the 12 Large Summit. Claudio didn't make the finals and ended up leaving CHIKARA so he could… play rugby and date hot Lithuanian women, I guess.
The BDK fell like dominos around this time. Ares was betrayed by a cowardly Tim Donst during a tag match where a loss meant having to give up the Eye of Tyr to UltraMantis Black and Hallowicked. Ares, along with Pinkie Sanchez, vanished from the company and after losing his lengthy feud to Green Ant, Tursas quietly retired from the business. For a little while, the BDK was just the lowly tag team of Donst and Jakob Hammermeier, but after Donst lost decisively in a match against Hallowicked and came to terms with not being the best Young Lions Cup holder in history, Donst endured crippling depression that led to the complete erasure of the BDK name.
UltraMantis Black freed Delirious from the Eye of Tyr's spell and gave him back his free will. Delirious was less than grateful and has dedicated himself to ruining the next two years of UltraMantis' life, just like how UltraMantis' actions led to the ruin of two years of Delirious' life. He's since become more enigmatic and calm, quietly walking around in a hooded cloak while gaining the favor of the Batiri and Ophidian.
Eddie Kingston defeated Mike Quackenbush in the finals of the 12 Large Summit to become the first CHIKARA Grand Champion. Since then, he's taken on all comers and has stood tall. This has been the one piece of good news for the company in terms of the title picture as a visiting Tadasuke won the Young Lions Cup in 2011 and went back to Japan with it. Similarly, the Young Bucks had won the Campeonatos de Parejas from FIST and now hold the belts in ROH territory. CHIKARA and ROH seem to be bordering on a feud, but it's been more like a couple unrelated instances than a full-out war.
Speaking of war, a group calling themselves the GEKIDO had invaded CHIKARA in the form of evil versions of CHIKARA staples. Led by the mysterious 17, the invaders include the Shard, combatANT, deviANT and assailANT. Quackenbush was able to decipher that the evil copies of the Colony – otherwise known as the Swarm – are actually Jose and the two Franks, three failed Wrestle Factory Students who have been subtly namedropped for years. They couldn't play nice and didn't want to pay their dues, so they were taught how to wrestle by 17, master of the 17 forgotten holds. Since his debut, 17 broke Quack's wrist and ended the careers of several other wrestlers. The main CHIKARA crew banded together and got a big, climactic win over the GEKIDO, but it seems at the cost of Mike Quackenbush's sense of decency.
Going into King of Trios, Wink Vavasseur came up with a new idea called Chikarametrics. An idea that only appears to make sense to him, he uses the stats of each wrestler on the roster to figure out who would make the perfect teammate for them. A big chunk of the teams in this year's tournament are the product of this idea and none of them are exactly happy about it. History has shown that teamwork is the key to survival on this stage no matter how talented each wrestler is on their own. They better learn to live with Wink's decisions or they won't last long at all.
The Format
Seems like the usual style of eight tournament matches the first night, four the second and three the last. There's been no Rey De Voladores tournament announced, so that's a bummer. The second night will feature Eddie Kingston defending the Grand Championship against Tadasuke. Will he be able to steal away that title to Japan as well? We'll see.
Our Combatants/Opening Round
The Batiri (Obariyon, Kobald and Kodama) have lost their handler Sinn Bodhi after UltraMantis Black paid him off with a fake Eye of Tyr. Since then, they've been acting like complete trolls on message boards, Twitter, Facebook and Craigslist. This includes their constant harassment of Sara Del Rey where they even posted her personal information for everyone to see. During a match against Sara and the newcomer Saturyne, they were bestowed with a visit from Delirious, who attacked the two women and entranced the demons with kisses on the foreheads. They haven't had much interaction with Delirious since, but perhaps he might help them in their tournament efforts.
3.0 (Scott Parker and Shane Matthews) and Akuma are victims of the Chikarametrics program. Akuma has recently returned from being ousted by his former FIST compatriots. He's earned his spot back on the roster by going through a gauntlet of challenges set forth by Icarus, including a totally sweet Ladder Match. The serious "Warrior from Afar" would probably rather team up with his ally Gregory Iron, but instead he has to work with 3.0. Parker and Matthews have had some of their biggest success recently, including a brief run as the Campeones de Parejas. Parker seems okay with Akuma, but Matthews excitedly doesn't trust him and lets him know it. They've had a couple test matches and surprisingly have the necessary synergy, but Matthews is still too bothered for it to work 100%.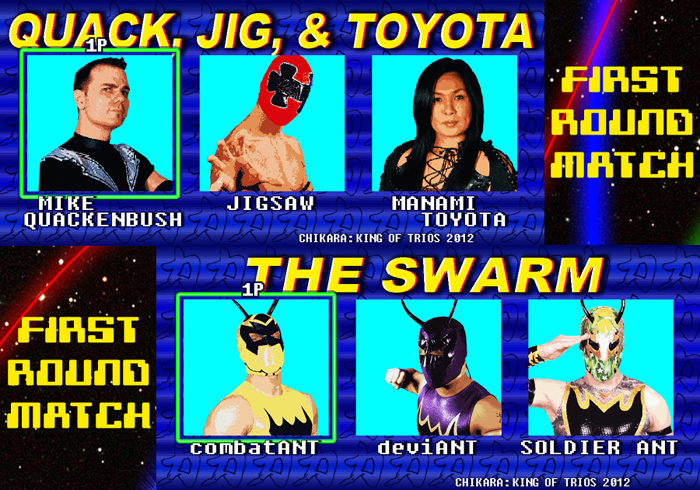 Mike Quackenbush, Jigsaw and Manami Toyota reprise their 2011 team. This would be all well and good, but Jigsaw isn't too confident in Quack's mental health lately. In a tag match, Quack got a piece of 17 and gave him all four variants of the Quackendriver in a row. The match was thrown out and it's said that 17 may never wrestle again. Quack is unapologetic and fixes to do the same to the other GEKIDO members. He figures that since Eddie Kingston is the face of CHIKARA, he no longer has to hide behind his squeaky-clean personality.
The Swarm (combatANT, deviANT, and Soldier Ant) is another Chikarametrics creation. Soldier Ant wears a POW armband and has to work alongside two men who he holds nothing but contempt for. He works to sabotage their attempts to cheat and brutalize their enemies, choosing the high road with a taste of spite. They aren't expected to last too long, but the real question is whether or not Soldier becomes an accidental casualty in Quack's violent anti-GEKIDO rampage.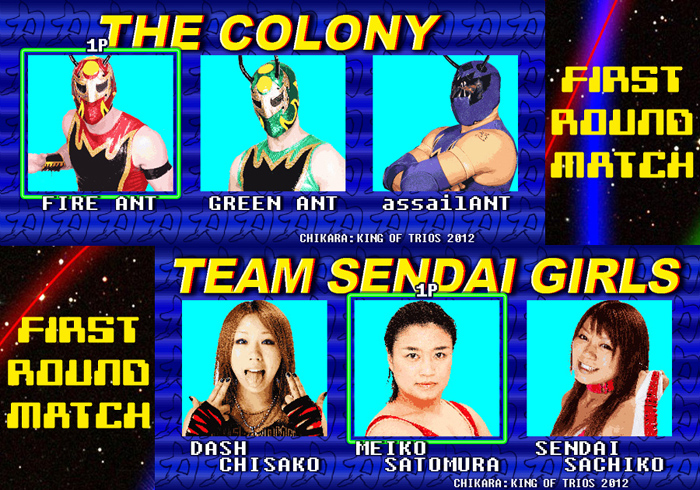 Naturally, if the two ant teams are being mixed up, that means we have the Colony (Fire Ant, Green Ant and assailANT) being forced together. Things aren't quite as dramatic as they are with the Swarm, considering assailANT is the odd man out here. There's still hatred between he and his reluctant partners, but since Fire and Green have the numbers, there isn't much in terms of bullying. If anything, they spend their effort being really steamed at Wink Vavasseur for putting them in this situation.
The Sendai Girls (Dash Chisako, Meiko Satomura and Sendai Sachiko) gained popularity when CHIKARA held a three-day event based on female Japanese wrestlers called Joshimania. Dash is a spirited young woman whose style is a blatant takeoff of Jeff Hardy. Sachiko is her younger sister and the focus of the Sendai Girls promotion. Satomura is the most experienced of the trio and the founder of Sendai Girls. She didn't get a chance to compete at Joshimania due to injuries, but has since made an appearance at CHIKARA's Anniversario show and hopes to lead her WWE-loving associates to victory.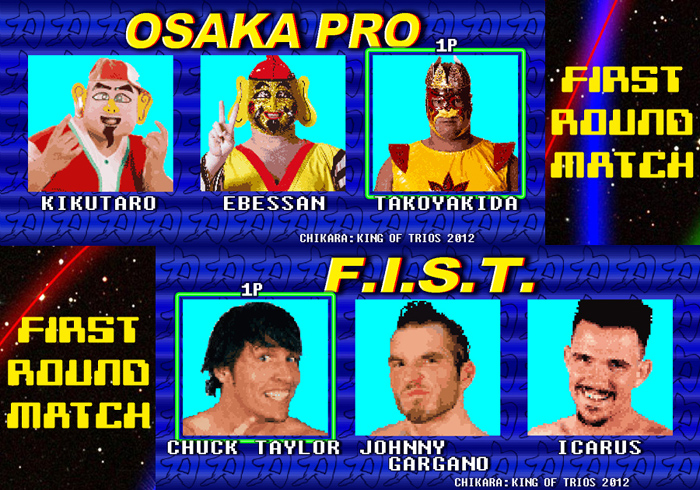 Team Osaka Pro (Kikutaro, Ebessan and Takoyakida) is made up of the company's premiere comedy-based competitors. Kikutaro is in fact the original Ebessan with this team's Ebessan being the third man to use the gimmick. Takoyakida is a self-proclaimed ruler of the Takoyaki Kingdom, which I guess is a kingdom based on a popular octopus dish from Osaka, Japan. While this is the first time these three have worked in conjunction, Takoyakida and Ebessan are teammates in the Unique Gundan faction. How many tournament rounds can hilarity ensue?
FIST (Chuck Taylor, Johnny Gargano and Icarus) make their expected return to Trios action. In an interesting twist, they too have been affected by Chikarametrics. Former Throwbacks member Sugar Dunkerton had been pleading with Wink Vavasseur to be allowed to be part of a team with hopes of taking part in the tournament. Wink forced him into being a full-fledged member of FIST, which neither party particularly likes the idea of. He's still not being given a role in the tournament unless circumstances take out one of his partners.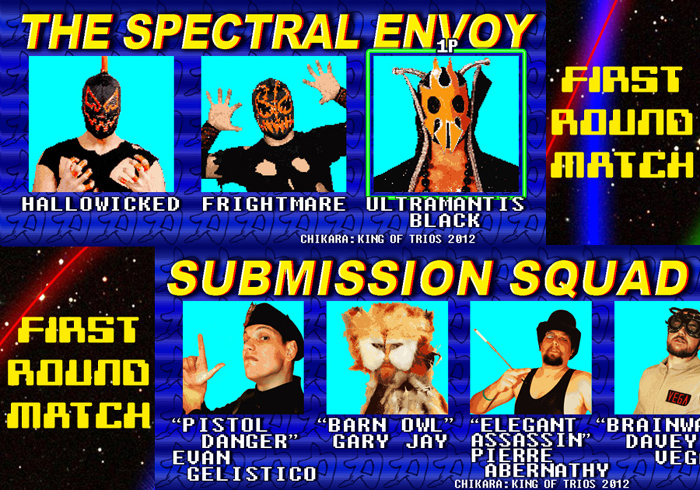 The Spectral Envoy (Hallowicked, Frightmare and UltraMantis Black) is finally reunited after an injury put Frightmare on the shelf for much of the year. Hallowicked is fresh off of defeating Tim Donst in a hair vs. mask match and proved himself as the best Young Lions Cup holder of all time. At least, as far as Donst is concerned. Although Delirious is always creeping in the shadows, the three are thankfully untouched by Wink Vavasseur's utter boobery and are considered one of the favorites to win the whole shebang.
On the other hand, the Submission Squad (Evan Gelistico, Gary the Barn Owl, Pierre Abernathy and Davey Vega) are nobody's favorites. If their names sound familiar, it's because of King of Trios 2009: Night 2. The four competed in a tag match to showcase LWA and proceeded to stink up the ring. The crowd's negative reaction never sat well with any of them and they've since put their differences aside and have agreed to get revenge on the CHIKARA fans. They conned Wink into getting them a spot in the tournament and after realizing he was duped, Wink played it off that we'd be getting our first "quatro". Whether this means all four compete together or if they get to define their trio on a match-by-match basis is up in the air. All I know is that everyone wants to see them get torn apart.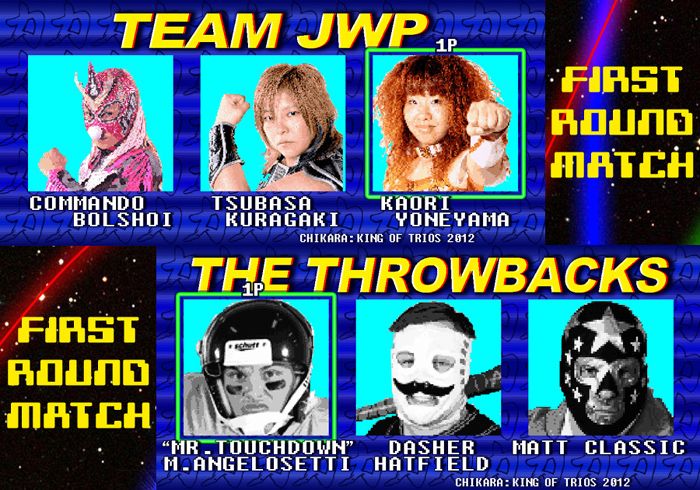 Team JPW (Commando Bolshoi, Tsubasa Kuragaki and Kaori Yoneyama) is the second joshi group brought in for this year's show. These three are as a whole more experienced than the Sendai Girls with Bolshoi being a 20+ year veteran of the game. Bolshoi is the president of the company, but keeps it low-key with a comedy gimmick. Despite that, she's fast with an arsenal of submission holds. Yoneyama has held multiple titles within the company and recently received backlash for having second thoughts about hanging it up during her huge retirement ceremony. Kuragaki is a total package in joshi form. She's super strong, agile and has enough years under her belt. The problem is that they're up against a masked man who has more experience than all three of them put together!
The Throwbacks (Mr. Touchdown, Dasher Hatfield and Matt Classic) is a new take on the old formula. Mr. Touchdown is Dasher's recently-introduced step-cousin-in-law or some nonsense. While the two work well as a team, there have been some cracks in the foundation, mainly in that Dasher is a tecnico and Touchdown is a rudo. Add in Touchdown's shrill girlfriend Veronica (stolen away from Archibald Peck) and the mercury poisoning that comes from a diet of tuna water and it's only a matter of time before these two turn on each other. Regardless, Touchdown has had a strong debut year in CHIKARA and has already won the Young Lions Cup. It wouldn't be King of Trios without Matt Classic showing up to be part of the team. Though I'm sure he's probably more appreciative of teaming up with Touchdown than Sugar Dunkerton.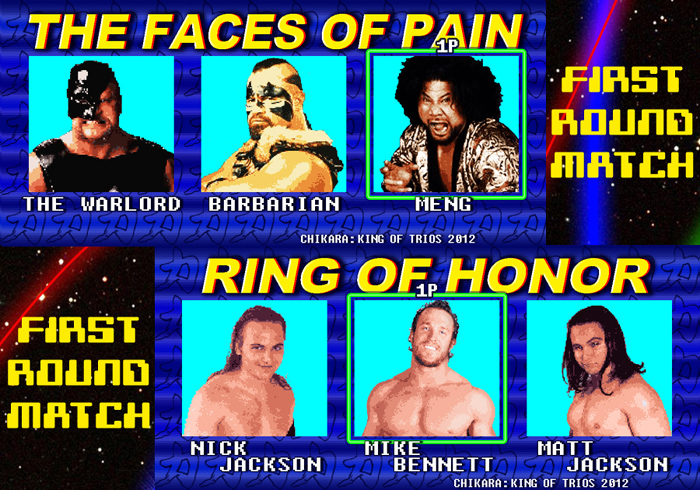 The Faces of Pain (Warlord, Barbarian and Meng) is a nostalgic dream team made up of three powerhouses who have a history of working together, yet never at the same time. In the 80's, Warlord and Barbarian conquered the WWF tag team division as the Powers of Pain. Meng and Barbarian worked together in WWF and WCW, sometimes known as the Faces of Fear. Who knows what it will take to stop this triple helping of colossus?
The boys from Team Ring of Honor (Nick Jackson, Mike Bennett and Matt Jackson) are no slouches themselves. Nick and Matt, the Young Bucks, are the reigning Campeones de Parejas and take delight in stealing away the titles from this nerdy wrestling fed. "The Prodigy" Mike Bennett also has reason not to sweat the challenge of fighting wrestlers from yesteryear as he's recently instigated a feud with Lance Storm and came out on top. He's accompanied by his girlfriend and former WWE Diva Maria Kanellis, which is a huge step up from hanging around with Mr. Fuji. I don't know, maybe I'm wrong.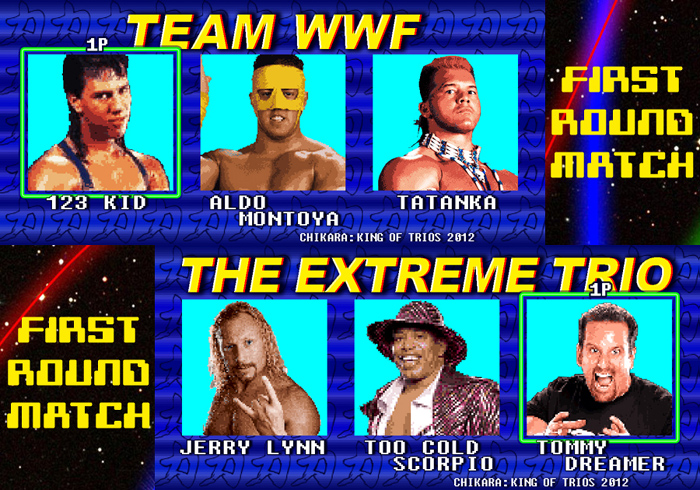 Speaking of the past, Team WWF (1-2-3 Kid, Aldo Montoya and Tatanka) shows the return of last year's comeback kid. The team that was once X-Factor takes the form of the 1-2-3 Kid and "the Portuguese Man of War" Aldo Montoya, a gimmick Justin Credible hasn't used in 15 years. Rounding things out is Tatanka, the Native American who had his own WWE return run just a few years ago and remains in great shape. They may not have the raw power of the Faces of Pain, but at least this nostalgia team has actual mobility.
Team Extreme (Jerry Lynn, Too Cold Scorpio and Tommy Dreamer) is a fitting opening round battle against Team WWF. Tommy Dreamer and 1-2-3 Kid are both veterans who appeared at King of Trios the last two years and came out inspired. Both have brought in their own team of peers to watch their back. Dreamer has ECW mainstays Scorpio and Jerry Lynn. Lynn is in the middle of a retirement tour and there are worse ways to go out than being crowned one third of the King of Trios.
And there we go! 21 straight days of King of Trios retrospectoring. I'm tired. I hope at least a couple of you enjoyed it. Me? I'm going to lay down for a bit.
King of Trios Retrospective: Contents Page!
Similar Posts: