June 1st, 2012 by
Gavok
| Tags:
Chikara
,
wrestling
The other day I gave the skinny on CHIKARA in general (which Chuck Taylor tweeted and Jigsaw retweeted, which is sweet as all hell). With the show being a day away, it's time I got into the impending iPPV.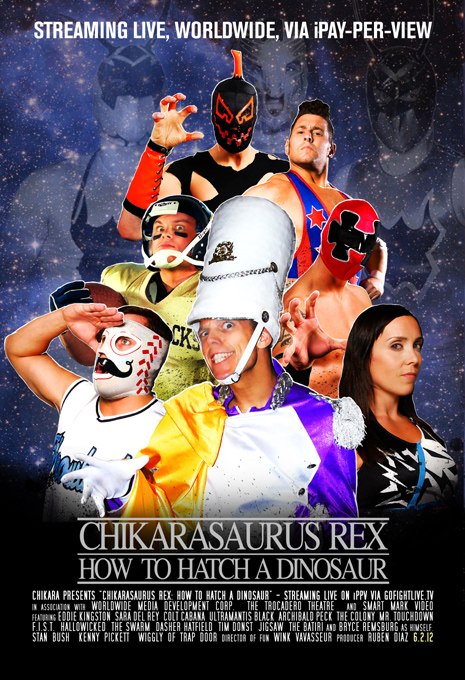 This Saturday night, CHIKARA brings us their second iPPV event in Chikarasaurus Rex: How to Hatch a Dinosaur. Their first iPPV came last November in the form of High Noon, which ended up being a great show with no major technical problems.
The show officially starts at 7pm on GFL.TV, though there will be a live pre-show on Ustream.TV at 6:30. While nothing's announced as of yet, there's likely to be some kind of exhibition match in there for the sake of hype. The show itself is $15.
Here's the card:

Who's Who?
The tecnico side is headed by CHIKARA's current Grand Champion Eddie Kingston. The War King is the anti-social anti-hero of the company who may be a little too rough in personality to jibe with the colorful, masked wrestlers on the roster, but he'll still sacrifice everything he has to defend the company's honor. Recently, he's been taking on all comers for the Grand Championship, including Brodie Lee, Vin Gerard and current Ring of Honor Heavyweight Champion Kevin Steen. Despite his never-say-die attitude, his knee has been a gigantic target for months.
Jigsaw is one of the earliest students at the Wrestle Factory and has the role of being Mike Quackenbush's go-to tag partner. Together they've held the Campeonatos de Parejas (tag titles) and Jigsaw himself has won the Young Lions Cup, Cibernetico and was one of the original winners of the King of Trios tournament. Recently, the Wrestling Riddle challenged Kingston for the Grand Championship, but came up short.
The Colony (Fire Ant, Soldier Ant and Green Ant) are CHIKARA's lead trio team. Working together for years in different forms (Green Ant replaced Worker Ant), the Colony's worked there way up and have succeeded in winning all sorts of major matches. They've been Campeones de Parejas, Fire Ant has won the Young Lions Cup and they're the reigning King of Trios. Green Ant is the only one who talks normally, with Fire Ant only making intense growls and Soldier Ant only yelling things like, "TEN HUT!" and "DISMISSED!"
The GEKIDO (17, the Shard, combatANT, deviANT and assailANT) have bust onto the scene only months ago. A very anti-CHIKARA faction, they've been revealed over time as a group of former Wrestle Factory students who got kicked out or left due to their distaste for having to pay their dues through constant training, working security and putting the rings together before shows. Mike Quackenbush has recognized three of them as "Jose and the two Franks", who he disliked due to being horrible students with no intention to the safety of their opponents. They've finished their training under the tutelage of 17, whose identity is a complete mystery. There's speculation to who he is under the mask, but he insists that he's never met Quackenbush before this. They're all evil versions of top CHIKARA personalities with 17 being Evil Quackenbush, Shard being Evil Jigsaw and the Swarm being Evil Colony.
The Setup:
Since first showing up, the Swarm have focused on interfering in the Colony's matches, claiming to know their identities and threatening to show the world who they really are. A match between both ant factions led to Green Ant having his mask torn off, although he hid his face from onlookers. Shard and 17 appeared shortly after and most of the matches have had little focus on winning and more on injuring the other side and going for the masks. 17's name comes from how he's mastered the 17 Forgotten Holds. So far he's been able to take Mike Quackenbush off the board by breaking his wrist, end the career of the debuting Tianlong, as well as permanently taking out first generation graduate Dragonfly. Kingston is the only one to have any success against 17, making him the perfect replacement for Quackenbush.

Stipulation: Mask vs. Hair
Who's Who?
Hallowicked has been with the company since the very beginning, winning the very first Young Lions Cup tournament and Tag World Grand Prix. The pumpkin-headed veteran only speaks in strange grunts that sound similar to someone speaking backwards. Recently, he's made peace with his longtime foe UltraMantis Black, but having his back has led to his current rivalry.
Tim Donst has been a staple of CHIKARA for the past five years. When the BDK ran roughshod on the company, Donst was one of their soldiers. When the team fell apart, Donst took over leadership and ran it into the ground to the point that it's now just him and ring announcer-turned-wrestler Jakob Hammermeier. During the BDK's dominant run, Donst was able to cheat his way into winning the Young Lions Cup. While he's no longer the cup holder, he still insists to being the best Young Lions Cup winner of all time and has been constantly challenging former champs to different degrees of success.
The Setup:
The two mainly clashed during the CHIKARA vs. BDK feud, mainly during the end. With Donst's obsession with being seen as the best Young Lions Cup champion of all time, he's focused himself on taking down Hallowicked, who is usually given the nod of being the best of the best. The feud has led to the two rivals stealing the other's Young Lions Cup trophy, as well as Donst trying to literally murder Hallowicked in a furniture store with a power drill. Donst has gotten a couple wins against Hallowicked and his sidekick Frightmare through the means of using a shoelace to strangle them while hiding it with a headlock. The hatred's escalated to the point that they're putting Hallowicked's mask on the line against Donst's mane of hair.

Stipulation: Championship Match, Best 2 Out of 3 Falls
Who's Who?
Chuck Taylor and Johnny Gargano are 2/3 of FIST along with Icarus. They're a trio of in-your-face jerks and there's really not much to describe past that. They're the resident rudo team. FIST has held the Campeonatos De Parejas multiple times in various combinations and just recently won them back from 3.0 (Shane "Big Magic" Matthews and Scott "Jagged" Parker) after taking advantage of Parker's taped ribs.
The Young Bucks (Nick and Matt Jackson) wrestle semi-regularly for CHIKARA with a less-than-stellar win-loss record. Recently, they've gained the three points necessary to challenge for the tag titles and have made reference to how they're going to legitimatize the company by bringing the belts to their main company, Ring of Honor.
The Setup:
There's not much history between the two teams, other than Matt beating Gargano in last year's Young Lions Cup tournament. What's interesting about this match is that it's rudo vs. rudo, yet the more unlikeable team represents the company in a CHIKARA vs. outsiders situation. This is part of a series of situations that either act as coincidences or building blocks to some kind of CHIKARA vs. Ring of Honor feud, especially with how the Young Bucks' determination to besmirch the company through winning the tag titles is very similar to the recent storyline where Kevin Steen tried to beat Eddie Kingston for the Grand Championship. The main difference being that the Young Bucks think CHIKARA is for nerds while Steen thinks CHIKARA is for babies.

Stipulation: Ladder Match for Gran Akuma's CHIKARA Contract, Special Referee Gregory Iron
Who's Who?
For years, Gran Akuma and Icarus competed together as FIST, eventually adding Chuck Taylor as their third member. Icarus was always the mouthpiece with Akuma choosing to talks less and smirk more, since he let his actions in the ring speak for him. Akuma's stiff kicking style and badass demeanor made it frustrating, as he'd be easy to cheer for if he wasn't teaming up with the most unlikeable guy in the company. Despite years of success, the team became a little complacent and FIST fan Johnny Gargano started blogging about how he blamed Akuma for being the weak link of the trio. Soon, Icarus and Taylor took notice and kicked Akuma out, replacing him with Gargano. Not only was Akuma gone from the stable, but from CHIKARA as well.
The Setup:
Akuma came back last November after being gone for over a year. He targeted Icarus and accidentally kicked Icarus' rival Gregory Iron in the head, leading to a 3-way feud. Icarus got into the ear of CHIKARA's Director of Fun Wink Vavasseur and got him to agree that Akuma had to earn his contract through a series of trials. Akuma has succeeded each time, even when having to face all three members of FIST in a handicap match, thanks in part to Iron interfering on his behalf. The final stage is this Ladder Match with the contract suspended above the ring and referee Iron acting as the x-factor.

Stipulation: Handicap Match (maybe)
Who's Who?
"The Queen of Wrestling" Sara Del Rey has wrestled in CHIKARA for years, but has only recently become a breakout star. For a long time, she wrestled only against women until she and Daizee Haze joined the BDK due to their frustration with only facing each other a million times over. Since then, she's earned everyone's respect as someone able to stand her ground against male opponents and it led to her going to war with BDK co-leader Claudio Castagnoli, who put Haze on the shelf as punishment. Del Rey defeated her former boss and became a top name in the company.
Saturyne is a new addition to the roster who also wrestles men. In terms of personality, not much is really known about her, other than how she looks up to Del Rey.
The Batiri (Kobald, Obariyon and Kodama) are a trio of demons originally in the thrall of Sinn Bodhi (otherwise known as Kizarny from WWE) before going off on their own. They know no respect and are even more despicable than FIST. While only Kobald has the ability to talk and they claim to live in a cave somewhere, they contrast it by being extremely active on the social networks. It's been said that the only words anyone's ever heard Obariyon and Kodama say are, "Follow us on Twitter!"
The Setup:
Del Rey has had her problems with all three members of the Batiri, with a win-loss of 1-2 against them in singles matches. What escalates this is how the demons have been harping on her non-stop on Twitter. This got even worse when they started giving out personal information, like posting her phone number and address to the public on internet forums. After a match, the three attacked Del Rey and started to tie her up. Saturyne, who has also had problems with the Batiri, came to the rescue and saved her idol.
Recently, there's been speculation of Del Rey and Saturyne getting help from a third competitor to round it out. Two possible names have been brought up, but we'll see.

Who's Who?
The devious UltraMantis Black has been around CHIKARA since day one. The insectoid overlord has led a series of macabre stables, such as the Dark Breed, the Order of the Neo-Solar Temple and currently the Spectral Envoy. Despite his thirst for world domination, he's recently joined the tecnico side and works alongside Hallowicked and Frightmare (who is currently injured). Unfortunately, his evil past has caught up with him. A couple years ago, he used the mystical artifact known as the Eye of Tyr to take over the mind of Delirious and make him his slave. The Eye of Tyr was stolen away by the BDK and its co-leader Ares, meaning Delirious followed them. UltraMantis reacquired the Eye and broke the spell, but Delirious remembers everything and has become obsessed with getting revenge on UltraMantis, blaming him for losing two years of his life.
The snake-like Ophidian is most widely known for that Combat Zone Wrestling video where he and his Osirian Portal tag partner Amasis performed the most illegal move in wrestling history. The Portal was a popular act in CHIKARA for years, but tragedy came in the form of Amasis being in a nasty car accident. While Amasis is relatively okay now, he's been forced to retire from the business. Ophidian responded to this by spitting venom into his partner's face and stealing his mask. He then fought the Portal's third member Hieracon and stole his mask as well.
The Setup:
During one of UltraMantis' matches, Ophidian ran in, spit venom in his face and stole his staff away. The reasons aren't completely clear, but it's needed for some kind of dark ritual that involves the stolen masks. Ophidian is preparing for some kind of mystic transformation. UltraMantis wants his staff back, but it's almost certain that Delirious is going to factor into this somehow.

Stipulation: Loser Leaves Town (for whoever gets pinned)
Who's Who?
For the past year and a half, Archibald Peck has become a name synonymous with CHIKARA as one of the top comedy acts. Originally, CHIKARA hyped up that, "The Band is coming!" heavily insinuating that the TNA stable of Nash, Hall and X-Pac were going to show up in CHIKARA in time for King of Trios. Instead, they were being more literal and we got Marchie Archie and his valet Veronica. The loud and obnoxious band leader has hit many roadblocks during his CHIKARA tenure and ultimately led to Veronica leaving him, as she doesn't associate with losers.
At his side is Colt Cabana, who is most widely known by mainstream wrestling fans as Scotty Goldman during his brief WWE run or, more specifically, CM Punk's goofy best friend. Cabana is a top name in the indies and currently holds the NWA Heavyweight Championship. He's wrestled a couple times in CHIKARA over the past year or so, but mainly in relation to the others involved in this match.
The competitor known as Create-a-Wrestler needed the ideas of the fans to find an actual persona. Throughout the years, he's wrestled under the gimmicks of Moscow the Communist Bovine and Ultimo Breakfast but the identity of turn-of-the-century baseball player Dasher Hatfield caught on to the point that he made it permanent. He used to team up with 70's basketball player Sugar Dunkerton as the Throwbacks, but Sugar left the company. Coincidentally, Sugar is said to be making an appearance in some capacity at Chikarasaurus Rex.
Mark Angelosetti, otherwise known as Mr. Touchdown is Dasher's half-brother-in-law. While Dasher is an all-around good guy, Touchdown is a complete ass who hates nerds, cheats behind Dasher's back and always tries to steal the spotlight. Despite their differences, the Old-Timey King of Swing and the Interception of Perfection have made a formidable team.
The Setup:
With Veronica leaving Archie, what made things sting more was her notable attraction to Mr. Touchdown, which has been shown to be mutual. Looking even further, it seems that Archie and Touchdown have a history with each other going back to highschool. Archie lost his mind quite a bit and decided that he needed to be tougher than a simple flamboyant band leader. He started getting heavily into MMA and rebranded himself Mixed Martial Archie. While he's had a little more success, he's lost touch with wrestling and no longer even understands the basic rules of the "four-sided octagon". His thirst for revenge against Mr. Touchdown has led to this tag match. Cabana has also had his problems with Touchdown and despite being former rivals with Archie (a label Cabana disagrees with, as they've only had two matches), he offers a helping hand. Together, they're known as Team Tap Outback Steakhouse.
Once again, you can order the show here.
Similar Posts: