January 28th, 2009 by
david brothers
| Tags:
barack obama
,
dave sim
,
pause
,
women in comics
Dave Sim's fabulous, startling, and _____ glamourpuss magazine has taken a decidedly political stance in just its fifth issue! The eponymous glamourpuss has something to say and she isn't holding back! Read on, but brace yourselves, because this is fabulously startling!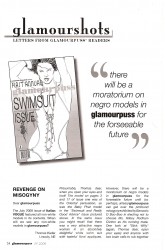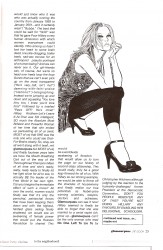 Oh my! Sadly, the brutality of the print industry strikes again. No, glamourpuss (the magnificent magazine) hasn't been canceled, nor has glamourpuss (the fabulous fashionista) been removed from her lofty position. No, she's just missing a bit of the latest development in the now-past presidential race:
Barack Obama made Hillary Clinton (wait for it) Secretary of State.
The nerve!
Similar Posts: