October 28th, 2006 by
david brothers
| Tags:
DC comics
,
deadpool
,
flex mentallo
,
guest article
,
ign
,
Marvel comics
,
rap
,
robin
,
storm
,
video
,
Video Games
,
war games
,
wildstorm
It's been a minute! Let's chat.
-Did I tell you guys I've got One Volume Bone? I've got the first four colorized volumes, and I may continue to buy them, but I've got the big phone book now. I'm waiting before I start to read it, though I'm not entirely sure why. Anticipation?
I also scored Doom Patrol v4: Musclebound. Volume 5 is being solicited in January, and I'm hoping that Flex Mentallo trade is right around the corner!
–Gavok still wants artists! Show us your funny bone and art skills!
-Stephanie Brown died in War Games, the Crossover That Blew. Her treatment was pretty shameful, and some would like to see a Robin memorial case dedicated to her. I've thought hard about this issue (no lie, i think about things sometimes!) and I just can't agree. My argument, boiled down to its basics, is that "Steph wasn't ever really Robin and she doesn't need a Robin case." That's selling myself short, however.
Johanna Draper Carlson made a post on this subject a couple days ago and I ended up responding. I make an appearance in the comments thread and try to articulate why I feel that way. I really do have (what I think is) a well-thought out and reasoned point, so give it a look. I wonder if I could expand it into a better-edited post for here…
-Anyone else playing Marvel Ultimate Alliance on 360? If you're not a jerk, add hermanos to your friends list and we can get our game on. The cast list is spectacular, Sue Storm is ridiculously good, and Deadpool is hilarious. Solid game all around and I wish I could've reviewed it in the magazine.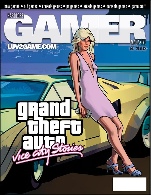 -Speaking of the mag! HGM17 is out and about and ready for downloadin'. Our site is at Hardcore Gamer and here is the direct link to our magazine download page. Want to pay money for a print copy? Check out our subscribe page!
Go forth, my children, and make me rich read my magazine. We've got a dope Grand Theft Auto: Vice City cover story (complete with foil cover, no lie), a gaggle of galloping previews, some great reviews of video games due out soon, and a couple of sweet features. I think the Lost in VR feature ran this month, which dealt with VR in games. Check it out!
-More content later! I've got a Wildstorm post half done for you and those guest articles I promised before my business life exploded. Stay tuned, true believers!
Similar Posts: