October 28th, 2006 by
david brothers
| Tags:
animal
,
Batman
,
hulk
,
iron man
,
Marvel comics
,
movies
,
what if
Sometimes the internet is a wonderful place.
I hang out on SomethingAwful's Batman's Shameful Secret because it is an awesome comics forum and free of a lot of idiocy. There is a "Funny Panels" thread there that is really just a catch-all for funny comics-related images. It all began when someone posted this bit of art: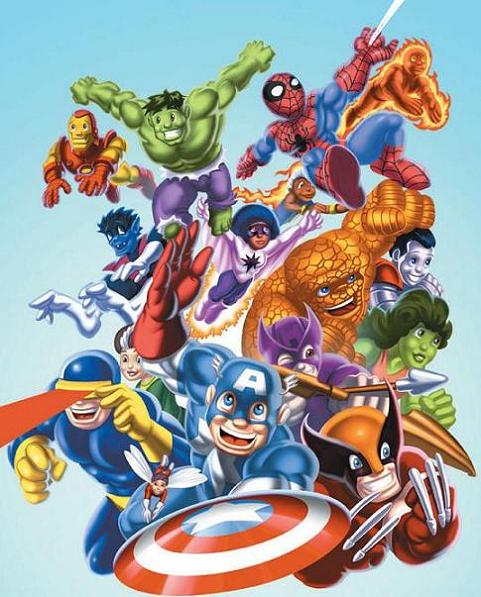 Some joking occured until Doctor McNinja (yes, that Doctor McNinja) chimes in and mentions that he did a little work on that toy line while he was interning at Marvel. He shares with us a quote from the line.
"Quiet Bruce Banner gets excited by sunny days and ice cream trucks, and turns into the fun loving Hulk!"
Oh, man. Can you guys believe it? I couldn't and responded in kind.
A What If based on this would be epic.
"Guys, we have to keep Bruce Banner angry… otherwise he's going to drink all our beer and fall asleep in my room after throwing up all over the place again :("
What followed were a bunch of Animal House-style jokes (a movie I've never seen!) until Rustym takes one of my posts and comes at us with this: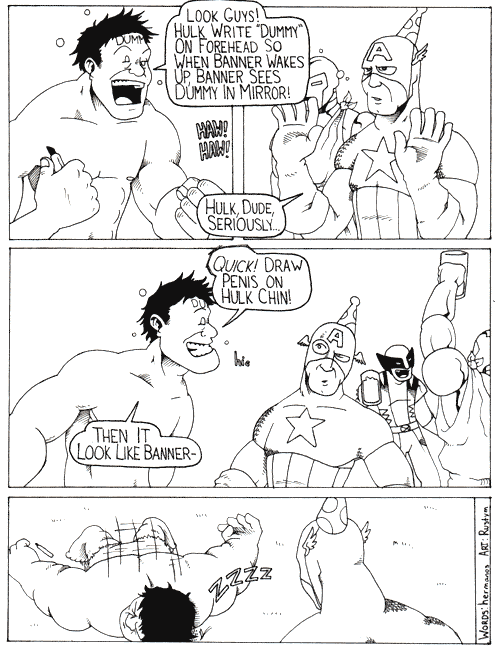 Yes. This is what the internet is all about! Comics and funnies. Drunk Hulk would be the most obnoxious thing ever. Could you freaking imagine it? "Hulk getting… TIIIIPSYYYYYY!" and then he vomits on your backseat, gamma-style. "Hey brah is that Jaeger brah Hulk love Jaeger brah let Hulk get a sip of that man c'mon brah Hulk and you, we cool right?" He'd totally be a lying drunk, too.
Iron Man in a toga is the second-best thing ever, by the way.
Thanks to Rustym for letting me use his art!
Similar Posts: