June 30th, 2010 by
david brothers
| Tags:
cipher
,
joshua dysart
,
rick veitch
,
unknown soldier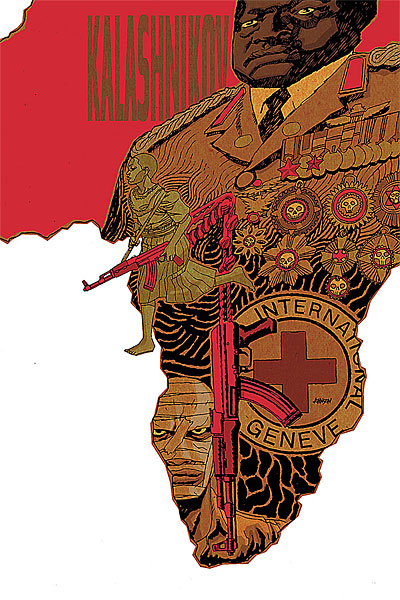 Unknown Soldier 21: words by Joshua Dysart, art by Rick Veitch, cover by Dave Johnson. No preview online, near as I can tell.
The white man came to Africa with rifles and Bibles; Heard the name, started changin' the titles.

bigger_than_twitter
dead prez
Joshua Dysart and Alberto Ponticelli's Unknown Soldier is pretty great. I wrote an appreciation of it for Comics Alliance earlier this month. It's winding down in a surprisingly organic way, and this issue is a one-shot that looks like it's going to work with some of the themes of the book. The solicit:
A standalone story with guest art by industry great Rick Veitch (SWAMP THING)! The AK-47 is the shining star of resistance movements, small wars and domestic crime the world over. And this is the story of a single rifle's 30-year trek from Cold War Soviet Union to an unknown soldier deep in the African bush.
I'm on the hook, and it sounds like this is a good point for people who aren't reading to give it a try, too. If you like it, the first trade is ten bucks
. Here's the history of the AK-47 on Wikipedia.
4thletter reads comics! Here are some pull lists for floppical format funnybooks.
David: Captain America 607, Heralds 5, Unknown Soldier 21
Esther: Action Comics 890, Green Lantern 55, The Brave and the Bold 18, Wonder Woman 600
Gavin: Green Lantern 55, Jokers Asylum II Clayface, Invincible 73, Captain America 607, Deadpool: Wade Wilson's War 2, Deadpool Team-Up 892, Doomwar 5, Marvel Zombies 4, Luke Cage 3, Secret Avengers 2
Looks like… Gavin likes everything, Esther likes villains, and I like… nothing. Ouch.
I like this post from my buddy Lauren about what she's learned by reading print comics over the past few months.
What're you reading, what looks good, what should I be reading, etc. Let's do it.
Similar Posts: