November 21st, 2007 by
Gavok
| Tags:
Chikara
,
eddie kingston
,
lince dorado
,
los ice creams
,
tim donst
,
Wrestlecomics
,
wrestling
This past weekend was the 2007 season finale for CHIKARA. The third and final show ended very badly, when young wrestler Lince Dorado landed wrong during a Shooting Star Senton (if you have any idea what that move means, you can see how it can go very wrong) and caused a major scare. He was taken to the back with the wrestlers, Lince's family and the fans in fear of his fate. Thankfully, he's relatively okay, but it could have been a lot worse. The main event of Chris Hero vs. Claudio Castagnoli was cancelled. Despite the year-long build-up, I don't think anyone objected, considering the circumstances.
I wasn't at that show, but I did make the one on Saturday. Fantastic stuff, including a main event that gave me some of the biggest laughs I've had all year. Being behind on my DVD's for shows I didn't have a chance to go to, I shelled out more money than I should have and bought a handful. More specifically, I got myself a copy of Bruised.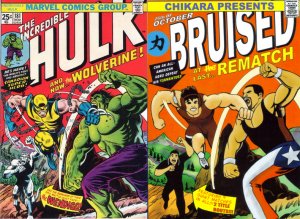 Based on Incredible Hulk #181, the battle of the doofy-looking Wolverine and Hulk is replaced with Tim Donst going up against Eddie Kingston. For some reason, they changed the background color and it looks more like a box of Wheaties.
On one hand, I'm a bit offended that Tim Donst is Wolverine. It says right there that Wolverine is a Canadian superhero, but everyone who knows of Tim Donst knows that TIM DONST IS AMERICA! Though thinking about it, it does make sense. Eddie Kingston is a bullying brute. Donst is a guy who takes massive punishment and keeps getting back up. Wendigo was the senior referee in Marvel's Unlimited Class Wrestling Federation.
…Okay, maybe not. But he should have been.
This cover is really good, but it makes me afraid of the eventual Ultimate Eddie Kingston vs. Tim Donst encounter. In the opening two minutes, Ultimate Kingston tears Ultimate Donst in half with a spinning backfist and the two continue the fight backstage. Then the fans sit there for two years, waiting for the two to come back and finish the match.
I also picked up a DVD of a show I went to two months ago, Cibernetico and Robin. The annual Cibernetico event's cover isn't so much based on a comic book cover, but it's close enough that I should probably feature it anyway.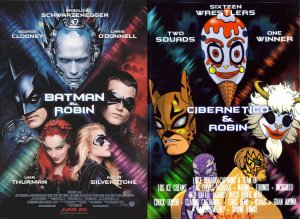 Having Lince Dorado replace Batman makes sense for the ears, but the real beauty is El Hijo del Ice Cream replacing Mister Freeze. Also featured is one of Las Chivas on the right and Magno and Incognito at the bottom. Very nice touch listing the members of the two teams in the style of movie credits.
Looking at El Hijo del Ice Cream does make me more hungry for Wonder Bread than ice cream.
That show totally ruled, by the way. Ask Santa for it.
Finally, as a bonus, I'm going to go with something that isn't CHIKARA for once. There's another federation out there called Pro Wrestling Guerrilla. I haven't seen any of their shows, but I know of their talent and I've heard lots of good things. Recently, they had a deal for 3 DVDs for $20. Figuring why not, I ordered three shows. One of them is called Astonishing X-Mas with a cover based on New Avengers #1.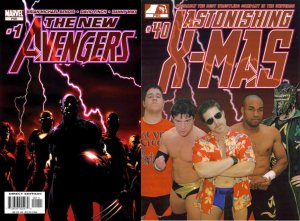 Um… hm. Yeah, the super-imposed wrestlers isn't working for me. Roger Rabbit it ain't.
The real reason I dig the cover is the tagline above the title. Awesome Invincible reference.
That's enough for now. If you'll excuse me, I'm going to work on my proposal for Marvel to do an ongoing solo series about Wendigo taking up the role of referee and finding epic comic battles to officiate. I know I'd read it… for two issues, then drop it. That still counts.
Similar Posts: