April 25th, 2007 by
Gavok
| Tags:
fantastic four
,
Marvel comics
,
movies
,
novelization
,
sandman
,
silver surfer
,
spider-man
,
spider-man 3
,
venom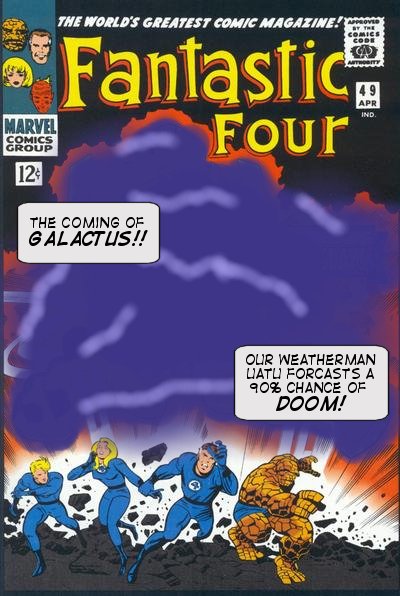 This is pretty much what we have to look forward to during this summer's Fantastic Four: Rise of the Silver Surfer. Galactus is a giant cloud. Great.
I can verify this. We got the novelization of the movie at work the other day and I skimmed the latter half of the book. This, plus the goofy final battle, are enough to keep me out of the theater for the time being.
I like that Spider-Man 3 and F4:RotSS come out during the same summer. They're as different as night and day. The F4 movies take some of Marvel's most beloved villains and bastardize them to the point that it's painful to even talk about them. Spider-Man 3, based on the novelization, does a great job taking a villain most comic fans hate (Venom) and a classic villain who never really did all that much (Sandman) and making them interesting and exciting. I'm expecting Sandman to make a major comeback based on the movie's portrayal.
How the hell are they going to make merchandise for a giant cloud, anyway? You can't give gas kung-fu grip.
Similar Posts: