April 25th, 2013 Posted by Gavok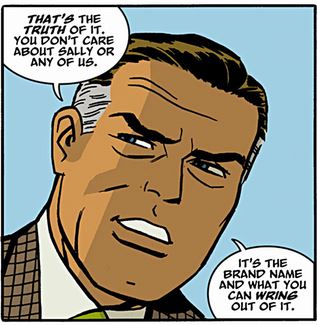 Yesterday saw the release of Before Watchmen: Comedian #6, ending this big experiment and going out on a whimper. The whole Before Watchmen concept was announced 15 months ago to a tornado of controversy and online arguments. One of the things that kept it so prominent in the internet news cycle was how many talking points it brought up. Some were mad because DC Comics screwed Alan Moore and Dave Gibbons out of the rights to the series. Some were annoyed because Watchmen was such a self-contained classic that you can't really add to it. Some felt that even if you did add to it, what's left to be said? Some noted how desperate for money DC came off as when a 12-issue series was prequelized into 37 issues, plus a backup.
(Sorry, it's my nature.)
The announcement appeared to be one of the straws that broke the camel's back for David. David's since stopped reading any and all new Marvel and DC titles and hasn't looked back. I'm not so affected by the im-Moore-ality of DC's actions and I'm more enthralled by the circus of this move than the comics themselves. As a comic blogger, my own philosophy is that I would love for every comic I read to be good, but if it isn't, I hope to God it's at least interesting because that can sometimes be even better. Whether you loved or hated the idea of more Watchmen comics, you have to admit that the audacity of it is interesting as all hell, else nobody would be talking about it.
I decided to give it a fair enough shake. I didn't read every single comic. I didn't even read every single series. After the fact, they announced a one-shot of Dollar Bill (which I merely flipped through) and a two-part Moloch story. From what I understand, the Moloch one wasn't bad.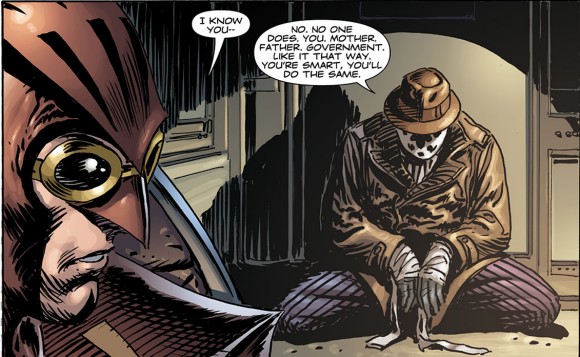 Nite Owl by JMS and Joe Kubert was something I gave up on two issues in. It had its moments, but it just didn't grab me. I guess it lost me because the origin aspects of the character are pretty good, but then JMS rushes through that so he could get to Nite Owl and Rorschach being a team. If anything, I did like an idea introduced about how Nite Owl and Rorschach don't see eye-to-eye because of the way they remember their mothers affecting how they see women. I just found the series pretty boring and I was already feeling anti-JMS from his more recent DC work.
I didn't feel the need to pick up Dr. Manhattan by JMS and Adam Hughes because I just didn't have any faith in JMS at this point. I've heard mixed reviews swaying towards negative, but the art is apparently pretty.