November 24th, 2010 Posted by david brothers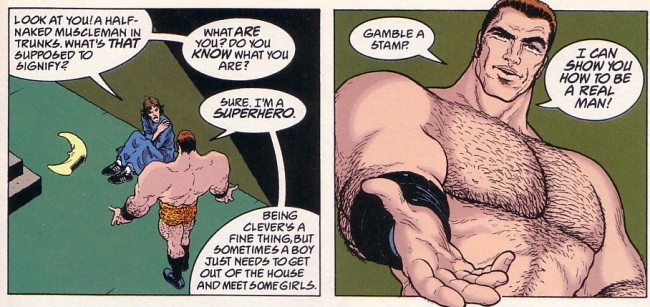 I want to talk about this, from what's probably the best single chapter of Grant Morrison and Frank Quitely's All-Star Superman (#6, "A Funeral In Smallville"):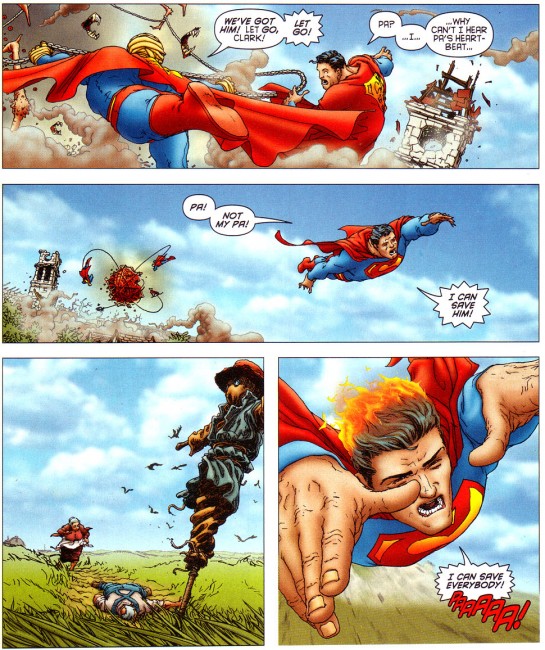 (Words by Grant Morrison, art by Frank Quitely and Jamie Grant)
But I need to talk about this before I come back around to it: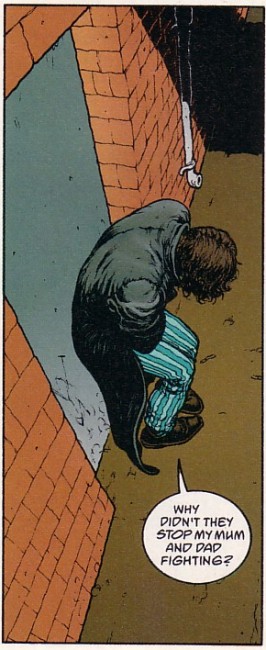 (Morrison/Quitely/Tom McCraw)
I may get lost along the way, because this is probably actually about a lot of things I've been working through over the past few months that I still don't have a handle on, but follow along and maybe we'll get there together and in one piece.
I've read Flex Mentallo a ton of times. Dozens, even. Every time I do one of these posts, I end up flicking through the series as a whole two or three times while writing. This panel (and a caption in the panel before it that reads, "Why didn't the superheroes save us from the fucking bomb? I feel so sick.") kept sticking in my head every time I ran through the book. I couldn't quite wrap my head around it.
The rest of Flex is pretty clear and easy to understand. It's easy to figure out how the idea of superheroes intersects with and brushes up against real life. Most of the questions posed in the book, like the point of comics about broken heroes or the soft and mutable nature of comics in the Silver Age, are answered explicitly or implicitly in the text itself.
"Why didn't they stop my mum and dad fighting?", though. There are no captions or glimpses of superheroic life to give it a deeper context. There's just a guy dying in an alley, wondering why love doesn't last forever. For my money, it's the saddest scene in the book. If you want cape comics with gritty realism, you don't need rape backstories and heroes moping on rooftops. All you need is something basic going wrong with no easy answers to be found.
The word choice stuck with me, too. It's not "Why couldn't they stop my mum and dad fighting?" It's not "Why wouldn't they?" It's "Why didn't they stop my mum and dad fighting?" The superheroes had the will and the way, but they didn't do it. That implies a choice, maybe even a conscious one, to let the fighting happen.
Try as I might, I couldn't find an answer in Flex. There's not even a hint, near as I can tell. It's just dropped into the narrative, this drop of real-life despair in the middle of the fantastic, and then left there.
I had a few guesses about what it meant. None of them were very good. It could have been tough love. It could have been not wanting to interfere in the lives of humans too too much, like in JLA: New World Order (by far my worst guess, considering the rest of the book). Maybe they just simply couldn't interfere due to… something something.
All-Star Superman 6 put it into better focus, though. I was rereading the series in prep for a different post (maybe GAS05) and the solution leapt out at me. ASS 6 is about failure and what superheroes cannot do. It features Superboy, rather than Superman, and is a flashback/time travel episode.
One more digression. Way back when DC let John Byrne revamp Superman, he did a story where Superman killed General Zod and the Phantom Zone criminals and cried a little bit. The purpose of this story, according to an interview I read forever ago and now cannot find, was to show exactly why Superman doesn't kill. So, to show why Superman doesn't kill, Byrne had him slowly kill three people.
Get it?
Byrne got it wrong, but when Morrison went to show Superman's first failure, and thereby introduce a certain limit to the character, things turned out much better. Superboy chose to do the right thing without even thinking, against great odds, and in doing so, lost his chance to save his father. Three minutes of his life were taken, and in those three minutes, his father died. Superboy's scream that he "can save everybody" speaks to a certain youthful invincibility, but also to what Superman will one day become. His scream of defiance as a child becomes a foreshadowing of his modus operandi years later, as he does his level best to save everybody.
But what's important here is what Superboy did not do, which is save his own father. One of the other Supermen in the story explains that "his heart just ran out of beats." He goes on to say that if Jon Kent hadn't died, Clark Kent might have stayed in Smallville, "and none of us would ever have been born." Put differently: "This had to happen."
A few pages earlier is another key scene. While walking and talking with the Unknown Superman, who is actually the modern day Clark Kent in disguise, Jon Kent asks, "He'll be okay, won't he? The boy." referring to his son. Kent clearly knows both that the Unknown Superman is not who he says he is and that his time is up. He wants to be sure that his son ends up okay, considering the amount of power he has. Superman's response is "It all comes out right in the end."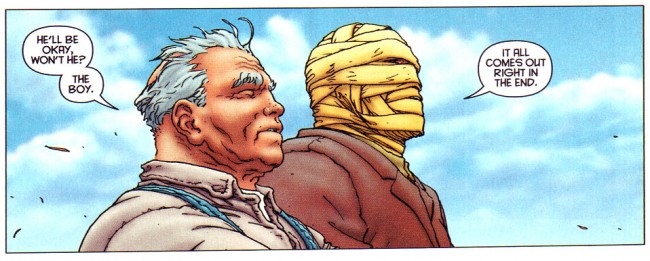 There's a vein of fatalism there, isn't there? In other hands, it would be "it is what it is." Here, it's an admission that even though this is a hiccup, that this will not work out like Superboy wants it to, things will work out in the end. This is just something he needs to learn before he can grow.
So, there are two answers here to consider. One is that Kent's heart "just ran out of beats." The other is that everything "comes out right in the end." What that puts me in mind of is inevitability. You can't fight certain things.
I think Byrne's logic was atrocious (I haven't killed anyone and don't currently plan to, and I didn't need to kill anyone to come to that conclusion) and his execution worse, but he was at least cognizant of the fact that there have to be limits. By forcing the hero to make a choice, though, Byrne shot himself in the foot. Morrison's method, where the hero is forced to confront a shortcoming, seems much cleaner.
If superheroes can do anything, then you don't have a story. There have to be things that superheroes cannot or will not do. Sometimes these limits are there to preserve the reader's suspension of disbelief. Other times, it's to maintain a profitable brand. Batman can't kill the Joker and Superman can't use his technology to make the world a better place. Flash can't just end every fight in half a second.
These limits often tend to line up along real world lines, too. Tony Stark can never eliminate poverty and Superman can never battle racism. Those two things will just make the readers aware that they're reading a comic book and that, hey, life still sucks.
I'm beginning to think that "Why didn't they stop my mum and dad fighting?" is the one spot in Flex Mentallo that's a rejection of the "Clap your hands if you believe in superheroes!"/"They will show us the way to a better life" philosophy that makes Flex such a strong and vital work. The rest of the book is about the glory of superheroes, the way we can become them, and how comic books are just a reflection of the cultural (un)consciousness.
Real life is the only inescapable hole in the philosophy. Yes, you can use superheroes as a model for life, and yes, in a certain way, we did create them to save us from ourselves, but they only go so far. They're still fictional. They can't stop your mum and dad fighting, they can't stop the bomb, and they won't actually save your life. Superheroes cannot stop real life–they can only delay it. Even Regan, the girl who Superman stopped from committing suicide, is going to die one day, and Superman can't stop that.
There's a Kanye West line I'm fond of from the 808s and Heartbreak era. It's from Young Jeezy's "Put On," a song that banged before Kanye came in with some emotion. "I feel like these butt niggas don't know he's stressed/ I lost the only girl in the world that know me best/ I got the money and the fame and that don't mean shit/ I got the Jesus on the chain, man, that don't mean shit." Since the death of his mother, all the stuff that brought him happiness and gave him peace, the money and fame and fancy necklaces, are worthless. Real life struck and they hit their limit. Kanye was at a point where they couldn't serve their purpose.
Pulling back again. "Why didn't they stop my mum and dad fighting?" makes sense to me now. It's speaking to the fact that superheroes are wonderful, wonderful things, but even then, there are some things they can't do. Taken alone, it's a question without an answer. In concert with All-Star Superman, though, it makes much more sense.
When a little boy asks "Mommy, why don't I have a daddy?" Superman can't swoop in and give a little speech or solve that problem. That's stupid. It doesn't work. It's pushing the idea of a superhero too far, and at that point, the idea breaks.
It's interesting to me that it took All-Star Superman for that one line to click. It's like if expanding upon it in Flex would've broken the story, but freed of the restraints of proselytizing the superhero, Morrison is much more free to demonstrate where capes fall short.