October 24th, 2010 by
david brothers
| Tags:
alan moore
,
dark knight returns
,
dave gibbons
,
flex mentallo
,
frank miller
,
gamble a stamp
,
watchmen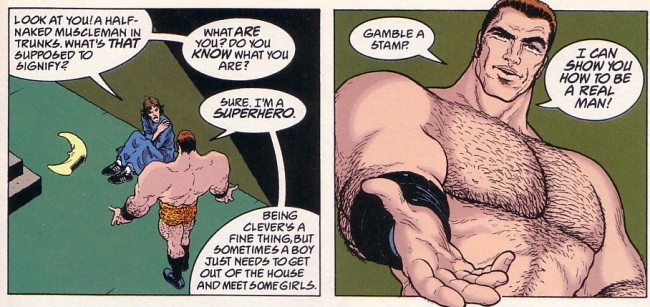 The story goes that Dark Knight Returns was born when Frank Miller realized that Bruce Wayne was younger than he was. This character that he'd looked up to, or at least enjoyed, since he was a kid in Vermont was suddenly younger than he was. Miller was getting old, and part of getting old is looking at the things you loved as a child stay young. The aspirational aspect of superheroes, the "Gamble a stamp!" element that makes the genre so fascinating, is a little tougher to swallow when you're finding wrinkles in new places and Bruce Wayne is still 29 years old.
So, Miller added twenty years to the character and in doing so, plowed fresh ground. Batman became someone Miller could look up to again, with his universe and methods updated accordingly. Superstitious and cowardly criminals were replaced with a threat birthed from societal collapse and the apathy of good men. Batman turned pointedly political, and Miller took on Reagan and pop psychology over the course of DKR. He created Carrie Kelly and made her the new Robin, both updating and critiquing the Robin concept.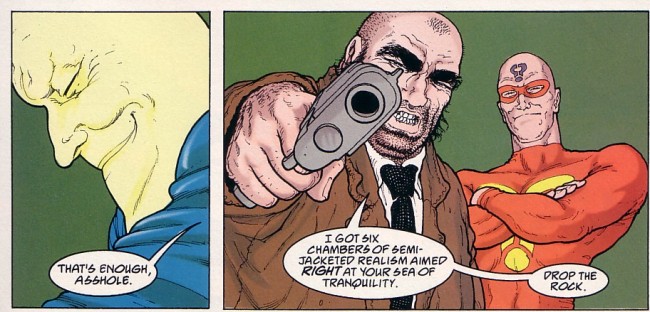 Getting older killed the superhero for Miller. He couldn't relate as he once did, and he took steps to make superheroes cool one last time. Dark Knight Returns is a blaze of glory for the superhero, that last, brilliant blast of light before death. It says that these dusty old characters are still just as vibrant as they once were, but not in the same ways. People grow old and change, and their interests change with them. At the end of DKR, Batman isn't a soldier in the war against crime like he once was, and like he is now. He was a general, as his severe turtleneck and demeanor suggests. He's leading the war, not fighting it. He grew up.
Alan Moore and Dave Gibbons's Watchmen came from Moore wanting to write a superhero story with weight, something like Moby Dick in particular. He wanted to write a superhero for adults, and chose hard-edged pessimism to get the job done. Its rigid structure shows a world that has no use for acrobatics or melodrama. It has no place for many of the staples of cape comics, whether you prefer Jack Kirby-style action or classic stylings of Curt Swan.
Watchmen, then, is an autopsy. By the end of it, all of the secrets of the superhero are laid bare. You see the paunches and watch their muscles sag. You get a front row seat to Nite Owl's impotence and the way superhero costumes function as fetish objects. Rorshach is revealed as being not that much better than the villains he fights. An old man gets his brains beaten out, the only true superhero is so alien as to be inhuman, and in the end, the villain wins and saves the world. The heroes? They compromised because to actually defeat the villain would have resulted in the destruction of world peace. Rorshach refuses to compromise and is killed for it.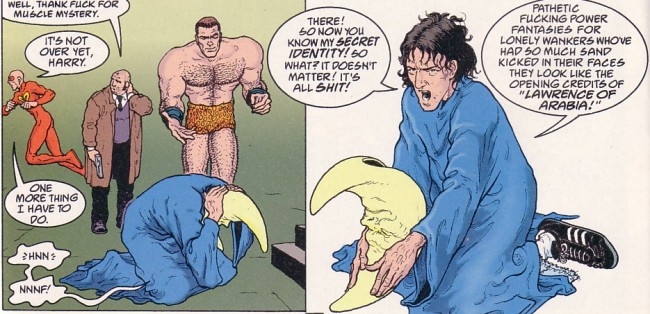 All of your illusions and ideas of the superhero are deconstructed and proved false by Watchmen. They're normal people, rather than superheroes, and act accordingly. There's no magic, no aspirational aspects, and nary a wink from Superman. Just hard edges and gritty realism.
DKR is the blaze of glory. It's a revitalization before death. Watchmen is the autopsy. At the end, there are no secrets. What's Flex Mentallo? It's a wake, that time when everyone gets together, gets drunk, and talks about the deceased.
Wally Sage is overdosing on painkillers in Flex, but that's not all he's taken. He's had a bottle of vodka, a couple e pills, a quarter ounce of hash, and he's tripping on acid, too. As he's dying, he's talking about all the amazing comics he read. He's talking about the good, the bad, and the irrelevant. He's painting a picture.
The picture he's painting is of the full spectrum of comics, or at least the full spectrum of the comics he read as a child. He talks about how exciting they were, how sexy, and how scary. He talks about how superheroes couldn't stop his parents from fighting or save us from the bomb. Flex is about how fiction is real, and the way that the two rub up against each other and interact at certain points.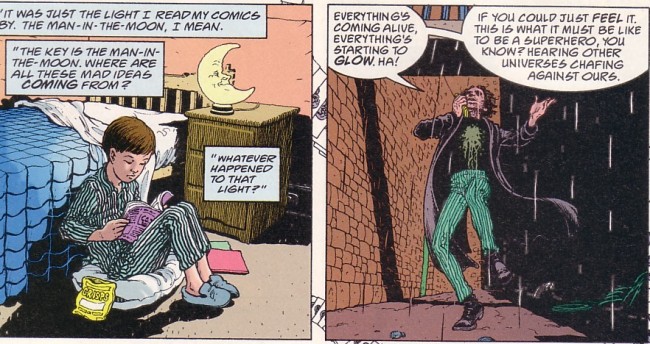 Flex Mentallo is a hopeful book. At the end, the superheroes return to save us all. They are revealed as us, or at least a significant part of us. Flex saves the day. The magic of reading superheroes as a kid is adapted to the real world. The glow of the lamp that Wally read comics by as a child serves as a blatant metaphor for the brilliance of superheroes. At the end of the book, the light is restored to Wally's sight.
Flex is a celebration of the superhero. All of it, from good to bad, from perfections to imperfections, is important. The sexualization of superheroes serves a purpose, either as masturbation material or as an outlet for the creator's desires. The Silver Age zaniness provided a look into other worlds, whether unsettling or fantastic. The escapism provided a look into a better world. The Starlin acid trips, the fear of the superhero, the edginess, the pointlessness, all of it matters. All of it fits together. It's all part of the same picture. All of it is wonderful, in one way or another. It's a puzzle with a million parts that still manages to stay in sync.
And in one of the last scenes, the point of Flex is laid bare. "Look at you! A half-naked muscleman in trunks! What's that supposed to signify? What are you? Do you know what you are?" asks a teenaged Wally Sage. Flex shrugs and says, "Sure. I'm a superhero. Being clever's a fine thing, but sometimes a boy just needs to get out of the house and meet some girls."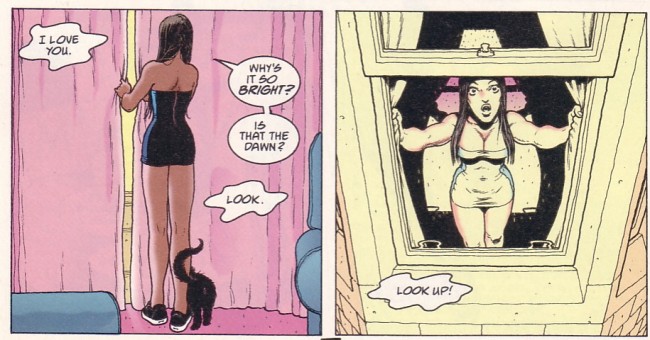 Implicit in Dark Knight Returns, Watchmen, and Flex Mentallo is a critique of the superhero. DKR teaches that the superhero is broken and it must be made cool again. Watchmen teaches that the superhero is broken, and here is how it is broken. Flex teaches that superheroes are broken, but that brokenness is just as natural as the parts which aren't broken. Blaze of glory, autopsy, wake.

Similar Posts: