November 8th, 2011 Posted by Gavok
Last week started the new status quo for one of my favorite comics going on right now, and maybe my favorite comic coming out of the Big Two, Christos Gage's Avengers Academy. In a time when new characters get shoved into cancelation only months into creation, it's good to see that this series has lasted through 21 issues, a Point One, an appearance in Amazing Spider-Man, a giant-sized crossover with the ill-fated Young Allies, a crossover with Thunderbolts and some cameos in Ant-Man and the Wasp. Like with all good comics that don't feature a marquee figure, there's always that looming threat of it being canned, but with the new setting and storyline, now's as good a time as any to get people to jump on.
I figured I'd take a look at our main cast and maybe inform someone out there enough that they'd give the series a try. In this series, it's not the past that truly matters for the team of six, but the future. You see, this isn't your regular young generation superhero team. Just because "Avengers" is in the title and our protagonists are teens doesn't mean that this is your usual Teen Titans knockoff. It's not so much a book about teenage Avengers as it's basically the Teen Thunderbolts. Much like the Thunderbolts, the true hook of the series isn't actually revealed until the very end of the first issue.
The hook? These are all kids who were controlled, captured, experimented on and/or tortured by Norman Osborn when he was in charge. Now that the good guys have the keys to the kingdom again, some of the mainstays from the ended Avengers Initiative take these kids in and offer to train them, insisting that they've got the most potential to do the most good. As the kids discover, this is a big lie. According to their psyche profiles, power sets and histories, they're all most likely to become some of the world's biggest supervillains. Hank Pym and the rest are using Avengers Academy as an over-elaborate way to nip their dark futures in the bud. It's not about training the best of the best. It's about predemption.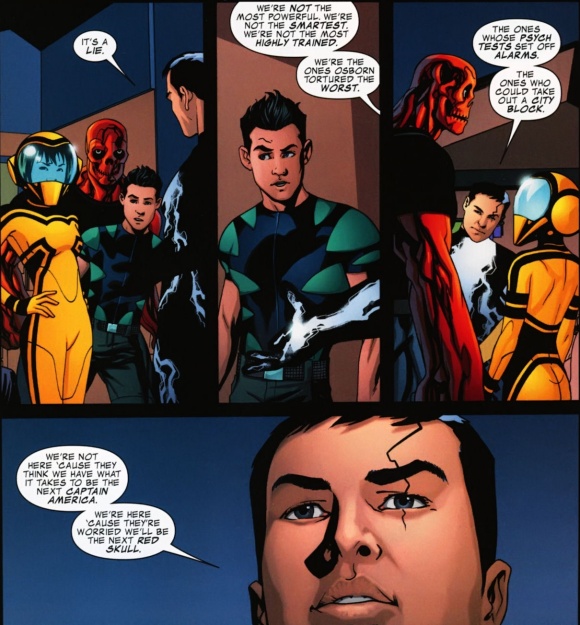 The comic becomes an exercise in looking at each member under a magnifying glass. Who is going to turn out good and who is going to fall from grace? At first it seems obvious. Half come off as truly decent folks while the other half seem like ticking time bombs. As it progresses, the lines begin to fade. We're kept guessing on who's going to crack and who's going to stand tall. Over the last couple years, we've seen them clash with the faculty, make decisions that split the team down the middle, see their own possible futures, win battles, lose battles and be forced to take part in the Fear Itself war. And let it be said that Avengers Academy was one of the better tie-ins to that miniseries event.
As of #21, things have become very different. One of the members has quit and Pym has moved them all to the old headquarters of the West Coast Avengers. Now they allow more teen heroes to join, such as Power Man, Boulder, Spider-Girl and that kid with the pet Sentinel, among others. They're all background, mainly, though Lightspeed and White Tiger have joined the main class with X-23 set to join in a couple issues. Hawkeye's joined the faculty, showing that Wolverine and Spider-Man aren't the only ones who can be on way too many teams. Most importantly, there's been a bit of a murder.