July 10th, 2010 Posted by Gavok
We move closer and closer into the present with the various Mr. T comics and upon hitting 2008, we get to my favorite of the bunch. Now, while Mr. T and the T-Force and the short-lived Mr. T from 2005 involved a couple of neat elements, there's something rather underwhelming about going the lengths of getting the Mr. T license and not doing anything extra special with it. The A-Team comic wasn't especially fantastic, but at least it knew that being outlandish couldn't hurt. The stories made little sense, but we still had B.A. Barracus fighting a sumo, getting into bar fights and knocking out Russian soldiers.
After the unfortunate cancellation of the 2005 Mr. T due to the company closing down, Christopher Bunting decided he would keep it going. He started up Mohawk Media and released yet another Mr. T comic. While the stories are basically split up into issues, including covers, they would not be released separately and by the month. Instead, Bunting would let them loose all at once with the new Mr. T graphic novel.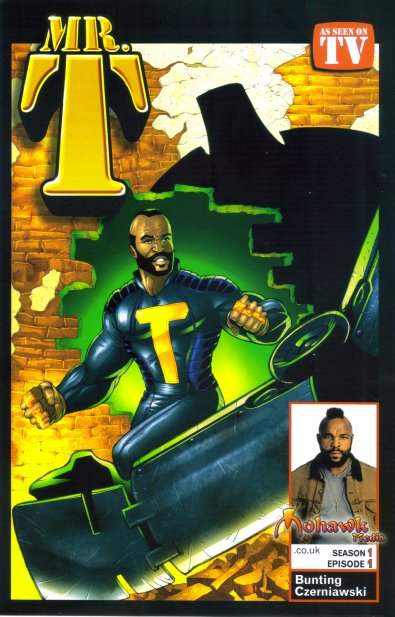 I don't know how to feel about that "AS SEEN ON TV" logo.
There are five issues in the trade. The first four are its own story arc with JL Czerniawski on art. The bonus issue is done by artist Giovanni P. Timpano. While, yes, the comic does have a lot of Mr. T being preachy, it's a lot less forced this time around. The reliance of having Mr. T yell at children for doing drugs is finally put to rest.
Also, between the issues are pages of Mr. T answering fan mail. If you're wondering, Mr. T believes Clubber Lang would beat B.A. in a fight.