December 4th, 2011 by
Gavok
| Tags:
hercules
,
panels
Once upon a time, there were three little comic readers who went to the police academy. And they were each assigned very hazardous duties. But I took them all away from all that and now they work for me. My name is Gavin.
Borderline microscopic week this time around, what with DC taking a siesta due to there being five Wednesdays for the month. I'm joined by the usual crew of David, Was Taters and Space Jawa.
Before I forget, I'd just like to congratulate David on being quoted (as "4thletter") on the back cover of BPRD: Plague of Frogs Volume 2. Not only that, but he got higher billing than IGN and the other cherry-picked reviewers. Good going, man!
He did get quoted for the first volume too, but that was as "Comics Alliance" so I don't give a flying fuck.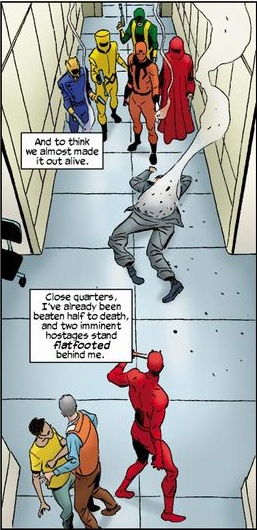 Daredevil #6
Mark Waid and Marcos Martin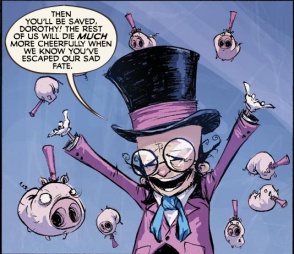 Dorothy and the Wizard in Oz #3
Eric Shanower and Skottie Young
FF #12
Jonathan Hickman and Juan Bobillo
Flash Gordon #1
Eric Trautmann, Alex Ross and Daniel Indro
Haunt #19
Joe Casey and Nathan Fox
Herc #10
Greg Pak, Fred Van Lente and David Hahn
Spaceman #2
Brian Azzarello and Eduardo Risso
Star Wars: Crimson Empire III #2
Mike Richardson, Randy Stradley, and Paul Gulacy
Teenage Mutant Ninja Turtles #4
Kevin Eastman, Tom Waltz, and Dan Duncan
Thunderbolts #166
Jeff Parker and Declan Shalvey
Tiny Titans #46
Art Baltazar and Franco
Ultimates #4
Jonathan Hickman and Esad Ribic
*sigh* I'm going to miss Herc. I hope you're happy, never-ending event tie-ins, because I'm not.
Since it's relevant to one of the panels this week, have this.
Everything should be back to normal next week. Meanwhile, check out the Muppets if you haven't already. It's absolutely fantastic.
Similar Posts: