September 5th, 2011 by
Gavok
| Tags:
flashpoint
,
panels
(Note: update is a little late due to the website having a fit last night. Need to remember to send David a fruit basket for his troubles)
Kind of an update and a half this time around. Since last week's show was a failsafe in case I lost power from the hurricane, which ended up happening, I didn't get to include the panels from David Brothers and Space Jawa. So here they are from last week, mixed in with this week's batch. I also have Was Taters on the drums.
My pick of the week is the Goon and if the creative team and panel don't convince you to check it out, I just don't know what to say.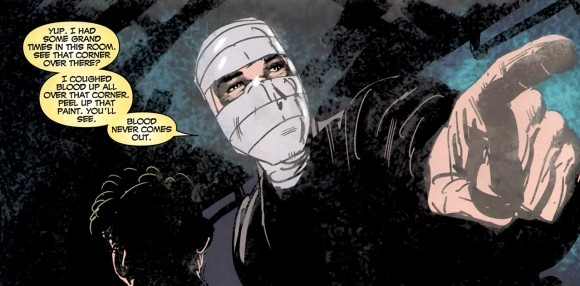 Deadpool MAX #11
David Lapham and Kyle Baker
Fear Itself: The Deep #3
Cullen Bunn and Lee Garbett
Fear Itself: Youth in Revolt #4
Sean McKeever and Mike Norton
Flashpoint #5
Geoff Johns and Andy Kubert
Flashpoint: Kid Flash Lost #3
Sterling Gates, Oliver Nome and Scott Kolins
Flashpoint: Lois Lane and the Resistance #3
Dan Abnett, Andy Lanning and Christian Duce
Flashpoint: Project Superman #3
Scott Snyder, Lowell Francis and Gene Ha
The Goon #35
Evan Dorkin and Eric Powell
Herc #6.1
Greg Pak, Fred Van Lente and Mike Grell
Incredible Hulks #635
Greg Pak, Paul Pelletier and Tom Grummett
Invincible #82
Robert Kirkman and Ryan Ottley
Journey Into Mystery #626.1
Rob Rodi and Pasqual Ferry
Justice League #1 (David's pick)
Geoff Johns and Jim Lee
Justice League #1 (Gavok's pick)
Geoff Johns and Jim Lee
Rinse #1
Gary Phillips and Marc Laming
Rocketeer Adventures #4
Joe Pruett, Tony Harris, JD Mettler, Shawn Lee and various others
Secret Avengers #16
Warren Ellis and Jamie McKelvie
Teenage Mutant Ninja Turtles #1
Kevin Eastman, Tom Waltz and Dan Duncan
Uncanny X-Force #14
Rick Remender and Jerome Opena
Wolverine: The Best There Is #9
Charlie Huston and Juan Jose Ryp
Xombi #6
John Rozum and Frazer Irving
I'm glad to see that Invincible is finally going somewhere. It's been all over the place since the war storyline ended, but not it seems to be coming together in a way that makes sense.
Today or tomorrow, I'll go into more detail on my thoughts on the two DC comics of the week in a new weekly series about the company's relaunch.
Similar Posts: