July 28th, 2010 by
Gavok
| Tags:
frank cho
,
hawkeye
,
hela
,
iron man
,
jeph loeb
,
ms marvel
,
new ultimates
,
thor
,
ultimate edit
,
ultimates
Yesterday had the lesser Ultimates rescue the marquee Ultimates and give Hell to Loki's mindless minions. Now we move to the realm of the undead and get an overdue dose of Thor.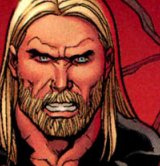 Oh no she didn't! We'll pick up on that tomorrow.
Thanks to ManiacClown, who I imagine has some semblance of a clue of what Thor and Hela are talking about. He also thinks that the above headshot of Thor has a Nathan Explosion quality to it.
Similar Posts: