May 15th, 2009 by
david brothers
| Tags:
brandon thomas
,
chriscross
,
DC comics
,
final crisis
,
joe casey
,
super young team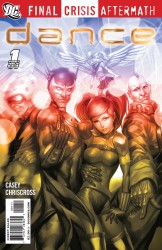 DC's The Source blog put up a preview of the new Joe Casey/Chriscross joint, Final Crisis Aftermath: Dance.
FINAL CRISIS AFTERMATH: DANCE #1
Written by Joe Casey
Art by ChrisCross
Cover by Stanley "Artgerm" Lau
Japan's Super Young Team wants nothing more than to be seen as heroes in the eyes of their adoring public. Unfortunately, their adventures during FINAL CRISIS have gone unnoticed, and they've been reduced to performing at public appearances and on various TV shows literally dancing for their livelihood. But the appearance of a new American teammate and a deadly threat complicates the motives of the team as they try and find what truly makes somebody not just a hero, but a sensational hero. Discover the path to greatness in this exciting 6-issue miniseries!
Even better, Brandon Thomas interviewed Joe Casey about the book and his other work. Casey is off Youngblood, so I'm off that book, too. Plus, he says something I agree with 100% on Obama comics:
JC: No way. That move is so played out. Let the guy be the President now, for chrissakes. I think he's all through being a cheap marketing ploy, a shortcut to making a quick blast of cash in the Direct Market, don't you?
Similar Posts: