May 10th, 2009 by
Esther Inglis-Arkell
| Tags:
batgirl
,
DC comics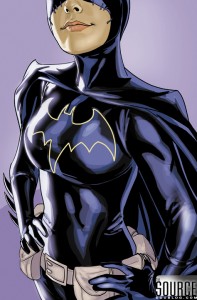 The new teaser image for the next Batgirl comic is out.  I have several thoughts, which I shall put in no particular order.
Is the mask, like, stitched to her face or something?  I want to read Batgirl, not Hellraiser.
I want that utility belt.  I would rock that thing.
I do kind of miss the blue and gold, though.
But that only works on Babs.
Oh, God, do I want it to be Babs.
Or Cass again.
Please not someone new.  Don't have her cure Calculator's daughter and train the daughter to be the new Batgirl.  I hate new people.  It takes me forever to get warmed up to them and by the time I finally do their book is cancelled.  So come on, DC.  Babs.  Or Cassandra.  Or Stephanie.  Not someone new.
Similar Posts: