August 10th, 2011 by
Esther Inglis-Arkell
|
Ah, it's been a tumultuous two years.  Lets have a look at how it all turned out.
Last we saw, Stephanie was battling a cult of technologically-advanced criminals who got stiffed by their employer and started a riot in Blackgate prison trying to kill that employer.  That employer turned out to be Stephanie's not-dead father, Cluemaster.
To start the issue, Stephanie and Cluemaster trade, "You were supposed to be dead"s, although I forget if Cluemaster actually is supposed to be or not.  It seems her father tried to stay away from the prison planet in the 'Salvation Run' storyline in prison, and we have, in the space of two sentences, crossed oceans of confusing continuity.  Suffice it to say, he wanted to see her and this was the way he knew how.
"I meant well, Stephanie," he says.  "Paving the road to hell is what Browns do!"
Okay, that is a good line.  Give him credit for that.
He then pulls out 'Black Mercy' roses, which he says allow him to focus on the way he wants his life to go.  Stephanie seems really shocked by these roses.  I didn't even know they existed until I saw them a page ago.  Can somebody fill in this continuity for me?
He throws pollen or ground up rose or something in her face, and goes off, saying, "Wonder what your mother is up to these days."
She shoots a batarang at him, and it embeds itself uselessly in the wall.  He gloats, only to have it explode and trap him in goop.  Gooperangs for the win!
Next thing Stephanie knows, she wakes up in the hospital, with her mother sitting next to the bed and her mask on.
"Thoughtful of you to keep my mask on."
"Hospital policy."
"Since when."
"Since I admitted you."
All right!  The mom comes through!  And more so when, after a brief talk, she tells Stephanie, "I'm proud of you!"
Awwwww.
Even better, a whole crowd of kids come through a door, happily shouting that 'Batgirl's awake!'  I'm not sure how kids knew she was there, and honestly I don't care.  When Stephanie looks out the window, she sees Damian standing guard.  They make eye contact, and he gives her a little salute.
That morning, she and Barbara talk about how they saved each other, respect each other, and now like each other.  Stephanie thinks about the things she dreamed when she was under . . . rose pollen.   A lot of Batgirl kicking ass, her and other female heroes dressed in fantasy costumes fighting a dragon, her as a Blue Lantern, Damian as a Red Lantern, and Babs as a Green Lantern fighting off bad guys, her and Cass as Blackhawks, her fighting off people on her graduation day from college, her as a mom to a young kid, and her in a futuristic city fighting crime with another Batgirl.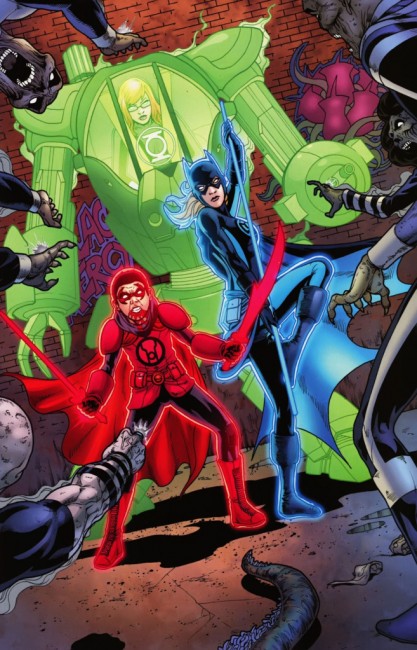 "It got me thinking about something my dad said about ignoring regret and focusing on the future. . . . Regardless of all the places I've been and the places I've yet to go, right here, right now, this moment is mine.  Today . . . I'm happy."
Babs:  "That's my girl.  Pollyanna to the very end."
Stephanie: *winking at the viewer*  "It's only the end if you want it to be."
*sniff*
What?  I cried!  I'm not a monster!
Conclusions:
Random Irrelevant Detail:  A rose theme is worked into all of the fantasy scenes.
Suckiness Advisory Warning:  Well.  I mean.  The series is cancelled, so.  That sucks.  It also shows that the series was cancelled with little warning.  It shows that all the books this month had to scramble to finish up whatever story they were in the middle of.  It's a shame, but there seems to be some good stuff coming up, which brings us to –
Overall Awesomeness Level:  Babs is a huge favorite character, and although I've said and I believe that she's more interesting and unique as Oracle, I can't resist her as Batgirl.  And as for Steph . . . I've got plenty of ideas as to how she can fit in with the New DCU.  I'll email them to DC.  They're looking for female creators, right?
Similar Posts: