December 1st, 2006 by
david brothers
| Tags:
batgirl
,
Batman
,
bruce wayne
,
DC comics
,
family
,
flash
,
hitman
,
movies
,
robin
,
ultimate warrior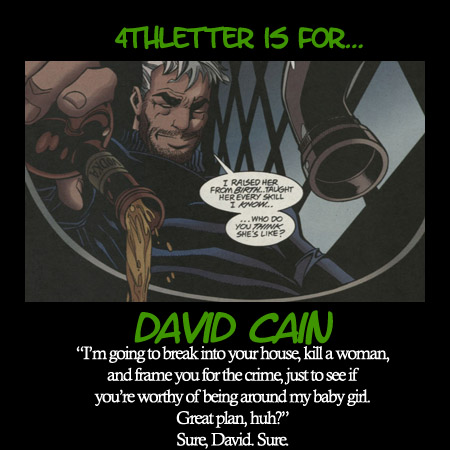 That's a pretty fair summary of Bruce Wayne: Murderer, innit?
Anyway, I'm a pretty big fan of Cassandra Cain, former Batgirl, and by extension, her father David. He's one of the many, many people who trained Bruce Wayne in the way of the Bat and father of Cassandra. He's the hitman people go to when they want it done right and without the tights. Deathstroke? Sure, fine, he's the bomb. But, he's loud, obnoxious, and all of his children are completely crazy. Deadshot? His deathwish makes him take unnecessary risks, and who respects a hitman in a tophat?
I think I'm rambling. Time to ramble in a more productive direction!
Cassandra Cain turned bad OYL. I like the heel turn myself, but a lot of other people don't. There are a couple of reasons why, but one I've heard is that she would never turn evil because she hates her father. That's one thing I cannot agree with.
I think that both David and Cass love each other. it is definitely a father/daughter-type of love. David definitely loves his daughter. After Batman beats him to a bloody pulp, the only thing he cares about is keeping his tapes of her training in his possession. At one point, he gets involved in a high speed chase away from government agents while carrying those tapes. He watches his "home movies" while drinking in the dark and reminiscing about the old days. At another time, he refuses to kill her when he is hired to. Later, he breaks out of jail to give her a gift. Let's not even mention the cockamamie insanity that was Bruce Wayne: Murderer.
David Cain is that guy who would look his daughter's first date in the eye, smile, and inform him that he can put a bullet through a butterfly's eyeball at twelve hundred yards with one eye closed. Then, he would slide back a secret panel beside the fireplace, revealing the poor kid's entire family, kidnapped, bound, and gagged.
David: Bring my daughter back by 2200 hours, untouched, or I will feed your father your fingers.
Boy: Uh, yessir
Cassandra: Oh, Dad! :rolleyes:
*canned laughter*
(I would read this comic.)
If anything, I'd say that he has a very genuine, if opportunistic, love for his daughter. She is his biological offpsring who he raised from birth. I think that he originally intended to raise a weapon, but instead, he raised a daughter. A particularly lethal and skilled daughter, but a daughter no less.
I think that Cass loves her father, too. She allows him to escape capture more than once, up until recently, and I think that the fact that he is her father is the only reason why. The problem is, she doesn't like him very much. She killed a man at eight years old and saw exactly what happens when someone dies. She saw the fear, the hate, and the terror that comes when someone is killed and it wrecked her.
I think it's important to realize that she wasn't raised with any sense of right and wrong, beyond "landing punches is right, missing punches is wrong." She saw death firsthand and was shocked into right and wrong. She realized the upbringing her father gave her was completely, utterly, and if I may be so punny, fatally wrong. So, she left. At, uh, eight years old.
My point is that Cassandra loves her father and he loves her. He raised her for half her life, and it's kind of clear in early flashbacks that she loved to impress him. She liked having his support and admiration. He liked seeing her turn into the greatest martial artist on the planet.
That was a loving, but abusive, relationship. It's comic booky, and kind of out there, but it is definitely physical child abuse. Cass knows it and David knows it and it strains their relationship. She doesn't know if she can forgive him for turning her into a murderer and I feel like he's feeling pretty guilty about using her.
It's interesting that when Cass finally gives in to being the ultimate warrior her father raised her to be, her first action is to try to remove him from the field of play. She acts out of spite and hate, but it seems like she's also playing the role of spurned child. Being Batgirl was taking the high road. It was antithetical to her father's way of life. It was her way of atoning for her sins. She was Batgirl out of guilt. The new Cass, OYL? Well, the hard way turned out to be too hard for her. She wants revenge.
Deep down, though, I don't think she actually hates him. She's lashing out and being selfish, just like a kid would act. She's Bruce Wayne screaming "I hate you!" at his parents before they died.
I think that the Cass/David relationship could easily hold up to, say, a four issue miniseries. Set it post-Robin, after David gets away from her and the League. Cass goes after her father in a big way. It'll end with both of them on a burning rooftop, out of ammo, exhausted, and bleeding. So exhausted and broken that they can do nothing but talk. I'm talking serious breakdown-in-tears, heart-to-heart here, but on a burning building in a tropical location.
It ends with the reconciliation that's been due since Cassandra's past was first revealed. David Cain and Cassandra Cain finally work through their issues and their past.
Anyway, idle musings.
You know what else would be extraordinarily dope? Cassandra Cain is running the League of Assassins now, right? She offed Nyssa al Ghul?
Well, Talia has a son who may not be too happy that his aunt was killed by the former sidekick of his father.
Damien vs Cassandra. Son of the Bat vs the Greatest Warrior Who Ever Lived? Batboy vs Batgirl? Count me in!
Similar Posts: