May 22nd, 2008 by
Gavok
| Tags:
badass
,
green goblin
,
mac gargan
,
Marvel comics
,
norman osborn
,
thunderbolts
,
venom
,
Video Games
It's no secret that I'm a guy who loves the fighting genre of videogames, especially when you consider the kind of awful comics I've forced myself to read. With all the Street Fighters and Tekkens and Mortal Kombats out there, the one game I find unfortunate for never getting its own comic series is Fatal Fury. And I'm counting American comics here. None of that ridiculous Hong Kong shit.
The reason Street Fighter fails as a comic is because the main hero and the main villain have little to do with each other. Think of it like this. Marvel's main hero is Spider-Man. Their main villain is Doctor Doom. Have they met and fought? Sure. But if you were to do a 12-issue comic that sums up Marvel's history through the eyes of Spider-Man vs. Dr. Doom, it would be a major stretch, watered down by all the other important characters.
Fatal Fury had two things going for it that would keep it a readable comic book. One is that it's a very simple story. It's about one man (and his less important brother) trying to get revenge on the crime boss that murdered his father with his bare hands in broad daylight and was so well-protected due to police bribery that nobody could do anything about it. So he enters a fighting tournament held by this crime boss in an attempt to get close enough so he can finally get that revenge. Everyone other than those two characters is ultimately a supporting character. Like I said, it's simple. You can write the whole thing in three to twelve issues depending on how you want to go about it, not to mention sequels and spin-offs.
The other thing that would make it readable is the villain in question: Geese Howard.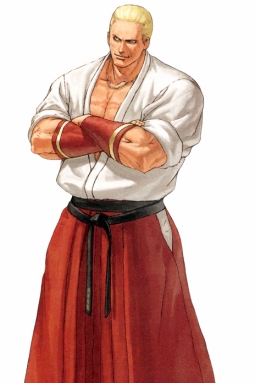 Geese Howard is a slick bad guy who's both untouchable in the criminal sense and the physical sense. Much of his fighting style is based on him casually catching his opponent's attacks and tossing them around like a rag doll. Geese has a unique aura of badass that never truly appeared in a comic book counterpart. The character closest to him would likely be the Kingpin, especially the Bendis version, and even then the similarities don't match up completely.
There are a lot of little things that make him so likeable as a villain. As a crime boss, he has supervillain aspirations, but nothing as far as, say, world domination. It's more that he's just after power and, more specifically, immortality. In the big picture, he keeps a low profile.
Then there's his relationship with his henchmen, most notably his right-hand man Billy Kane. Even though most villains treat their people like tissue paper, Geese has a more noble and human respect for his employees. In return, Billy respects Geese more so to the point that he'd do nearly anything for him. No scheming behind the boss' back to take over or getting slapped around while hearing, "You've failed me for the last time!" It's a dynamic you rarely see in comics. While Kingpin is shown to be respectful to his henchmen, there's never been a stand-out among them. You could consider the relationship of Dr. Doom and Boris to be like this, though Boris doesn't really do much other than carry out menial tasks.
It was only recently that Marvel finally hit this groove with Norman Osborn and Mac Gargan.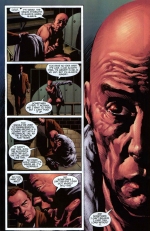 The whole idea of Mac Gargan working as Osborn's lackey came from Mark Millar's run in Marvel Knights Spider-Man. It was a good idea, since the Scorpion was a cool enough concept, but had nothing going for him for years. Either he was committing generic crime or he was trying to kill Jameson. More power to him on the latter, I say. This is the same story where Gargan had shed the Scorpion armor and inherited the Venom symbiote. Millar did some good with the initial Gargan-Venom storyline, but very rarely has anyone else done anything worthwhile with it until recently.
As Green Goblin, Osborn was pissed at Gargan at first for becoming Venom, since that strayed from his plans, despite the fact that being Venom makes him more powerful than being Scorpion. I found something almost poetic about the idea of Gargan being Osborn's second banana. Gargan represents two different mainstay villains, each one trumped by the Green Goblin. The Scorpion is a green-wearing classic villain who went insane from drinking a serum that enhanced his physiology. Venom is a pest that regularly threatens Peter Parker's home life. Green Goblin is the same as both of them, but carries himself better. Venom may have scared Mary Jane all those years ago, but that's nothing compared to all that Gwen Stacy crap.
As a character, Osborn was in a pretty bad place for a few years. His aspirations were nothing more than "piss off Peter Parker" and he was involved with some rather unfortunate stories. The whole Civil War/Thunderbolts deal has revitalized the character and has made him a real force in the Marvel universe, different than he was before. Now, far more than Kingpin before him, he gives me the same badass businessman vibe as Geese Howard, albeit more maniacal.
Even without the Civil War: Choosing Sides story's reasoning for why Venom would join the Thunderbolts, or the fact that Venom is a "please by me" stamp on any comic he appears on the cover of, it's still a very natural fit. It continues the business relationship built up by Marvel Knights Spider-Man and makes the team roster seem slightly less random. Having Venom announced on a team run by Norman Osborn is just like what it was like when Iron Fist was announced as a member of Luke Cage's Avengers team. Not so much surprising, but expected.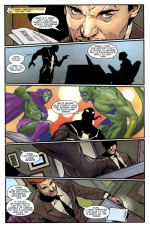 The way the Thunderbolts have been handled, both in terms of the team and the series, is certainly a unique one. Warren Ellis has been working on his own twelve-issue run, based on two decompressed and very much delayed story arcs. The Thunderbolts themselves have been getting inserted all over the place, appearing in Nova, Sub-Mariner, Avengers/Invaders and I'm sure other comics. There they exist mostly for the sake of action sequences. Finally, there is Christos Gage's one-shots that keep the Thunderbolts in our minds as we wait for Ellis' next issue. I'll get back to that later.
Since the second six-issue story arc is his final one, Ellis goes straight from the team's genesis to what we've all expected from the beginning: this incarnation of the Thunderbolts is destined to implode upon itself. Using a team of incarcerated psychics, each member of the Thunderbolts is unknowingly pushed towards corruption. So while Penance is off having some real character development with Doc Samson, Ellis is cutting to the chase with everyone. Venom? Going on a man-eating rampage. Swordsman? Giving into his megalomania. Norman Osborn? Heh. Well…
You see, ever since the Civil War, Osborn has stayed behind the desk. His character antics have been interesting, having him regularly depicted as a man dealing with his insane mood swings while competently controlling the political power he both craves and doesn't deserve. Despite the party going on in his head, he's played it straight most of the time and has come off as a smart businessman and team leader. I think it's pretty awesome, but most people want more of that. They want vintage Green Goblin with an Ellis twist.
So those incarcerated psychics have done a number on Osborn and have pushed his insanity to the max. This leads to a lengthy, rambling monologue as Norman Osborn dons his Green Goblin costume for the first time in ages. I can't do this speech justice and it's too long to simply quote, so here are a couple choice lines from it:
"Can't rely on anyone these days. All too busy reading about dying pop stars and Iron Man's pants. You two! Report to the quartermaster and get yourselves a pair of dresses, on the double!"
"Aaaahhh. I'm so glad I never washed this particular costume. Smells like death, blondes and victory. Maybe this could be my presidential uniform. Do presidents have uniforms? I suppose not. Still, since I'd be the president, I could do what I like, really…"
"Note to self: give naked dictation more often. The ideas seem to flow more freely."
"Swordsman, Swordsman… what shall we do with you? Aside from kill you, of course. Of course I have to kill you. It's what the little people expect me to do. This is how I display my heroism."
Isn't he loveable?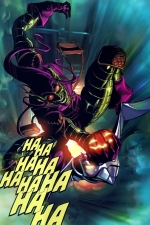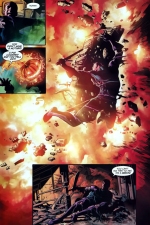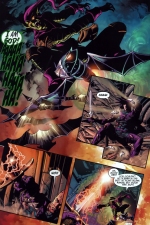 A wise man named Yankovic once sang about how Norman Osborn is scarier without his mask on. Deodato's above art aside, I'd like to think he's right. Fortunately, we have Gage's Thunderbolts: Reason in Madness one-shot to back this up. In-between Ellis' issues, Gage has been releasing a series of one-shots that get into the minds of the different Thunderbolts members. He's set to take over the main series once Ellis leaves and I certainly believe it's in great hands.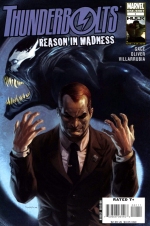 This issue, which came out a week before the raving return of the Green Goblin, is about Venom's frustration with being a Thunderbolt, constantly distrusted due to an incident where he ingested Steel Spider's arm. A handful of villain regulars like Boomerang and Mr. Hyde get Venom's attention. By coaxing him with the ability to temporarily leave the Thunderbolts base without risk of electrocution and giving him the first beer he's had in months, they then try to get him to join them in their little scheme for money and power.
Being bad guys, blackmail is also involved. It seems that back before his Scorpion days, detective Mac Gargan did a job for Obadiah Stane that cost Norman Osborn a huge fortune. Unless he wants Osborn to find out about that, Gargan has to play ball.
Venom seemingly leads Osborn into the trap, where the lesser villains threaten Osborn for several million and enough secrets on him to use as potential blackmail for later. Osborn casually gives in and hands Boomerang a data stick for his computer that will give him all the information he needs.
"Really, I'm impressed. This is quite a farsighted plan for the likes of you. But you made the mistake a lot of people have been making lately. You thought the costume made the man. I can put bombs in other things besides pumpkins, you know."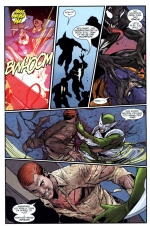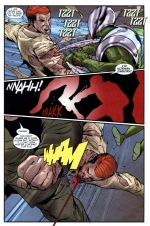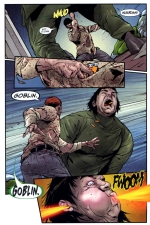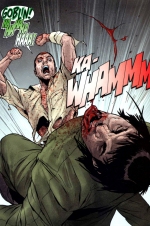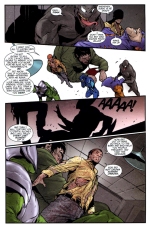 BADASS.
Norman and Venom leave the scene and it's brought to light that Gargan told Osborn everything about the Stane business that the others were threatening to use against him. Osborn had no problem with it at all, considering it led to the creation of the Goblin Serum. Seeing Gargan's loyalty to the brand convinces Osborn to give him a little more leeway and now Venom gets a free 24 hours a month where he can wander out into the world without the nanochain threatening to paralyze him.
There's the Geese Howard and Billy Kane of Marvel. I hope they continue with this, since it helps both characters. In over the course of two weeks, Osborn has almost wiped away the memories of all the awful, awful storylines he's been involved with in the last twelve years. He's now a major power in the Marvel world and has an ominous dormancy in his current position.
Meanwhile, Gargan finally has some worth as Eddie Brock's successor. For a while he was shown as being nothing other than two Spider-Man villains glued together to create a generic villain who simply hates Spider-Man. It made him seem pointless other than giving us a less ridiculous Venom visual design. Now I give a crap about him.
Welp. Here's hoping Osborn isn't a Skrull.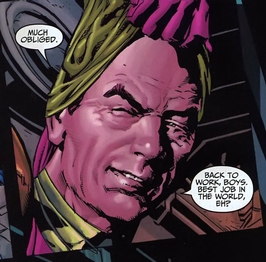 Similar Posts: