August 14th, 2007 by
Gavok
| Tags:
Chikara
,
dvd covers
,
jigsaw
,
tim donst
,
Wrestlecomics
,
wrestling
About a month ago, CHIKARA did an awesome show in Conneticut called Showdown in Crisisland. You'd think they'd do one of their comic-based DVD covers, what with "Crisis" being in the title. Instead, they passed over it by doing a meh cover based on the least entertaining match on the card.
It's all right. Two weeks later, they did another show in Philly called Maximum Overdraft. Now they've released the DVD cover for that and it makes up for their previous folly.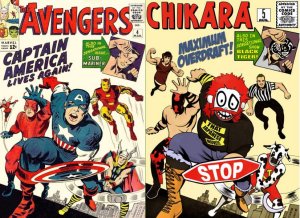 Based on Avengers #4, the famous issue that brought Captain America to the present, the main image of the cover includes Tim Donst, Jigsaw, Shane Storm and Moscow the Communist Bovine. With them is popular referee Bryce Remsburg. In the opening match, these four wrestlers teamed up to take on the team of UltraMantis Black and the Southern Saints. Great opener.
Having Moscow wield a hammer and sickle is absolutely brilliant.
The Black Tiger made a special CHIKARA appearance, where he went up against Mike Quackenbush. Quack had recently acquired the NWA Junior Heavyweight title and decided to defend it here in his own fed.
The show is pretty stacked and worth looking at. La Parkita, a skeleton midget, fights a normal-sized guy named Payaso del Futuro (Clown from the Future) in what can only be described as a drunken trainwreck of a match. Ring of Honor's tag champs the Briscoe Brothers visit CHIKARA to take on their tag champs Team F.I.S.T. And also, I almost got ejected during the third match. Heel Eddie Kingston and I got into a wacky little confrontation prior to his match and he asked that I be thrown out of the arena. One of the security guards thought he was serious and really did want me gone. Luckily, I talked him down. Hopefully that shows up in some form on the DVD.
Like always, you can get your CHIKARA shows at Smart Mark Video. They're having a couple shows this weekend, but I have a wedding to attend. I'll definitely be around next month, September 21st, when they go back to Philly for their next show called Lettuce Entertain You (And Other Puns).
Similar Posts: