July 5th, 2007 by
Gavok
| Tags:
Chikara
,
dvd covers
,
hydra
,
Wrestlecomics
,
wrestling
Another update on the CHIKARA/comic connection, I've discussed twice before. This time, it's Young Lions Cup V Night 3, taking after New Teen Titans #1.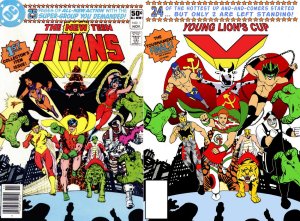 Top: Super Xtremo, Moscow the Communist Bovine, Hydra
Bottom: Soldier Ant, Amigo Suzuki, Lince Dorado, Player Uno the 8-Bit Luchador
Why, oh why, does Hydra have to be Donna Troy in this? Ten bucks says those chains he's wielding are really the ultra-light plastic kind they use in kids toys.
I was never big into the Titans, so this doesn't do all that much for me. It is a nice little homage, though, even if the artist forgot to replace Kid Flash's speed trail with that building's windows.
I did go to this show and it is totally worth buying. Not a single bad match on the card. Some matches, like North Star Express vs. Olsen Twins and Jigsaw/Hallowicked/Shane Storm vs. Cannon/Sweeney/Boyer, are great enough individually to make this worth getting. I didn't get to go to the other two nights, but I have those on the way. Sadly, no comic artwork covers.
Stay tuned, 4L readers. Tonight I should have a new installment up of Deadshot's Tophat. Good God, it's been a while.
Similar Posts: