June 10th, 2012 Posted by Gavok
I'm one of those comic fans who tries not to allow himself to be dragged into the whole Marvel vs. DC argument based purely on the characters and being loyal to them. It's all about the writers and the quality that comes with it. Sure, there are many times when the scale is skewed immensely, such as pre-Flashpoint when I was only reading a couple DC comics compared to now, but that's on them. For the past 6-7 years, when you compare Marvel and DC, there's no better writer sample size than Brian Michael Bendis and Geoff Johns. These two are the butt of a crazy amount of jokes about how they each write 80% of the comics of their respective companies.
Hell, I'm guilty of this myself. If they ever brought back Amalgam Comics, every issue would be written by Geoff Bendis.
They both have their strengths and weaknesses. I dropped all the Bendis Avengers books after growing impatient and realizing that the only reason I was reading them in the first place was because of enjoying what he used to write. At the same time, I'm really loving Ultimate Spider-Man and the whole Miles Morales experiment. With Johns, I lost complete interest in Justice League shortly after the origin arc, yet I eat up his Green Lantern and think his Sinestro is the most compelling character going in DC. Not that that's hard, considering he has a head start over 95% of the New DC cast.
This isn't so much a simple Bendis vs. John post, but more a comparison over something Johns does that I've always dug about his work and really helps earn him his spot as "that DC Comics guy". It's also something that I've found Bendis to almost get, only to drop the ball and go the opposite direction.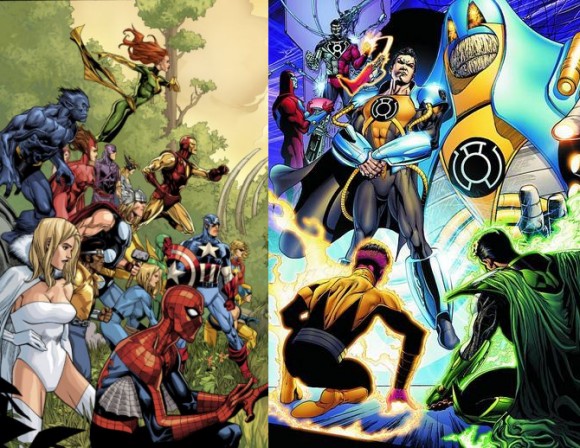 What I'm talking about is setting up a threat, usually in the first act, that allows the readers to say out loud, "These heroes are absolutely screwed." This is a lot better as a selling point to a comic than "it's important."
I'm going to focus on the event storylines, since these are the ones given more emphasis and put under such a microscope that the two writers have to make extra sure that their threat is something that can't simply be waved away.
I'm also going to skip over Avengers Disassembled and Green Lantern: Rebirth, since I don't even really see those as events as just gigantic plot points meant to set up the next several years of storyline. Disassembled is something I read years after the fact and found it to be kind of a mess in terms of storytelling and Green Lantern: Rebirth was a big mess of retcons and reveals meant to pave the way for Johns' lengthy run on the Lantern corner of the universe.