December 25th, 2006 Posted by Gavok
It's Christmas time and 4th Letter is in the spirit!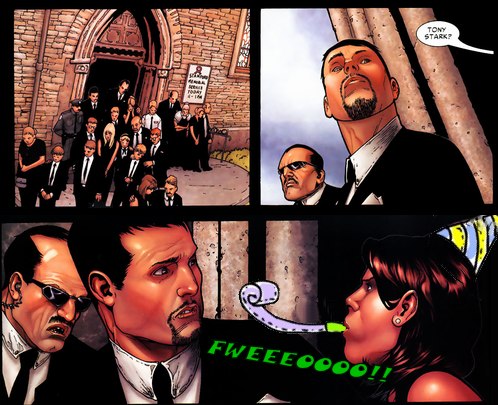 See?
Over a year ago, a class act by the name of Chinaman7000 created a very special thread at the Something Awful sub-forum Batman's Shameful Secret. Called "Let's Ruin the Moment", people would take an impacting moment or scene from comic history and meddle with it. You would see Ultimate Mr. Sinister shoving a content Ultimate Xavier down a wheelchair ramp or Tomorrow Woman's dying words to Superman being about how much she saved with Geico. It's very fun and at times incredibly funny.
I've made a lot of images for those threads (the first thread got too long) over the past year and two months. When I started, I didn't have any decent image-manipulation programs, so I had to deal with MS Paint. It was a disaster. Then I got Paint Shop Pro. That was also a disaster. But eventually, my understanding of the program got better and I still use it today. I could get Photoshop like any other good citizen, but I have a strong case of Stockholm syndrome.
Because there are 4L readers here who haven't paid the $10 to be part of the Something Awful forums, I decided that from time to time, I'd post a batch of these. At least mine and any that are made by people associated with me (like hermanos). I don't want to be yelled at by anyone for Ebauming their images, but if anyone wants me to showcase their work, just give me a ring.