July 16th, 2011 by
Esther Inglis-Arkell
| Tags:
garth ennis
,
punisher
For a few weeks, I house-sat for a friend of mine who has a floor-to-ceiling shelf of comic trades.  While patiently waiting for his cat to come out from under the bed so I could make sure she was still alive, I picked up a few of those trades and started reading.  I started with a massive Marvel hardcover of Garth Ennis' original run on the Punisher, before he got the Max title, in part because I remembered David mentioning that a character named Joan returned in the run.
After that, I moved on to the ten Garth Ennis Punisher Max trades that comprise the most celebrated run anyone ever had on Punisher.  (What can I say?  It was a long trip and a shy cat.)  I've often repeated a saying about the Punisher that I've read online, "The more I read about the Punisher, the less I like him."  After having read all the most loved Punisher stories, I have to say I finally changed my mind.  I do like the Punisher.  I even kind of like his world, although I expect I'll have to be sparing with my Punisher reading since there are plenty of things that happen in that world that I don't want to read about.
When I look at my ongoing reaction to the Punisher, and Punisher stories, I think what bothered me most all along was not the Punisher or his world – which I can read or hear about without having too much of an emotional reaction – but the way he's sold to me.
When I've read Punisher reviews by people who are fans of the comic, I often run across the phrase, "You may not like him," or "You're not supposed to like him," or even "I'm not sure I like him."  Having read the books, I have to say that all those phrases are weapons-grade crap.  I don't believe even one of them.  Of course you're supposed to like the Punisher.  He's the best fighter, the best tactician, the best judge of character, and the most purely committed to his cause without prejudice.  Oh, and he's a war hero.  Also, when it comes to taking care not to have any civilian casualties, he's more careful than specially-trained army and police forces.  He gets visas for mistreated undocumented immigrants.  He has a soft spot for damsels in distress.  In scenes when people are freaking out, he acts as impromptu counselor to get them back on their feet.  And is there a cute little kid?  You bet there is!  She loves the Punisher and hugs his knees and he stands over her for days making sure that she's safe.  And finally, just for fun, he gives a cantankerous old man in a bar a bottle of the man's favorite vodka, and makes the bartender treat him with respect.  Of course you're supposed to like this guy.  And of course you do like this guy.  Don't try to tell me different.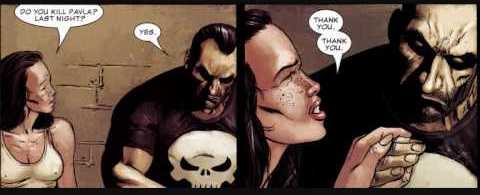 I'm not complaining about liking him.  Everything I said up there about the Punisher can be applied to Batman, Superman, and any other superhero.  As written by Garth Ennis, the characters who exposit just how great Frank Castle is at everything become well-rounded characters who are interesting to listen to when they speak.  The victims have voices, opinions, and speaking styles instead of predictable lines.  These are actual characters, not just props who stumble in and say whatever lines are needed to set the story in motion.  (Except the little kid.  There is no little kid in any fictional medium that even approximates what an actual child is like.  Maybe that's because no kid lends his or herself to a coherent story.  They're still too much like little space aliens come down to earth to fit into anyone else's plot line.)
The reason you like him is he's the only character who actually makes sense.  The thesis of the Punisher is set up in the first few pages of the Max storyline.  He recounts the story of his wife and kids being killed by chance during a mob shooting, and says that that was the day when the world went insane.  He finishes up with a line that goes (roughly), "I go out every night and make the world sane."  If a guy in the real world were to say that with a massive gun in his hand, it would be time to run.  In this world, it's correct.  People are in agonizing situations for which there is no effective help.  Official channels are clogged with corruption, technical procedure, and the need for public approval.  Unofficial channels are too weak and unprepared to be protection against the threats that face them.  And, over it all, there's societal ignorance and indifference.
Set against this backdrop are, usually, two main sets of players.  There are villains who wow us with their sadism and evil, and who engage us with their petty prejudices and meanness.  And then there's team Punisher.  As much as the Punisher is spoken of as a Force of Nature who Works Alone, he's usually paired up with someone in these books.  Sometimes they're reluctant to help him in any way.  Sometimes they're insisting he join them.  Either way, the team up works because there is someone to bounce different ideas and opinions off the character, and draw out different sides of him.  Through these characters we see the Punisher's philosophy, his disgust, his sense of duty, his more emotional sides, and the large part of him that's still a soldier in the traditional sense of the word.  By going through these books, beginning and ending with military plots that show the Punisher as a soldier, we get a complete sense of his character, why he's necessary to this particular world, and how he fits into it.
These are very good stories, which is why the 'selling' of the Punisher doesn't work.  In most of the issues, especially the issue of Max, characters are mostnly wrong to the degree that they disagree with the Punisher.  The more they differ from the Punisher, in situation assessment, personal philosophy, background, taste, and opinion, the worse they are.  Characters the reader is meant to respect – not necessarily like, but admire and trust the judgment of – talk up the Punisher's professionalism, fighting technique, and personal character.  There are times when the Punisher is unaccountably contemptuous of certain characters.  They turn out to be bad.  There are times when he strangely decides to trust – although characters are careful to say that he never really trusts anyone completely.  They turn out to be good.  He's perfect.  And yet, the whole world is against him.  Almost everyone resists giving him information.  Almost everyone is morally repulsed by him and feels the need to say so, despite being knee-deep in the proof that he's the only one who can help.  In one story, the cops all hate him and several of them try to frame him for a crime he never committed.  In the next, a bunch of slain mobsters' wives complain that the police all love him and won't move against him.  Everyone is against poor Frank, despite him being the best guy ever.

When I read these stories, I believe that the Punisher is the only person in that world who could adequately deal with the problems that are presented.  I also believe that he doesn't kill a single innocent person.  In the real world, a guy like this would.  But if he did in comics, the character's justification would collapse, and I like the character, so I'm willing to believe that he's meticulous enough to never hurt anyone who doesn't deserve it.  There are plenty of inventive and compassionate characterizations that twist the reader into liking a character they initially hated, or being soured on someone they initially liked.  To have a more crude push towards the Punisher as the be-all and end-all of characters, chopping down other characters or manipulating storylines to get there, feels like a loss of faith in the reader.
Similar Posts: