July 13th, 2011 by
david brothers
| Tags:
frank miller
,
jim lee
Superheroes are better, or maybe just bigger, than we are. Their motivations are more pure, their actions are more sure, and their confidence is incredible. Everything is larger than life, even their momentary lapses of faith. They deal with situations that would make normal humans crack under the pressure once a month, and still wake up every morning to go to work.
They love better, too. There's none of the insecurity and mindgames that orbit our relationships. Superheroes have impossibly beautiful and interesting love interests and have pure and incredible relationships. How can you love anybody the way Superman loves Lois Lane? Does anyone love you as much as Wally West loves Linda Park? Even their breakups are apocalyptic. We break up and spend weeks on the couch, depressed out of our heads. Superheroes fly off into space, change their whole identity, or break up in the middle of apocalypses.
The sex, too, is similarly bigger than sex is in real life.
Thirty-some years ago, Chris Claremont did a really, really good job of mainstreaming BDSM themes or tropes in cape comics. The Hellfire Club was a barely disguised sex club, where the queens wore corsets and capes and sipped wine out of goblets while casually ordering around the help and inflicting pain or receiving at their leisure. Claremont's stunningly fond of mind control stories, sometimes including body modification (a loss of control for some, a taking of control for others) and sometimes simply being about someone being told what to do or being helpless.
It's all more than we can manage in real life, and people bounce back from emotional trauma like it was nothing. Superheroes can do that. Superheroes do everything big. They don't do halfway or normal. They go all the way in. Maximum drama. Maximum excitement.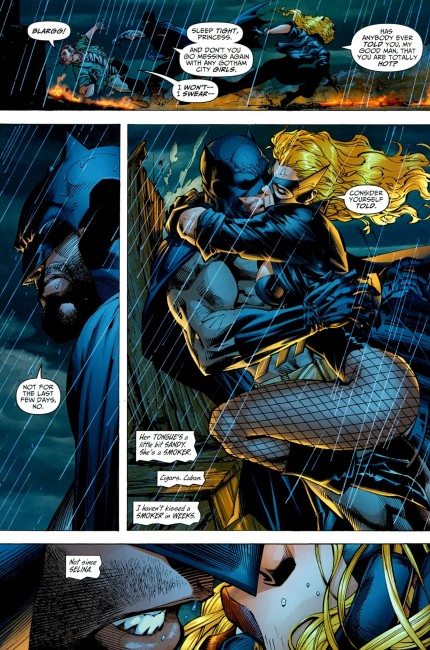 "We keep our masks on. It's better that way."
Without the mask, Bruce Wayne is just a man. He's rich enough to throw some wild sex parties, the type with dozens of guests, representation for every fetish, and all the cocaine you can fit up your nose, but he's still just a man. With the mask, he's Batman, the Dark Knight, avenger of the innocent, savior of the world, and secret weapon of the JLA. The same goes for Black Canary, to an extent. She went from bartender to superheroine, and all it took was a short temper and a costume. A semantic change, perhaps, but a change nonetheless.
Throw some furry handcuffs, role playing, or a blindfold into your normal human sexy times and look what happens. Now, imagine that magnified times a million, amped all the way up to superheroic proportions. The constant threat of violence, the hyper-emotional states you flash through over the course of an issue, and the sheer fact that you're two people wearing more or less skintight, fetish-y crimefighting gear all add up to something more than we can ever get in real life. Everything is heightened for the story. The mask is the gateway to greatness. Normal relationships are out of the question. Superheroes are too big of an idea to bother with the mundane.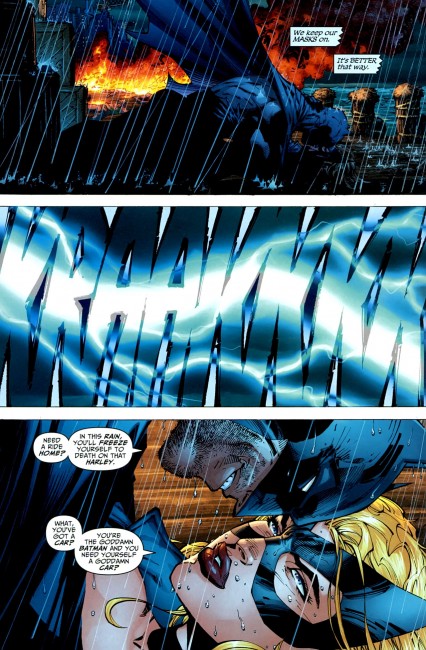 The masks represent their superheroic nature. Batman and Canary are in a comic book. That's why they can have sex on the docks after fighting off a couple dozen gun-toting thugs, causing some medium-level property damage, and setting the docks on fire with weaponized bleach. That's what superheroes do, not what humans do. Humans do it with the lights off and under the covers. Superheroes do it while lightning strikes and the earth moves.
What Miller did here was just put what we've already learned, or picked up on unconsciously, onto the page as plain as day. We already know that superheroes have mind-blowing love lives. We've seen Black Cat fall into a thrill-seeking relationship with Spider-Man, only to utterly reject him when he revealed that he was a normal guy. Clark Kent pined after Lois Lane for years, but she only had eyes for Superman. The Flash is so in love with Linda Park that he came back from being lost in time. Daredevil has tripped over supermodels, sexy assassins, and regular old hot women every single time he falls into a relationship. Spider-Man dated the girl next door and the unattainable party girl turned supermodel.
We've accepted the idea that it's better with the masks on already. This just took the subtext and made it text.
Similar Posts: