July 12th, 2011 by
david brothers
| Tags:
frank miller
,
jim lee
Batman is an idea. Well, several ideas which all sort of intertwine, like a double (quadruple?) helix. He is the idea that there is someone out there who will make the world make sense for us. He is a protector and avenger, someone who lurks the dark alleys and does the hard thing in order to keep us safe. He's the idea that one person can make a difference. He's the idea that you can, and should, choose right over wrong and justice over fear. He's all of these ideas, which, when you boil it down, he probably comes down to being all about safety, both the creation or comfort thereof. The existence of a Batman means that you live in a world where you can, and maybe will, be safe.
Batman is an idea that is both inspirational and aspirational, depending on who you talk to. He either gives you the strength to go on, or mobilizes you to emulate him.
Take a look at the average Jane on the street, one of a species known for walking down dark alleys for no good reason. Three thugs with entirely unlikely knives set upon her in a dark alley… and Batman drops out of the night to save her. He's in full The Shadow mode, here. The laugh sends chills down the spine of the punks. They know exactly who he is. They're familiar with the idea of Batman. He brutalizes them. They stand no chance, and he makes it a point to make them pay.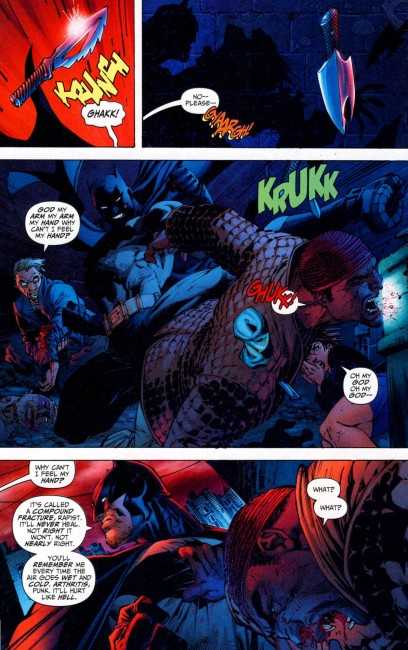 It's violent, and it's ugly, but more than anything, it is order imposing itself on chaos. Batman is there to set things right, and right in this situation means that the people who would hurt innocents get what's coming to them. It's more than a beating. He makes it a point to give them wounds that will affect their lives for years. It's psychological warfare. It's a deterrent. It's terrorism.
"Striking terror. Best part of the job."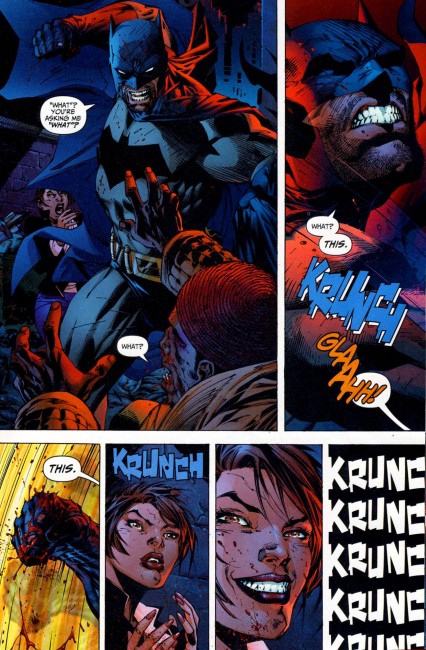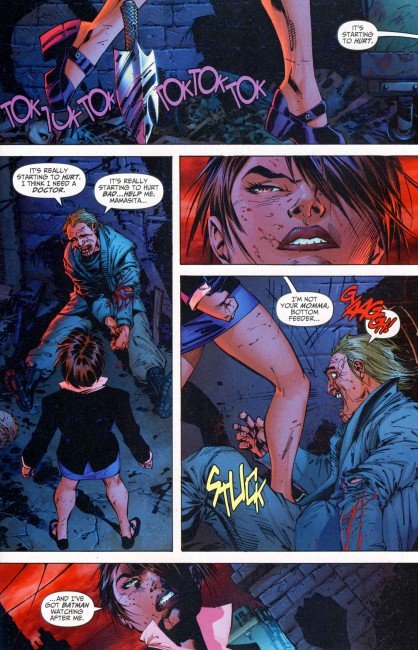 The woman, our young Gotham professional with extraordinarily bad luck, watches the beating with fear, and then awe, and then admiration. She went from a situation in which she had no control at all to one in which the people who wanted to hurt her where put entirely out of commission. It gives her faith and confidence, but more than that, it gives her an opportunity to regain control, now that she has a guardian angel. She walks past a knife that was just at her throat and delivers a kick to the crotch of a would-be assailant. "I've got Batman watching after me," she says.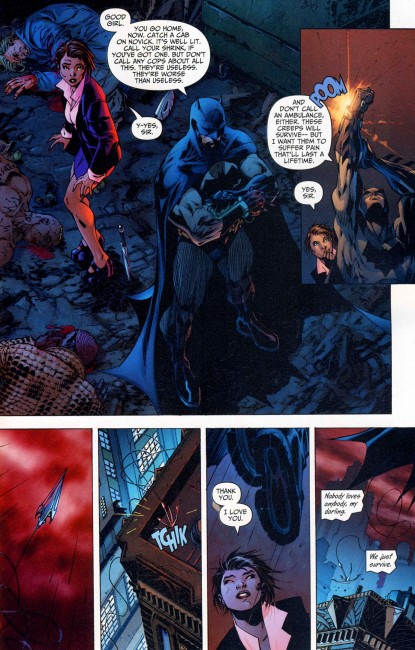 The existence of Batman, the idea of him, gives her strength. She witnesses the brutal, ugly violence that is his trademark, and sees the idea behind it. "Evil will not win." She thanks him. She says she loves him. And she does, in the same way that we love anything that gives us strength, from music to movies to family. He's inspirational. He's the father that's always there for you and can rejuvenate your confidence with a smile and nod.
Next: Batgirl.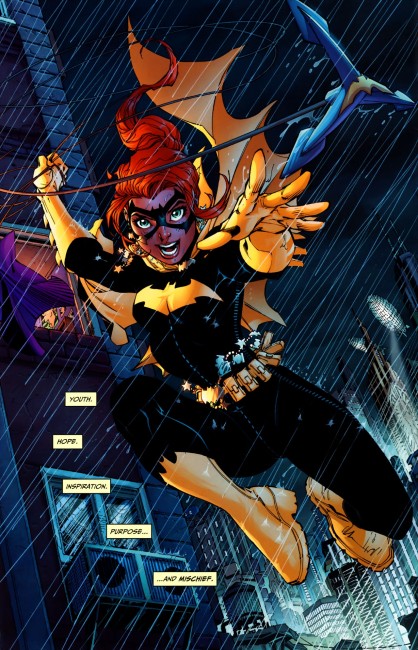 Children take to ideas like fish to water. They're naturally inquisitive, since everything is new, and they're pliable. If you can convince a kid of something, they'll argue it with someone else until the cows come home, whether or not. They're susceptible to new ideas, and more than that, willing to really believe in them.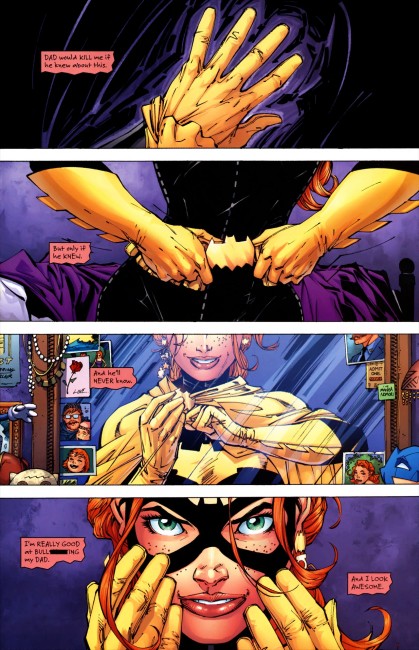 Batgirl gets Batman. Really gets him. She understands what he brings to the table, and she's more than willing to take it all the way. Batgirl was Batman, Inc. before Batman, Inc. was cool. She's taking his symbol and style and remixing it for her own personal use. Where Batman was born in pain and suffering, Batgirl was borne out of inspiration and exhilaration. Life can be better. Batgirl is going to make it better by staking a claim.
It's about fighting crime as much as it is about getting a thrill. Babs Gordon is cocky and confident, and she's out to make a name for herself. She claims the arcade (the same arcade from Dark Knight Returns that Carrie Kelly hung out at) in the name of "the fucking Batgirl." Earlier, she refers to Gotham as "her city."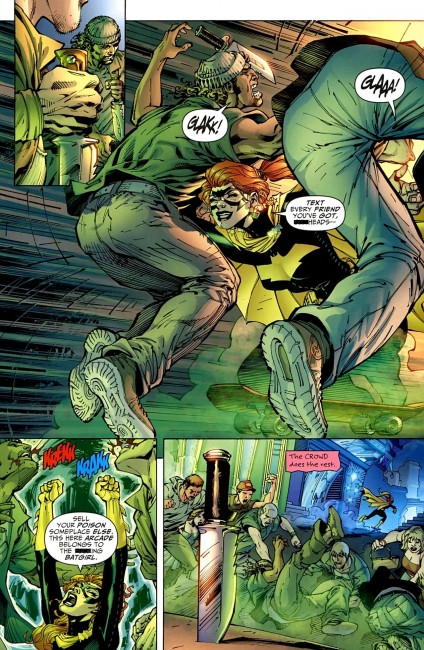 If Batman represents the triumph of one many over the injust, Batgirl represents a city that's willing to rise up and police its own. She's the civilan who looks at injustice and gets proactive. She even inspires the crowd at the arcade to get in on the action and reject the drug dealers. The encounter turns more violent than she'd intended.
Batgirl is still just a teenager, and she doesn't have the reputation of Batman yet. He controls the thugs he fights by way of his reputation and prowess. They know that when he arrives, they're in trouble. They've been taught to fear him, and fear spreads like a virus.
There is power in the idea of Batman, but that power isn't enough in and of itself. You need more than just will and enthusiasm to be a Batman. Batgirl will eventually get there, but in this first stab at taking back her city, she doesn't quite have the reputation she needs. She hasn't become an idea yet.
I think that Batgirl is a stronger, or maybe a healthier, idea than Batman. Batman, as an idea, requires a sacrifice. Someone has to be the one to take one for the team and live a broken life. Batman doesn't get friends or lovers like normal people do. He has family, but it's a family united in a very specific crusade. There's a engine made of tragedy driving them. Even Tim Drake, way back when, wanted to be Robin because there has to be a Robin, or else Batman is lost. Sacrifice.
The idea of Batgirl, though, doesn't have tragedy at the heart of it. She's doing it because it's fun, because it's a thrill, and because it's the right thing to do. Her parents aren't dead, she wasn't beaten into desiring vengeance, and she wasn't guilted into the gig. She looked up and saw someone else doing the right thing and said, "I want to do that, too." While Bruce Wayne is Batman, forever and ever, Batgirl can take off the mask if she needs to.
Put differently: Batman is the demon that materializes out of the night. When I think of Batgirl, I think of this Marcos Martin piece: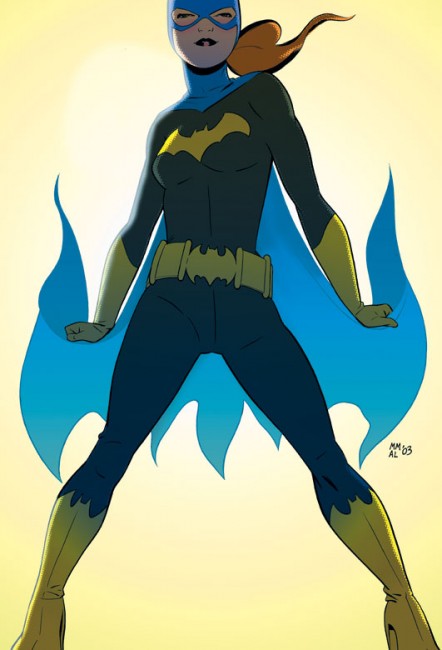 Dark Knight, meet Dark Angel.
next: trust me, it really is better with the masks on.
Similar Posts: