April 4th, 2011 by
david brothers
| Tags:
jay potts
,
world of hurt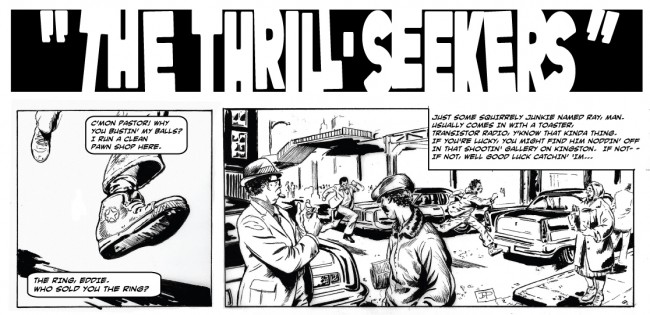 Jay Potts is a cool dude, the creator of World of Hurt, and a blaxploitation genius. His Kickstarter campaign to get his webcomic printed has about seven days and a thousand bucks to go. He's SUPER close to his goal, so if you've got the scratch, you should kick him a few bucks. I think this is something really worth doing, otherwise I wouldn't be posting about it. For the folks who didn't see my previous posts, here's a quote from the campaign:
The first storyline, entitled "The Thrill-Seekers" finds Pastor in the middle of a search for a missing college student named Alicia Patterson. When Pastor's missing person case turns into a murder investigation, his relentless quest for justice takes him from the city's ghetto to a secret club of powerful, high society hedonists.

This Kickstarter project was started out of my desire to raise the funds to self-publish a graphic novel which collects the The Thrill-Seekers storyline. The graphic novel will also feature bonus material, such as production sketches, layouts and an introduction by author and filmmaker, David Walker of BadAzzMofo.com. The graphic novel will be an 88-page hardcover book with a landscape format of 13″ X 6.5″ to match the original dimensions of the comic strip. Although the interiors will be black & white, the cover will be in full color. Part of the Kickstarter funds will also be used to pay for an artist to paint over my cover pencils to recreate the classic, pulp feel of a Blaxploitation movie poster.
If you read the interview I did with Jay last year, you know that this guy is seriously talented. Give him a hand.
Similar Posts: