May 17th, 2010 by
david brothers
| Tags:
aya
,
glyph comic awards
,
jay potts
,
luke cage
Johanna Draper Carlson has the details on who won what at this past weekend's Glyph Comics Awards at ECBACC. She also has some interesting remarks on the awards, particularly in terms of women represented and the number of projects that won multiple awards.
Here's the list, and commentary/thoughts from me below.
Story of the Year
Unknown Soldier #13-14, Joshua Dysart, writer, Pat Masioni, artist

Best Writer
Alex Simmons, Archie & Friends

Best Artist
Jay Potts, World of Hurt

Best Male Character
Isaiah Pastor, World of Hurt, created by Jay Potts, writer and artist

Best Female Character
Aya, Aya: The Secrets Come Out, created by Marguerite Abouet, writer, Clement Oubrerie, artist

Rising Star Award
Jay Potts, World of Hurt

Best Reprint Publication
Aya: The Secrets Come Out, Drawn & Quarterly

Best Cover
Luke Cage Noir #1, Tim Bradstreet, illustrator

Best Comic Strip
The K Chronicles, Keith Knight, writer and artist

Fan Award for Best Comic
Luke Cage Noir, Mike Benson & Adam Glass, writers, Shawn Martinbrough, artist
I'm not sure of the protocol on judges speaking after the fact, so if I've over-stepped, please forgive me. I co-judged this years awards, and I've got to say that I'm pretty pleased with how they turned out. Here's a few brief anecdotes/bits about the winners-
–Unknown Soldier 13 and 14 are collected in Unknown Soldier Vol. 2: Easy Kill
. Dysart discusses a few of his favorite pages from that volume on DC's Graphic Content blog. I talked a bit about Unknown Soldier last year as part of BHM, but I'm well past due for an update.
-In the "Small World" department, it turns out Alex Simmons co-created the dead and forgotten DC hero Orpheus, who I did a poor job of writing about a few years back. Simmons has been telling all-ages tales on Archie & Friends for the past couple years, in addition to documentaries, biographies, working with MoCCA, and launching a comic convention. The paths people take in comics are kind of funny sometimes. I think Tom DeFalco and Herb Trimpe have both done work on the Archie comics in recent memory, to name a couple other names you probably recognize. Archie & Friends All-Stars Volume 3: The Cartoon Life Of Chuck Clayton
is the trade collecting the story of Chuck Clayton, "teenage cartoonist" and former Generic Comic Book Black Guy.
-Jay Potts cleaned up! Read my interview with him and then go read World of Hurt.
–I'm glad Abouet and Oubrerie's Aya got some attention.
–Luke Cage Noir is out in a premiere hardcover
, and it was a pretty good tale. I didn't talk about it on the site, but the Funnybook Babylon gang mostly dug it. I liked how it played upon some of my preconceived notions going into the book, and the creators did a good job of telling a solid done-in-one tale. Here's the cover: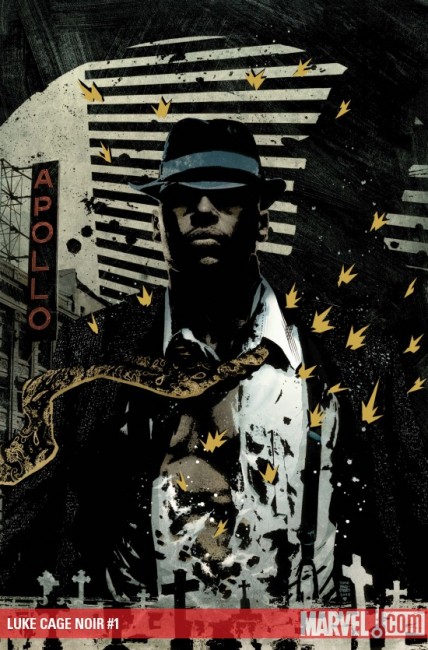 -I like that most of these aren't from the Big Two. I don't say that to be mean or whatever, because the Big Two do what they do fairly well for the most part, but I think the really important work, the stuff you need to be paying attention two, aren't going to come out of their factories. Supporting black comics isn't supporting Luke Cage. It's supporting the people who make the books. I think the Glyph awards do a great job of representing that. Bravo.
Similar Posts: